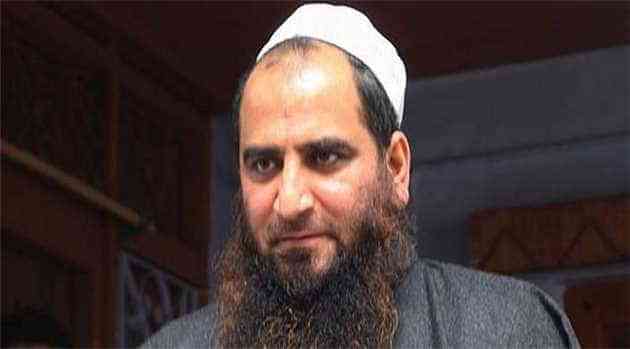 Lawyer of jailed Hurriyat (G) leader Masarat Alam, Shabir Ahmed Bhat has alleged that the government is using Public Safety Act as a tactic to keep Alam behind bars.
"The government failed to produce any evidences against Masrat Aalam during the trial in the court of Chief Judicial Magistrate Budgam on Wednesday and the chances were bright that he would be bailed out on Saturday. Keeping this fact in view, the authorities slapped PSA on him and now he can't get released. Under PSA, any person can be put behind the bars for two years without any trial," lawyer said.
Mufti led BJP-PDP government Thursday slapped draconian PSA on separatist leader Masrat Alam and shifted him to Kot Balwal jail Jammu.
Alam who is the chairman of Jammu Kashmir Muslim League was earlier booked under Sections 121-A (waging war against the country), 124 (Sedition), 120-B (Criminal Conspiracy), 147 (rioting) of Ranbir Penal Code (RPC) and other minor offences after he allegedly unfurled Pakistani flags and raised pro-Pakistan slogans during welcome rally of Hurriyat hardliner Syed Ali Geealni.
Communist Party of India (Marxist) State Secretary and legislator Muhammad Yousuf Tarigami also came down heavily on the government's decision to book Alam. He said, "If invoking PSA on Masrat Alam was a dictation from New Delhi, why the State Government obeyed that dictation. The credibility of the State Government is at stake and by invoking draconian PSA, the State Government has proved that it does not believe in 'healing touch".
This is the 26th time Alam has been booked under PSA. Since 2008 PSA has been slapped against him ten times and six times since 2010. Meanwhile, Geelani has called for a statewide shutdown on Saturday against his arrest.
---
The Kashmir Walla needs you, urgently. Only you can do it.
We have always come to you for help: The Kashmir Walla is battling at multiple fronts — and if you don't act now, it would be too late. 2020 was a year like no other and we walked into it already battered. The freedom of the press in Kashmir was touching new lows as the entire population was gradually coming out of one of the longest communication blackouts in the world.
We are not a big organization. A few thousand rupees from each one of you would make a huge difference.
The Kashmir Walla plans to extensively and honestly cover — break, report, and analyze — everything that matters to you. You can help us.
Choose a plan as per your location