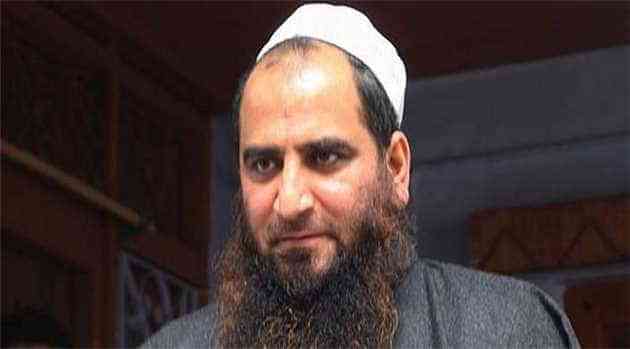 Prominent human rights body, Jammu Kashmir Coalition of Civil Society (JKCCS), Thursday said the government has bypassed the judicial process and undermined its own institutions by slapping Public Safety Act (PSA) against Masarat Alam.
Chairman of Muslim League, Masarat Alam Bhat, was shifted to Kotbal Jail in Jammu last night after the authorities slapped Public Safety Act (PSA) against him. He has spent more than seventeen years in prisons in last 25 years under various PSA orders.
The JKCCS in a statement issued here said, "This PSA order is against the Indian Supreme Court decision of 22 March 2013 that mandated, any fresh PSA order against him would not come into force for a week from the date of communication of the order to enable him to pursue appropriate legal remedies."
The statement also added that the transfer of Alam to Jammu under this PSA order comes two days before his bail hearing in a FIR where he has been charged for sedition and waging of war for being part of a peaceful procession.
"Neither the sloganeering in the procession nor the raising of the Pakistani flag would be considered criminal even under Indian law. The FIR, arrest, and PSA order are all bad in law, and against the decisions of the Indian Supreme Court, and the Jammu and Kashmir High Court," the statement quoted the spokesperson of the group.
Accusing the state government of acting as surrogates, it added they are paying heed to the "fascist groups and the jingoistic media of India, who earlier ensured hanging of Mohammad Afzal Guru for satisfying 'collective conscience' of Indian people and now Masarat Alam too is being victimized to address the same 'collective conscience'."
---
The Kashmir Walla needs you, urgently. Only you can do it.
We have always come to you for help: The Kashmir Walla is battling at multiple fronts — and if you don't act now, it would be too late. 2020 was a year like no other and we walked into it already battered. The freedom of the press in Kashmir was touching new lows as the entire population was gradually coming out of one of the longest communication blackouts in the world.
We are not a big organization. A few thousand rupees from each one of you would make a huge difference.
The Kashmir Walla plans to extensively and honestly cover — break, report, and analyze — everything that matters to you. You can help us.
Choose a plan as per your location