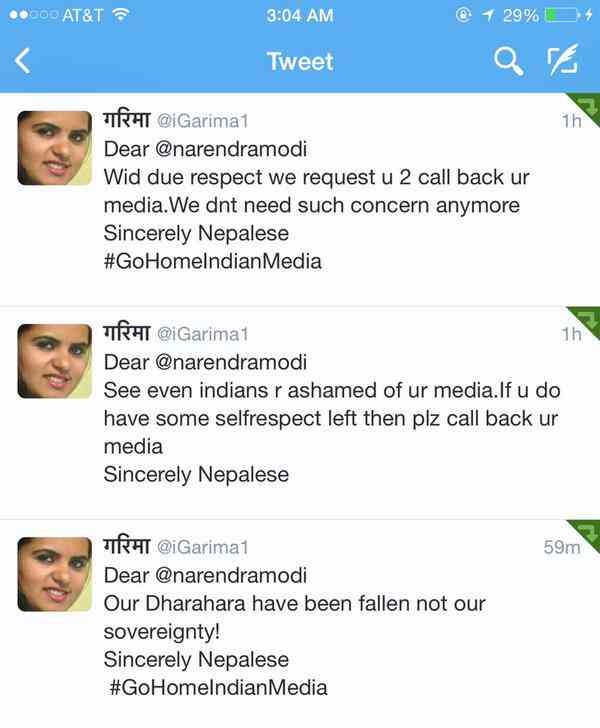 After the continuous coverage and camping in Nepal to show earthquake disaster that hit the country on April, the people of Nepal are requesting Indian media to leave now. The Twitter has been flooded with tweets ridiculing Indian media under the trend #GoHomeIndianMedia, that has been trending at top.
"As a human, show your humanity. There are enough programs in this world of television where people can see dramatic shows, family serials, horror shows and nonsense reality shows. You do not have to add more at least in this time of crisis," read a letter from Nepal to Indian media.
Below are a few tweets picked from the trend:
#Media shows that India is the only country to help Nepal. But Couldn't find India even in Top 14! #GoHomeIndianMedia pic.twitter.com/f38b4t6RYW

— Angry Kejriwal (@Tweet_TAN_ic) May 3, 2015
We Nepali are independent since the country named Nepal. Try to learn the history about Gurkhas. Give and take respect.😡 #GoHomeIndianMedia — जंगी निशान (@thejangiinisaan) May 3, 2015
I dearly appreciate the support of Indian people, you guys have been blessing for us but your media is totally rubbish. #GoHomeIndianMedia

— Sudan Budhathoki (@sudangothey) May 3, 2015
This indian journalist are just similar to unwanted vultures creating a mess.#GoHomeIndianMedia — Help Nepal (@Human_byheart) May 3, 2015
#GoHomeIndianMedia Instead of talking about sending relief goods, Indian Media should show what their Army does! pic.twitter.com/g9jYUfddwU

— Farhan Khan Virk (@FarhanKVirk) May 3, 2015
I feel for Indians. We couldn't bear Indian media for 6 days and Indians have to deal with them everyday. #GoHomeIndianMedia — Kanchan Shrestha (@mekanchan) May 3, 2015
Nepalis are more terrorized by Indian Media than the devastating earthquake itself! #GoHomeIndianMedia pic.twitter.com/gnnQpKNFjG

— MahaAnanda Timalsina (@MahaAnanda) May 3, 2015
Irony. Today is world press day. And Indian media is getting its due credits. #GoHomeIndianMedia — Saleem (@Angry_Hassan) May 3, 2015
If you are fool and know how to be a nonsense, be fast join Indian media. You have bright future there #GoHomeIndianMedia

— सदिप घिमिरे (@sad_deep) May 3, 2015
Dear @narendramodi ! A message for you from an upright Napalese woman #GoHomeIndianMedia Shameless pic.twitter.com/PPZkecaVBe

— SadiaQawaii :P (@RJSadiaSattar) May 3, 2015
#GoHomeIndianMedia you all deserve gorkhalis kick and khukuri!! run before we make you run like street dogs! — UDeep (@ujjwaldt) May 3, 2015
---
The Kashmir Walla needs you, urgently. Only you can do it.
We have always come to you for help: The Kashmir Walla is battling at multiple fronts — and if you don't act now, it would be too late. 2020 was a year like no other and we walked into it already battered. The freedom of the press in Kashmir was touching new lows as the entire population was gradually coming out of one of the longest communication blackouts in the world.
We are not a big organization. A few thousand rupees from each one of you would make a huge difference.
The Kashmir Walla plans to extensively and honestly cover — break, report, and analyze — everything that matters to you. You can help us.
Choose a plan as per your location