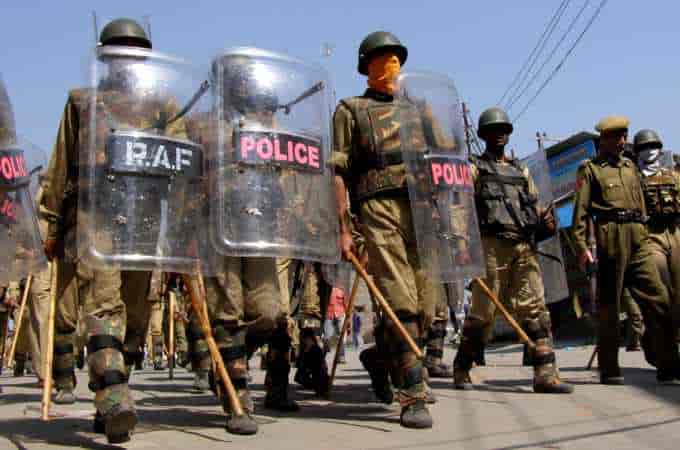 An online campaign, Free Kashmiri Political Prisoners, launched for the release of Kashmiri political prisoners from various Indian jails, is attracting endorsement and support from various academics, intellectuals and filmmakers from around the world.
The circulated letter (which can be found here) of the campaign demands the release of all Kashmiri political prisoners, especially those who have been arrested without charges or on spurious charges of "sedition" — often simply for expressing political dissent. It also demands, fair trials for those who are imprisoned, and are charged or otherwise, for criminal conspiracy against the state, end to the culture of open cases against those Kashmiris who are peacefully expressing their dissent, revocation of the draconian laws like AFSPA and PSA — rooted in the most repressive phase of the British colonial period — that allow for indefinite detention without charges or trial, return to their families the last remains of Shaheed Afzal Guru and Shaheed Maqbool Bhat, being kept illegally in the Tihar prison in New Delhi, where they were executed based on politically-motivated judgments and against all norms of justice and fairness, and a sincere and time bound political process that will lead to negotiations with genuine Kashmiri representatives for the future of Kashmir.
Significantly, the signatories are world-acclaimed scholars and academics, based in Bangladesh, Canada, Palestine, Pakistan, India, Switzerland, UK, USA, from departments that include American Studies, Anthropology, Asian American Studies, Communications, Comparative Literature, Cultural Studies, English, Ethnic Studies, Gender & Women's Studies, Geography, History, International Relations, Islamic Studies, Journalism & Media Studies, Legal Studies, Liberal Studies, Political Science, Public Policy, Sociology, Social Justice Education, South Asian, Near Eastern, Middle Eastern & African Studies.  In the best tradition of Edward Saïd's concept of organic intellectuals, the cutting-edge work of these academics and intellectuals constructively engages, amongst other subjects, the liberation movements of Dalitbahujans in India, Native Americans/First Peoples in the Americas and the Pacific Islands, Palestinians under Israeli Occupation, Kashmiris, and issues of gender and sexuality while being critically anti-prison, anti-racism, anti-caste, anti-Islamophobia, anti-colonialism, anti-imperialism, and anti-occupation.  Many of these scholars spearheaded the landmark resolution boycotting Israeli academic institutions passed recently by the American Studies Association (ASA) with exemplary intellectual courage.
Among the several signatories to the campaign, eminent intellectuals and scholars like Judith Butler (Hannah Arendt Chair at the European Graduate School and Maxine Elliot Professor in the Departments of Rhetoric and Comparative Literature, University of California at Berkeley), Hamid Dabashi (Hagop Kevorkian Professor of Iranian Studies and Comparative Literature, Columbia University), Ayesha Jalal (Mary Richardson Professor of History, Professor at Fletcher School of Law and Diplomacy, Director of Center for South Asian and Indian Ocean Studies, Tufts University), Lisa Duggan (Professor, American Studies and Gender and Sexuality Studies, Department of Social and Cultural Analysis, New York University (NYU), President-Elect American Studies Association (ASA), USA), Tariq Modood (Professor of Sociology, Politics and Public Policy, Director of the University Research Centre for the Study of Ethnicity and Citizenship, University of Bristol), Lisa Hajjar (Professor of Sociology, University of California at Santa Barbara), Chandra Talpade Mohanty (Distinguished Professor, Department of Women's and Gender Studies, Dean's Professor of the Humanities, Syracuse University), Abdul R. JanMohamed (Professor, English Department, Emory University, University of California at Berkeley), Rabab Ibrahim Abdulhadi (Associate Professor of Ethnic Studies/Race and Resistance Studies, Senior Scholar, Arab and Muslim Ethnicities and Diasporas Initiative (AMED), San Francisco State University), Suvir Kaul (A. M. Rosenthal Professor of English, University of Pennsylvania), Ania Loomba (Catherine Bryson Professor of English, University of Pennsylvania), Joel Beinin (Donald J. McLachlan Professor of History, Professor of Middle East History, Department of History, Stanford University), Sherene Razack (Professor, Department of Humanities, Social Sciences and Social Justice Education and Department of Comparative, International and Development Education,  OISE, University of Toronto), Ruth Wilson Gilmore (Professor of Earth & Environmental Sciences, and American Studies, Director of Center for Place, Culture, and Politics, Graduate Center, City University of New York), Ibrahim Abdurrahmani Farajajé (Provost and Professor of Cultural Studies and Islamic Studies, Starr King School, Graduate Theological Union (GTU), Berkeley), Neferti Tadiar (Professor and Chair of Women's Studies, Barnard College, Columbia University), Kamala Visweswaran (Associate Professor of Anthropology, University of Texas at Austin), Piya Chatterjee (Dorothy Cruickshank Backstrand Chair of Gender and Women's Studies, Scripps College), and Joseph Massad (Associate Professor, Middle Eastern, South Asian, and African Studies, Columbia University) are part of the campaign.
As part of this global campaign, Free Kashmiri Political Prisoners has concurrently organized a month of daily fasts, under the name Fast for Freedom, in solidarity with Kashmiri political prisoners, especially Sheikh Farhat and Sheikh Imran, who have been in a West Bengal jail for over a decade. The fasts are voluntary and have attracted wide support from both Kashmiri and non-Kashmiri activists from across the world. More than 90 people, based all over the globe, are keeping day-long fasts, for a total of 234 times spread over 31 days.  The highpoint of the campaign was when five Kashmiri women activists — Tahira Begum (Uri), Haleema Begum (Bandipora), Raja Begum (Pattan), Muneera Begum (Andergam, Palhallan), and Haleema Begum (Palhallan) — whose husbands have been forcibly disappeared by Indian military, joined to fast for a day. The fasts, which started on January 11, 2014 will continue till February 11, 2014: the 30th martyrdom anniversary of Shaheed Maqbool Bhat.
---
The Kashmir Walla needs you, urgently. Only you can do it.
We have always come to you for help: The Kashmir Walla is battling at multiple fronts — and if you don't act now, it would be too late. 2020 was a year like no other and we walked into it already battered. The freedom of the press in Kashmir was touching new lows as the entire population was gradually coming out of one of the longest communication blackouts in the world.
We are not a big organization. A few thousand rupees from each one of you would make a huge difference.
The Kashmir Walla plans to extensively and honestly cover — break, report, and analyze — everything that matters to you. You can help us.
Choose a plan as per your location