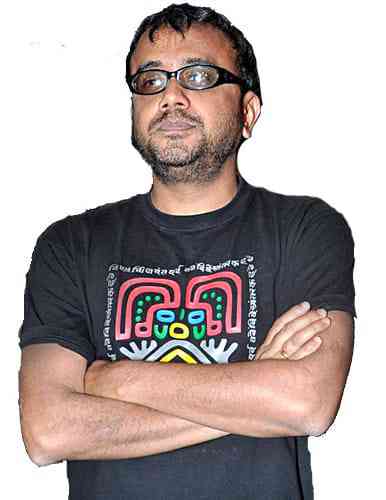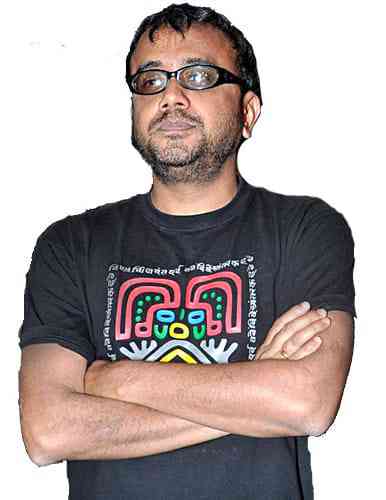 Sa rey ga ma pa dha ni!
Bom phelechhey japani,
Bom-er bhetor keutey shaap,
British boley "bap re bap!"
(Do re mi fa so la ti!
The Japanese have dropped a bomb,
The bomb contains a cobra,
The British cry "Daddy!")
"Mummy!" is more likely the Briton's exclamation of choice, but I expect you get the idea. I am willing to bet a few rupees that Dibakar Banerjee dreamed this silly rhyme at the time of writing the script for Detective Byomkesh Bakshy. For it is something one could recite to an especially annoying person on the elevator by way of an answer to the question, "What's the film about?" Now I am not one to denigrate the value of popular ditties. We have all heard how "Ring-a-ring-o'-roses" encodes historically significant information about the smallpox epidemic on the British Isles. The rhyme quoted above talks about the bombs dropped by the Japanese on parts of Calcutta during the Second World War, serving up that information with a dollop of relish at the plight of our colonial masters.
But what about the cobra in the bomb? I am currently amused by the possibility that Mr. Banerjee has devoted himself to defusing the mystery of the cobra-in-the-bomb through the story of his recent film. My theory fits quite nicely with the whimsical structure and feel of the work. It is not a great film exactly, but I hope it becomes a cult film. For it is truly enjoyable owing to the mix of several genres of film and music (Mr. Banerjee has Sneha Khanwalkar to thank for the latter) and the patchwork of stereotypes, images and standard filmy lines that the director (and co-writer) amuses himself with. Instances of the last: "Bakshy, Byomkesh Bakshy." "Kuch badal gaya kya?" "Kuchh nahin. Sab kuchh." ("Has anything changed?" "Nothing. Everything.") It is good to see an Indian filmmaker enjoy himself in so obvious a manner.
To my mind, this is a quality that ties together such diverse efforts as Charulata, Jaane Bhi Do Yaron, Monsoon Wedding and Detective Byomkesh Bakshy (to speak only of films in languages that I know). These films may or may not be indulgent, but they seek and eventually win the audience's indulgence. I would argue that a measure of indulgence on the part of a filmmaker is a sign of confidence–which is not to suggest that Mr. Banerjee ever lacked that quality–while the reasonable success of a film of this type is evidence of an increasingly discerning audience that has acquired the necessary tolerance for unorthodox portrayals of fictional people. Perhaps it also signals the growth of a taste for subtle black humour, thanks to a "multicuisine" diet of films by the likes of Vishal Bharadwaj, Anik Datta and the Coen Brothers, to name but a few. Now if that is correct then there is hope for the future. The Indian sense of humour is in sore need of a shot in the arm in these times of continuing social and political intolerance.
Let me return briefly to the subject of popular ditties. Here is part of a regressive little rhyme from the olden days:
Punyi-pukur, pushpamala
Kay poojey rey dupoor-bela?
Ami sati Lilabati,
Bhai-er bon bhagyabati…
(Pond of virtue, garland of flowers:
Who worships in the afternoon?
I'm the chaste Lilabati,
Fortunate sister of her brother…)
This rhyme appears in Satyajit Ray's Pather Panchali, and in the novel upon which it is based.The genre to which it belongs is dubbed meyeder brotokatha in Bangla (i.e., prayers recited by girls, married women and widows fasting for religious purposes). Although Ray chose to represent the fictional lives that Bibhutibhushan Bandyopadhyay inscribed into the real social world of colonial Bengal, he blended his realism and acute sensitivity to social ills with a rare lyricism, thereby capturing the complex cadence of the original novel. Given the time at which the film was made, it could be that Ray felt bound by some sense of duty to depict irrational and inhumane social practices of the past. This tendency is more obvious in such films as Devi. At any rate, one would need to talk about the context in which Ray made his first film in order to explain his artistic imperatives.
Compare with this the directorial intentions in Byomkesh. Mr. Banerjee has the good fortune to be an auteur at a time of exciting developments in mainstream Indian cinema. In fact, he is among the "young guns" (to crib a phrase from the film) who set these developments in motion. This fact together with his past success has freed up the space necessary to create something like Byomkesh. Mr. Banerjee has modeled Saradindu Bandyopadhyay's fictional world–one that repeatedly crosses paths with the real world of pre- and post-Independence Calcutta– and fused it with his favourite Calcuttan vistas and quirks. His somewhat unfamiliar Byomkesh "Bakshy" makes sense only against this idiosyncratic background, for, among other things, Saradindu's Byomkesh isn't the sort of bloke who throws up at the sight of a rotting human corpse. The story is something the screenwriter in Saradindu might have approved of, sans the Tarantinoesque gore set to thumping music at the end. But then Manga comics weren't all the rage back then; nor had filmmakers got around to experimenting with stylized bloodletting. That pop culture reference was simply missing in the language of film. About a half hour into Byomkesh, it becomes clear that whatever Mr. Banerjee's intentions, plain old representation is not one of them. What he does is to take a fictional hero from his youth, and have a bit of fun with him.
Somehow, the gambit works–or shall we just say that it worked for me and some other people who enjoyed it immensely. Whimsy and reality are shaken and stirred together, and laced with a bit of fictional material muddled at the bottom. What you get is a multi-modal collage with elements of pastiche that is irreverent, loving and true in patches. Mr. Banerjee, a Delhi boy, trains an outsider's eye on Calcutta: it captures both what one sees and what one ought to see in that city. It is not a slideshow of Calcutta's beauties a la Kahani but a casual sojourn in familiar neighbourhoods and thoroughfares, regular Calcutta mansions and dingy courtyards, neatly accented with ancient issues of Vogue, quaint signboards, an enameled drinking-glass sold off by some US Army quartermaster and an antique dirty picture-book. It's not "Calcutta with a capital C" (or K, as the case may be); it is somebody's own, very public Calcutta. It's reminiscent of the Calcutta some of us go home to every few months.
Consider this portmanteau of image and sound. The jetty off which Mr. Banerjee's icy vamp dives into the Ganga is real and very contemporary, but in Calcutta, the contemporary is about a century old. He notes the people bathing adjacent to tramcar lines, and hints at Mowg cooks through the features of the tremulous Puntiram. He has Satyavati wear an old-style Tangail sari with horizontal stripes–the costume designer's take on the durey sari described in old novels. His opium addicts are routinely kicked through curtained doorways onto dark cobblestone streets. The Chinese moll reads impassively as the boss plays with her stray curl and eats out of a bowl in her hand. As for the preoccupations of Bengali youth, there's always carrom and politics. The classroom graffiti tend to address such serious matters as the typology of love (varieties include sexual and divine). Jugantar is printed in Hindi, and people who expostulate in Hindi rhetorically inquire if their interlocutors do not understand plain Bangla. The dentist's assistant is a jaded, middle-aged dame out of Bow Barracks, and the Bhagalpuri pehelwans are sweet men in well-oiled bodies. Fisticuffs in dhoti are surely an intriguing business for both director and audience. Hence the shot of Byomkesh's pal Ajit on his face, dhoti-ed legs splayed for a well-positioned camera stays with you. Edgy, urgent hard rock and Bangla band songs underscore the fun of it all. The screenplay is not half bad although it tends to lurch forward pre-intermission. And Sushant Singh Rajput's turn as Byomkesh is overshadowed by first-rate work by super-villain (Saradindu's Anukul Guha magnified several times), feisty sidekick and vamp, roughly in that order. The film is so very auteur-driven that this sort of thing ceases to matter, although then you are justified in asking, "Why call it Byomkesh and so on?" I have indicated that there is an answer to this question: Byomkesh is as much a denizen of Mr. Banerjee's mind-space as the scary Mr. Watanabe, so why on earth not? The subtle tribute to famous Bengali chemists–one of whom, Rajshekhar Basu, also managed to pen top-notch humour in his spare time–is probably an invention of my overactive mind. The Chinese angle has been long overdue, considering that without them, Calcutta would not be much of a cosmopolis. There are no real Marwaris, but Ajit disguises himself most conspicuously as one. The river has a starring role in the film, which is as it should be. That dirty, un-dredged, fish-filled river runs through the hearts of all Bengalis, even those that are Chitto Park born 'n' raised. All in all, it is far superior to Guy Ritchie's Sherlock Holmes, although there's a bit of Ritchie's Watson and Lord Blackstone (whoever that may be) in Ajit and Anukul Guha respectively. And truth to tell, Banerjee's Calcutta looks more wonderful than Ritchie's London–a fact that should please the honourable chief minister no end. One only wishes that they had more on the menu at Byomkesh's mess-bari (which the characters helpfully refer to as "the boardinghouse") besides aloo bhaja!
By the way, if you know Bangla, then the weird 'mausa-babu' should give you pause. Ever wondered why you call your uncles by marriage 'meshomoshai' and 'pishemoshai' whereas uncles by birth are (merely) 'mamababu' and 'kakababu'? The answer has something to do with gender-relations: one owes, and agrees to give greater respect to the persons who have married one's parents' sisters. Yet, since there is no way to render 'meshomoshai' into Hindi, 'mausababu' is all you get. In short, the film engages one's attention at multiple levels, and for Bengali audiences, it is an especially fun ride.
The years ahead will reveal if the pastiche idea catches on in Indian cinema, but a firstborn is always cause for celebration.
---
The Kashmir Walla needs you, urgently. Only you can do it.
We have always come to you for help: The Kashmir Walla is battling at multiple fronts — and if you don't act now, it would be too late. 2020 was a year like no other and we walked into it already battered. The freedom of the press in Kashmir was touching new lows as the entire population was gradually coming out of one of the longest communication blackouts in the world.
We are not a big organization. A few thousand rupees from each one of you would make a huge difference.
The Kashmir Walla plans to extensively and honestly cover — break, report, and analyze — everything that matters to you. You can help us.
Choose a plan as per your location