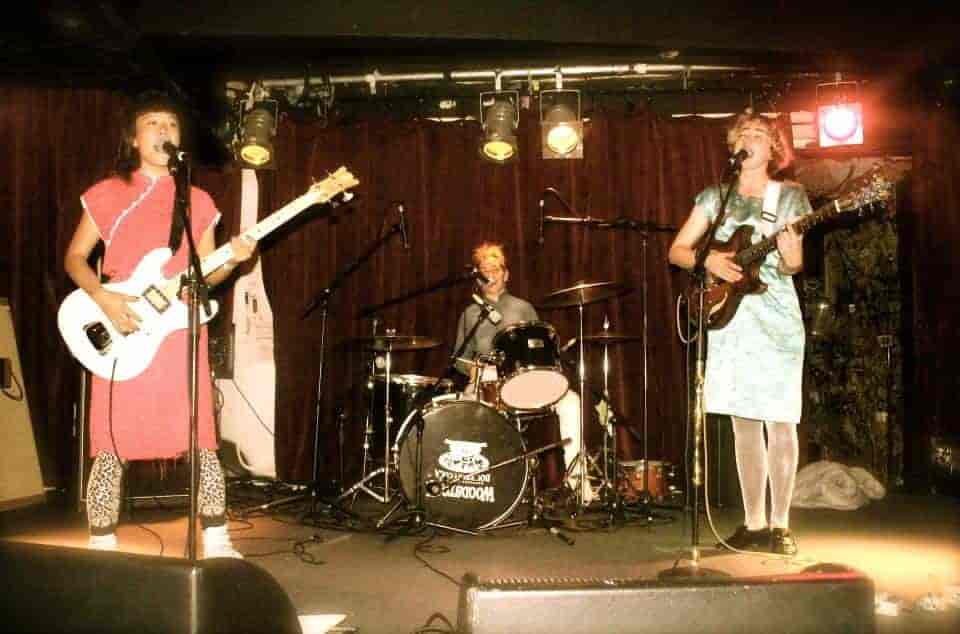 When Australian musician Rachel Kim travelled to Jogjakarta Indonesia in late 2012 to study at Indonesia's Institute for the Arts (ISI) she was introduced to the sounds of 1960s Indonesian garage band Dara Puspita. An all-girl rock n roll band in 1960s Indonesia, Dara Puspita stood out to Rachel as one of Asia's original girl power acts, and inspired her to start the band Empat Lima, drawing influence from the garage sounds of the 60's Asian/Western explosion.
During Rachel's four months in Jogjakarta she also attended numerous exhibition openings, gigs, parties and art events. But every-time she arrived at these events run by local artists, her thoughts were inevitably the same: "where are the Indonesian women?". For Rachel, this gender divide in the creative scene initially seemed at odds with her experience of the town's progressive arts culture, and was something she remained curious about upon her return to Australia.
So, when Rachel began to organise the tour for Empat Lima, she saw that the band had an opportunity to do more than entertain people as an all-female act. It seemed the band had the perfect vehicle to reach out and connect with other female artists in Indonesia.
Women's Art Network Australia to Indonesia
The WANITA project was conceived during planning for the Empat Lima tour of Indonesia, but its inspiration was seeded during her 2012 stay in Jogja. WANITA means female in Bahasa Indonesia, but for the WANITA project it also is an acronym for Women's Art Network Indonesia To Australia.
As Rachel explains, "WANITA was created to complement and extend the purpose and effectiveness of the band's venture into Indonesia. Our intention was consolidated to have the structure of this Website directory and meeting point, a place where female artists from both our countries could meet each other, be inspired by each others art, and have the chance to build working relationships, and mutual understanding. Its a situation of mutual support and an endeavor to bring our worlds closer together."
With this idea, Empat Lima held workshops with female Indonesian creatives in four of the cities on their tour itinerary. The scope and context of each workshop was different each time, but the intention was always the same: to meet local women, to share information and time together, and ultimately to build connections.
The Tour
First stop was the bustling megapolis of Jakarta, where Empat Lima ran workshops with the assistance of Ruang Rupa. Kim explained the workshop process to me: "there was a day workshop in which female artists were selected to attend, spanning a range of backgrounds. I was personally very inspired by the freshness of vision and expression of all the artists' work".
As part of this collaboration, Empat Lima created and printed a zine with the artists from the Ruang Rupa project, including the biographies and artworks of each of these artists, which she hopes will work as a starting point for allowing collaboration projects over in Australia.
Next stop was the village of Jatiwangi where, through the facilitation of the Jatiwangi Arts Factory, Empat Lima invited the women of the village to our cooking workshop.
'"Cooking without rice' was the challenge, and as we introduced a variety of dishes some 40 women from the village curiously took notes, and asked many questions".
With a range of talented musicians also at their disposal, Empat Lima invited the women of the village (the "Ibu-Ibu") to participate and, "at one very special moment, the Ibu-Ibu all stood up and sang their village song in front of us while we cooked. We had to wipe the tears from our eyes so as not to spoil the cooking".
After their evening concert at Jatiwangi, the village attendees involved Empat Lima in a circular discussion where they responded to the incredibly positive reaction to the music they had played. As Empat Lima answered questions about their feelings towards Indonesia and their village, where Kim felt "a very real sense of the friendship and warmth that was being extended" to the group. This generous experience was a highlight of the tour for the band.
As well as the workshops, Empat Lima performed 7 shows in 5 cities, which were very well received.
I saw several of the band's energetic performances on their tour and could see the band had made an impact during their time in Indonesia. Standing at the back of one of their standing-room-only shows in Jogja I heard some local artists talking about the workshops the band had been running, and of the positive interactions they had had with the band. Their shows also had more female attendees than one would usually see in Indonesia.
Lasting Connections
Rachel felt very fortunate to have had such a rewarding interactions with many communities of Indonesia during their two week tour and for Empat Lima there was a feeling of rich exchange on many levels. She hopes that the WANITA project can continue to carry these relationships into the future: "meaningful links have been made and we look forward to our next opportunity to connect up with these once more".
The WANITA Community has established a forum in which to continue to share ongoing projects with immediate access to exposure in both Indonesia and Australia. The link will be ongoing and has the potential to expand in many exciting directions in the future.
---
The Kashmir Walla needs you, urgently. Only you can do it.
We have always come to you for help: The Kashmir Walla is battling at multiple fronts — and if you don't act now, it would be too late. 2020 was a year like no other and we walked into it already battered. The freedom of the press in Kashmir was touching new lows as the entire population was gradually coming out of one of the longest communication blackouts in the world.
We are not a big organization. A few thousand rupees from each one of you would make a huge difference.
The Kashmir Walla plans to extensively and honestly cover — break, report, and analyze — everything that matters to you. You can help us.
Choose a plan as per your location