Cover photograph by Bhat Burhan for The Kashmir Walla
A group of former legislators meets the Lieutenant Governor of Jammu and Kashmir (J-K), a two-month-old Union Territory, sparking speculations of formation of a third-front – an alternative political party, aimed at establishing a new middle mediator for New Delhi. The meeting took place after five months the centre revoked Article 370 and Article 35-A, both giving special status to the erstwhile state of J-K and arrested Kashmir Valley's three former chief ministers. But with this meeting, and the word of third-front, the political leaders across the party lines seem divided on what is coming in the region's electoral political construct.
After 5 August 2019, when the curfew was imposed, communication lines were snapped, and all political leaders, who were once elected legislators and ministers, were detained, Kashmir's political space came to grinding halt. A sense of betrayal loomed over workers, leaders, and the three former chief ministers – Farooq Abdullah, Omar Abdullah, and Mehbooba Mufti, who continued to be in detention. In the following months, over 5,000 people were detained. Gradually, most of them were released in the following weeks or months. The Valley witnessed limited protests in some areas and learned to live without the Internet.
On the other side people who opposed the constitution and mainstream politics also preferred to say little. It was more like they had never intended to defend the special status of the region only a few weeks after they would call for shutdowns over Supreme Court hearing of the special status.
Meeting the Lieutenant Governor
On 7 January, former finance minister and People's Democratic Party (PDP) leader Altaf Bukhari led an eight-member delegation, a group of former legislators who had recently shifted sides, to meet Lt. Governor G. C. Murmu, sparked speculations that Mr. Bukhari is forming a new political party, which has since been called a third-front.
During the meeting, a memorandum was presented to the governor, which demanded the release of political leaders, restoration of internet, statehood to J-K, and domicile rights for the residents of the region.
Denying that a new political front is being created, a former legislator of the PDP, who was part of the meeting, told The Kashmir Walla that it is not possible to take any step, or form any new front, unless the rest of the leadership will not be released; especially referring to the three former chief ministers, who continue to be in detention.
"After the leaders are released, there would be talks whether there is a need to create a new front or not," he added. "But if anyone aims to establish a new party, it is not a crime."
The legislator stressed that it was a group of people with the same ideology sitting together, which does not essentially mean that they are a party. "Formation of a new party requires efforts and proper plans. People have given this a name – third front, on their own," he said and added sarcastically, "It wouldn't even be a third-front but it would then be 51st or even 100th front."
The former legislator believes that Mr. Bukhari and others, including himself, met the Lt. Governor in an individual capacity. "If Altaf Sahib is claiming anything, that is his own planning," the legislator claimed. "He has something in mind about which he announced that there will be a new development in Kashmir politics after two months. But, I believe all these steps and moves are only possible when the rest of the leadership will be out."
A day after Mr. Bukhari announced his stand, senior PDP leader Muzaffar Hussain Beigh said, "Government should release all mainstream leaders from detention in Kashmir. We cannot get anything by browbeating and threatening Modi ji, home minister or NSA. As citizens of India, we should put before them our grievances and our problems with humanity."
Supporting the demands of statehood and domicile rights, Mr. Beigh added that nothing had remained in Article 370, he said while endorsing scrapping of the special status.
Speculated to be a part of this new front, Hakeem Mohammad Yaseen, in his 60s, chairman of People's Democratic Front (PDF) and a former legislator from Khan-Sahib constituency said that the meeting was "a trial to see how will be the response." Speaking to The Kashmir Walla, at his residence in Srinagar, Mr. Yaseen said, "We cannot sit silent after spending months under house detention [after 5 August]. If people did not react, we have to see what they want and how will the political process be restored. If Altaf [Bukhari] has taken a step for it, it is not bad."
But this new stand – the demand for statehood and domicile rights is contrary to what the leaders of regional political parties have been campaigning for all these decades of their existence.
From the rooms of Centuar, and other detention centres
On the night of 4 August 2019, the centre caught region's political faces by surprise; the two Abullahs, Ms. Mufti and People's Conference (PC) chairman Sajad Lone, along with their party leaders were placed in detention. While the senior leaders were separately put in government accommodations, around four dozen leaders were detained at the Centuar Hotel on the banks of Dal Lake in Srinagar.
With each passing day, the hotel turned into a hub of political discussions and bickering. Sailing in the same boat, leaders from parties of different walks accused each other of betrayal. Recalling his detention period at the hotel, PDF Chairman Mr. Yaseen, said that whenever there were political discussions, people who pointed fingers at the NC were corrected by others. "We would always quote Sheikh sahib [Sheikh Mohammad Abdullah, founder of the NC] for this, but others did mistakes too," said Mr. Yaseen. "[Two NC Member of Parliament (MP)] Justice Hasnain Masoodi and Akbar Lone came to meet me when I was under detention and I told them to resign from their seats. They got angry over it."
Even inside the NC camp, hints are being dropped that the party may fight upcoming assembly elections, with some concessions being made by the Centre. A former NC legislator, who spoke to the party patron, Farooq Abdullah, after Mr. Bukhari's meeting with Lt. Governor, revealed the contents of his conversation with The Kashmir Walla. Quoting the patron, he said that Mr. Abdullah was very angry over the statement given by his current MP, Akbar Lone, where he claimed that "NC will not fight elections unless the Article 370 and statehood will not be restored."
The legislator further added that senior Abdullah believes that the BJP passed the [J-K Reorganisation] bill with majority votes in the Parliament, so it is an immature statement to hope for its reversal. "When all the leadership will come out from detention, a working committee will sit to discuss the future strategy," he quoted senior Abdullah.
The senior Abdullah seems to be hinting at the formation of an alliance – jointly with other parties, much on the plank of Gupkar Declaration – a joint statement made by the various regional parties together on 4 August 2019. Having him say it matters, for many who even oppose his politics, as being the senior-most politician in the current times – and an old mediator and friend of New Delhi.
Another NC legislator, who was detained at the Centuar, said that despite being a patriot, they were jailed. Calling the Centuar a "Big Boss" house, he said that after the abrogation of the special status, everyone inside was apprehensive. "The political system built in the last 70 years was lying like a body before us," he said. "We were thinking about what will happen to people and our future now."
Is it a re-launch of Kashmir politics?
The recent activities in the power corridors of J-K could lead one to believe that the political space is re-shaping in the region, especially the Kashmir Valley. But is it really?
The former PDP legislator, who was part of Mr. Bukhari's group while meeting Lt. Governor, spoke to The Kashmir Walla on anonymity, saying that his perception is that Kashmir has been imprisoned in every aspect. "Especially political activity has vanished here as all the leadership – whether they are our friends or our enemies – have been locked," he said. "When the main leadership is under detention, how is that possible a new third-front would emerge? If that is the plan, it will be possible only after they would be released."
At the same time, many have questioned, why it is wrong for anyone to form a political party on different ideological stream and political promises. But despite being part of what has started to be known as third-front, as it would appear, the PDP legislator believes there will be no new front without the release of political leaders, who continue to be in detention.
Recalling the 4 August 2019 night, Mr. Yaseen, who hasn't lost his assembly seat for decades, said that when Ms. Mufti and senior Abdullah called him for attending Gupkar Declaration, he was sitting with Mr. Bukhari, Ghulam Hussan Mir, a former legislator from Tangmarg, Mohammad Yusuf Tarigami of Communist Party of India (Marxist) [CPI-M] and stayed away. "I know those people and their agenda. We decided not to join them because they were going to use us," he said. "They called us four to five times. We knew what it is going to be."
On the future course of action, Mr. Yaseen will only decide once the statehood is restored. "When NC and PDP tried to form the government a few weeks before the abrogation, it was a drama they were playing," he said, recalling the time he was privy to the developments. "When I was asked about it, I advised them not to delay it.. Back then, Altaf Bukhari sahib was running the show and it was decided that he will be the chief minister of the state. It was a trial."
From the PDP, its senior leader and former minister in Ms. Mufti's cabinet said that since the formation of a third front is on the cards, it is indicative of the fact that it is at the behest of someone. "The regional parties like NC and PDP are unanimous on the point that the decision regarding Article 370 has been an incorrect one with respect to the people of Kashmir."
Can new front become a major player?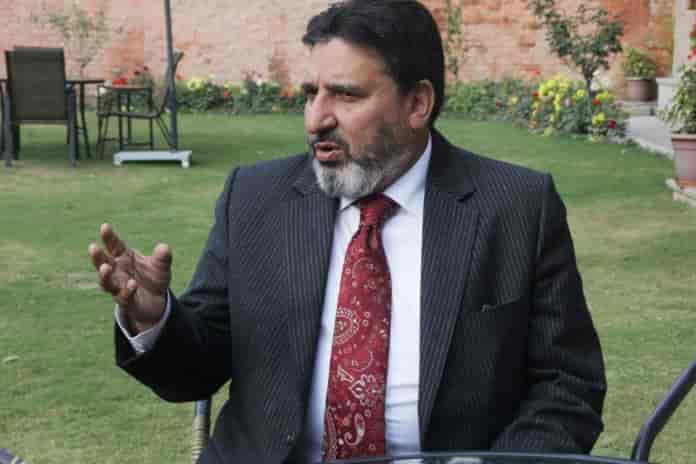 Whether J-K will see formation of a new political front, or not, but the leftover political space has been abuzz with reactions, accusations, and claims for the last week. J-K Congress president, Ghulam Ahmad Mir, accused Mr. Bukhari and his delegation of being "the same group that revolted within the PDP 'with Mufti, without Mufti' when Mufti Mohammad Syed [PDP founder] passed away in January 2016 and Mehbooba [Mufti] was in silence."
"In this situation, when all voices have been silenced, they see an opportunity but ultimately the public has to decide," Mr. Mir told The Kashmir Walla. "What will be their plank? There are two simple words: restore statehood. It is our claim that it won't be achieved in the BJP government. The second part is the safety of land acquisition and jobs. Why would the BJP give this? They took away something that existed earlier, for that they will give a memorandum."
Back in 1999, when the NC was the only regional party winning majority of the seats in the erstwhile state, the PDP was formed by Mufti Mohammad Sayeed to counter the Abdullahs. While the NC banked on its manifesto of Greater Autonomy, the PDP chose to fight elections for the idea of Self-Rule. Three years later, the PDP won 16 assembly seats in the erstwhile state, forming a coalition government with the Congress.
A senior PDP leader while speaking about the formation of the party said that the purpose of PDP's formation was to give a space, and a platform, to the people of J-K to express themselves but today a new front is diverting from that ideology.
What is making Mr. Bukhari's mission powerful is the absence of the regional parties. Many believe that with both NC and PDP weaken now; Mr. Bukhari is minting political capital to form a new regional party, which could survive with strong support of the BJP – who have won the 2019 general elections with absolute majority.
The detained political leaders and their allies accuse that any new front will be allying with the BJP, even after the special status was revoked. Such a move could further weaken the identity of Kashmir, which will rejuvenate the anger within the people.
Despite this hope, however, leaders from regional parties – NC, PC, PDP, and Congress – and even some close to Mr. Bukhari agree on one thing: nothing will happen till the detained politicians are not released. Asking everyone to have a wait-and-watch policy, Hakeem Yaseen said, "He [Altaf Bukhari] only rings the bell, now we should wait and observe what he will do. Will things be in his favour or not? If he has started any initiative, let us see how much he will be successful in making things better. Till now the situation in J-K is if someone is slapping on our one side of the face, we are forwarding another side. And to stop this, one has to take a stand."
On the other hand, a senior Congress leader calls it cheap politics. "I don't find myself relevant in this game," he said while speaking over the phone. He claimed that after the abrogation of Article 370, the space for mainstream politics has squeezed and they aren't left with anything to sell to voters. "I don't know what kind of sponsorship they have right now and who is backing them. The formation of third-front was under the carpet and people were working on it for a long time. Now, in the present scenario, what are the dynamics and parameters of this development, time will prove."
Regional parties have not died yet
Inside his home in Gupkar Road, senior Abdullah is believed to have laughed after hearing about a third-front. The NC legislator, who spoke to him, further revealed that senior Abdullah told him, "Let these pitiable people do such things, Delhi wale kisi ke nahi hai [New Delhi has no definite stand for anyone]. They will take advantage of them and will dishonour them after some time."
Senior Abdullah believes that currently isn't the right time for such developments. "In these situations where people are in the mess, they meet Lt. Governor for the process which could have been built with senior leadership. What will governor give them?" the legislator quoted him saying, and adding that since childhood he has witnessed such things, "They will taste it now."
Senior Abdullah could be aware of the political discussions outside, as another senior legislator who was with Mr. Bukhari, said that if someone is not comfortable with the existing parties, maybe that group might form something. However, Mr. Mir, the Congress' J-K President, doesn't see a new front as a way out from the current logjam.
"If J-K is silent, rest of the country is raising its voice," said Mr. Mir. "Educated people and scholars are raising its voice. Looking at this situation, if someone wants to run for power here, who can stop them? This is democracy. Ultimately, the final decision is of the public."
Senior PC leader, Abid Ansari, while speaking to The Kashmir Walla believed that these members – "who have started this process" – do not have any strong backing. "If we want to do something for people then we should pay respect to their emotions. We have to see virtually what people of the state want. Whatever they are doing right now, this is clear that they are doing it for themselves."
Mr. Ansari, who along with his nephew Imran Ansari, wields control over two assembly constituencies – Pattan and Zadibal, warns that other parties can't be ignored and denied the possibility of any political action until political leadership is released. "We cannot deny that if Farooq Sahib, Omar Abdullah, and Mehbooba Mufti are under detention that doesn't mean their parties have died."
Calling the emergence of third-front as "the elements in support of communal forces," Mr. Mir said that the real thing is yet to come. "This is an early stage. How much is the group's worth and public support will take time to ascertain? If Delhi has the courage, it has to release political people, let them step out of their house, allow them to go to the people in a democratic way."
Will Gupkar Declaration become a strategy?
With the revocation of the special status, Kashmir's political vocabulary was gifted a new term – Gupkar Declaration, a meeting of the PDP, NC, PC and Congress leaders at the Gupkar road residence of senior Abdullah. But even before it could reap any benefits for the parties, the Centre was already preparing to detain all the attendee leaders. Though, after five months since the declaration, some political leaders still hope to follow the same path – to come together as one joint alliance.
As Congress' Mr. Mir said that after New Delhi declined [Gupkar] Declaration and "ended the existence of the state, demolished the respect, today if some people are taking shortcuts for their personal gain in another way to help them, J-K's people will answer that."
On the other hand, NC legislator who is in touch with senior Abdullah says that according to their sources in the BJP, there are BJP workers opine to speak to senior Abdullah. "They believe that this [NC] is the oldest regional political party and they have a strong role in the state."
PC leader Abid Ansari feels that the Gupkar Declaration's aim was to defend Article 370 jointly. "Now, when all the leadership will come out, it will be only decided what to do next?" said Mr. Ansari. "We have to work jointly as this one man army can't succeed. They should have come and discuss it with other leaders as well."
Many other leaders from NC, PDP, PC and Congress feel the same way as Mr. Ansari – coming together. A senior PDP leader and former cabinet minister, who spoke to The Kashmir Walla on anonymity, said that they will stick to the Gupkar Declaration. "When the mainstream leadership resurfaces, we will confabulate over what is best for the people of J-K. This is a time when the parties must come together and seek the good for the people of J-K and work for their welfare."
But for Hakeem Yasin, in the present time, parties should come together but for what is left: to turn J-K back to a state from an UT. "There is nothing left which this new front is trying to sell," he added. "What is there now? Nothing – we are naked and if this step or process will bring something to cover, nothing is wrong with it. It should not be the decision who will be the first but from all leaders, there should be a joint approach for statehood."
The idea of restoring statehood was in itself announced by the Home Minister Amit Shah, while announcing the revocation of the special status in August, saying that when the situation will be normal in the region, statehood will be returned. For domicile rights, the demand has also come from BJP's regional leaders too, leaving no fresh promises for anyone else to make.
Between the two different aims – from two different sides of the political divide – one thing prominently pops out: whether the Centre will ever turn back the abrogation of Article 370? For Mr. Bukhari and those who follow him, it is impossible. A thought shared by even senior Abdullah, as per his party legislator. However, the legislator who was with Mr. Bukhari at the Lt. Governor meeting, clearly points out that if Congress will be back in power in Centre, they will also not give Article 370 back to J-K.
"It was them, who slowly have hollowed this Article [370]. Article 370's clauses from 98 to 94 were deleted by them," he added. "There were only four clauses in it now. So, none of the national party could effort to revise this decision. So, this group is not demanding Article 370 and Autonomy, we knew that this is not possible now. We also knew that they will restore statehood because there is pressure on it from Jammu as well."
For the three regional parties – NC, PDP and PC – it is clear no decision will be taken till their top leadership is not released from detention, a demand made by Mr. Bukhari and everyone else too. Whether they will make peace with the new normal or leave a free ground anyone else to replace them has little rational value – as one can understand from how much stress everyone puts on their release. Every leader, who is with or against the move of 5 August, values the significance of these parties – who could be soon coming out to revive their political activities – amid some new faces, perhaps including Mr. Bukhari too.
Kaisar Andrabi is a Features Writer at The Kashmir Walla.
The story appeared in our 13-19 January 2020 print edition.
---
The Kashmir Walla needs you, urgently. Only you can do it.
We have always come to you for help: The Kashmir Walla is battling at multiple fronts — and if you don't act now, it would be too late. 2020 was a year like no other and we walked into it already battered. The freedom of the press in Kashmir was touching new lows as the entire population was gradually coming out of one of the longest communication blackouts in the world.
We are not a big organization. A few thousand rupees from each one of you would make a huge difference.>
The Kashmir Walla plans to extensively and honestly cover — break, report, and analyze — everything that matters to you. You can help us.
Choose a plan as per your location