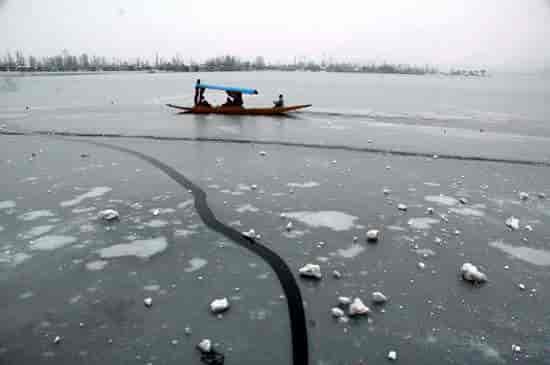 He looked into the sky and realized that its blue colour had resigned to red. The sun was setting. He turned his face to the reflection of sun forming a line in the waters of Dal Lake and followed it down. There, he saw his grandchildren playing, trying to catch tiny fishes in a bottle. "Shhhhh… Keep quiet. You are frightening the fish. Let them come," said one of his grandchildren to the other. He was sitting on a platform that extended a little into the lake. It had stairs on one side that landed on the water's surface where his grandchildren were playing. He felt he was having déjà vu but was not sure. He was drowned in thought, as if finding a reason to smile. He had always lived for others, people he loved and cared about, had always made sacrifices, sacrifices of which nobody knew. He had always found his bliss in the bliss of others. But now, things had changed. The world didn't require him anymore. He had had his time. He now wanted his own bliss, for once.
The old man's name was Irfan, which had seemed like a cool name when he was young, but he was no longer cool. He was old, and life does that to you. While Irfan was sitting on a bench, lost in his thoughts, an old lady, who was being chased by a small child, threw herself on the same bench, beside Irfan. Her name was Saquina. She was panting, her frail body could not keep up the smiles of the child, her grandchild. He was nagging her to chase him, but she was too tired and couldn't. The child then saw Irfan's grandchildren playing by the water. He asked his grandmother's permission to go and play with them. She just wanted to rest and so gave him a nod.
She held her breath and relaxed, not realizing the presence of Irfan. He was also too lost in his thoughts and didn't realize she was there. They both were gazing at the same setting sun. Irfan commented, "The end is so beautiful," and Saquina thought it was the voice of her own soul, so she replied, "Yes it is," and Irfan thought the same of her reply. They were there together, unable to realize each other's presence, not because they didn't feel it, but because they'd had this feeling with them for forty years, and now it was impossible to tell if the feeling meant anything in the real world, the world of bodies and not of souls. It was after some time that Irfan's gaze broke, while Saquina was still looking at the falling sun. He realized she was there in the real sense but was not startled. He looked at her lost face, trying to find the story of her life in her wrinkles. He looked at her for quite some time and finally said, "Saquina."
Her gaze broke. She turned toward Irfan and said, "Irfan," then sighed. "A dream once more."
Irfan didn't understand, so he asked, "What do you mean?"
"You forget it every time," replied Saquina. "We are here together because we are away from the tyrannies of the shackled world, of the world where hearts are closed down and the love in them is allowed to rot and die. We are here because we are in a dream and not in the real world."
Irfan realized the origin of his déjà vu and said, "Oh sure, I remember, it must be. Every night, we meet here in this world of dreams, and the day here is always the same, with the same setting sun. But look, we have grown so old even in our dreams."
She gave him a smile with not a trace of regret, "We have grown old and so has our love. They say the longer it takes a tree to grow, the longer it lives. So why regret when we have let our love grow for a lifetime?"
Irfan looked toward the setting sun, whose light had grown even redder, and said, "What about the setting sun? What if our existence ceases to be before our love matures?"
Saqiuna bent and saw the reflection of Irfan in the calm water of the lake. She said, "You see that reflection there? Tell me what is it."
"It is my reflection," replied Irfan."
"See, there you are. It's not you; it's your reflection, and so are our bodies. They are not us but ours. We are something completely different, not what people think of us and not what we think of ourselves. We are not the coffer but the treasure inside, the love. And we have fed this love to grow all our life. We will never cease to exist, because we are not the mortal bodies but the immortal and eternal love."
Irfan looked toward his grandchildren. They were joyful. He thought of his family and every person for whom he had made sacrifices in his life. A silence surrounded them, like there existed nothing in this universe. After some time, Irfan broke this thoughtful silence and said, "Yes. We have fed our love more than anyone ever has." They again fell into a state of silence.
"The sun doesn't seem to set today. It's been quite some time," exclaimed Saquina.
"Maybe it wants us to stay together longer, for when it sets, we will wake up from our dreams and be separated again, as always," said Irfan.
"For forty years now, every night we meet here in our dreams. I wonder if you also have the same dream, at the same time, of the same place and the same sun. The dream that ends every time we try to touch each other and every time the sun sets."
"I don't know. You are now in my dream, and you are there every night. I wish to know the same about you," sighed Irfan, and he sneered to himself, doubting the existence of Saquina.
Gazing at the paused sun, admiring the beauty of the red water of the lake and the green mountains, feeling the winds embracing them, and realizing each other's existence, they sat there for a long time. The children were too busy to get bored. They were trying to feed crushed chips to the small fishes.
Irfan said, "What about desires?."
"Gratify them here," answered Saquina.
They both knew what it meant. So they stood up and looked at each other, didn't hold hands. They wished to but they didn't, for that would have ended the dream. They then looked down the road running parallel to the lake's boundary. They both smiled and slowly walked, side-by-side, wherever the road lead. The dim lights of lampposts and the red light of the sun made their every step a beautiful journey.
"See, the sun is setting," said Saquina, in a regretful tone.
"Here we depart to meet tomorrow, so be not in agony," consoled Irfan.
"Who are you?" The sound came from the lips of both lovers. They spoke at the same time and asked the same question.
"I am a part of you," both replied.
They looked for their lost selves in each other's eyes and found something there. Something that brought them close to kiss. Just before their lips touched, they felt a jerk in their bodies, It was then that they should have awoken, for they could not touch each other; the world of their bliss could not materialize, for they were cursed and damned for committing the great sin of falling in love. But they didn't wake up. They were still there, so they kissed, their eyes full of tears, their bodies shivering, and everything forgotten. Like there existed nothing in this world – not even them – but love, love they had fed all their lives. Their kiss seemed to last years. When they finished the kiss, they looked back from where they had come but couldn't recognize it, as if they had forgotten the way a long, long time ago.
They now knew that this time it was not a dream but truth, for the sun had set and they were still there, for they had touched each other, and they still were there. But where was the world? Where were they? Where were the kids? They were certain of the answers. The jerk just before the kiss had brought them the gift of death and had released them from captivity in this tyrant world. And before that, they were really present at that platform with their kids. And they knew that the ever-watched dream had become reality.
Both of them felt something in their right hand. They spread their hands, like one does when praying and saw a light there, and they knew it was a wish. Lost in each other, they said, "I wish to realize the being of my lover forever." A white light struck them, and they were frozen into statues, looking into each other's eyes and holding each other. This was their heaven.
Photograph by Autarmota
---
The Kashmir Walla needs you, urgently. Only you can do it.
We have always come to you for help: The Kashmir Walla is battling at multiple fronts — and if you don't act now, it would be too late. 2020 was a year like no other and we walked into it already battered. The freedom of the press in Kashmir was touching new lows as the entire population was gradually coming out of one of the longest communication blackouts in the world.
We are not a big organization. A few thousand rupees from each one of you would make a huge difference.
The Kashmir Walla plans to extensively and honestly cover — break, report, and analyze — everything that matters to you. You can help us.
Choose a plan as per your location