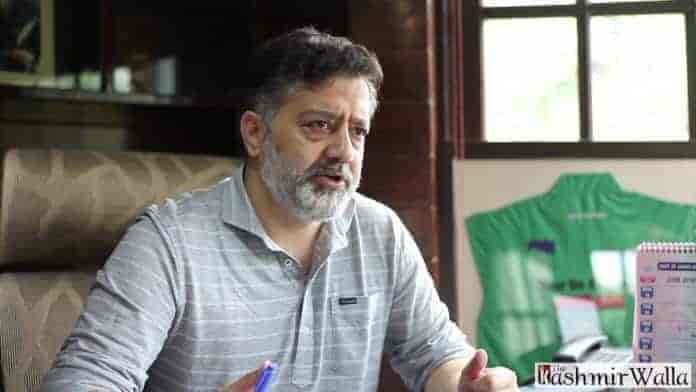 The disgruntled PDP leaders have not regret for criticizing the party leaders instead want alternative to family rule.
At least six PDP leaders including five MLAs and one MLC have openly revolted against party leadership. Some of them have accused Mehbooba, responsible for the fall of the PDP-BJP government and bringing relatives into the party.
These six legislators Imran Ansari, Abid Ansari, Abbas Wani, Yasir Reshi , Abdul Majeed Padroo and Javaid Beigh have criticized the party leadership.
However, few among them met Mehbooba Mufti since her return from New Delhi to resolve the differences.
The PDP Thursday said that it has removed legislator Yasir Reshi as the party's district president for Bandipora, cracking the whip on leaders who had publicly criticised PDP chief Mehbooba Mufti.
In a statement, the PDP said Baramulla district president Irshad Ahmad Kar will look after the party affairs of Bandipora district for the time being.
Yasir has supported his party colleagues to seek an alternative to the traditional family rule in Jammu and Kashmir.
In a statement, Reshi said that he was in complete conformity with the views expressed recently by "my esteemed colleagues, to find an alternative to the traditional two-family system".
Talking to KNS, Reshi said that he did not say anything wrong against the party.
"There has to be a democracy in the party, which is my demand. Senior leaders like Muzafar Beigh, Qazi Afzal, Dilawar Mir have been sidelined. I said that family rule has to be ended in the party," he said.
Imran Ansari said that he was not invited by the party to meet Mehbooba. "I did not receive any invitation. Let them take action whatever they want," Imran told KNS.
He said that he has not decided whether to join any other party if he is sacked from the party.
Imran, the former IT and Higher Education Minister has said, "PDP and the government had off late been reduced to a family opera where the brothers, the uncles, the aunties and other relatives would play protagonist and to continue with such a party was not only useless but a humiliation too."
Abid said, "I have been invited several times but I did not go to meet Mehbooba. I will not go… Let them expel me it won't make any difference."
He said that talks were going between rebel leaders to leave the party even those who met Mehbooba. "If any leader met Mehbooba that does not mean he is with her," he added.
He has claimed that 14 party legislators are mulling to leave the party.
Among the 14 legislators, Abid claimed that Abdul Majeed Padroo, Mushtaq Shah, Haq Khan, Ashraf Mir, Noor Mohammad, Mohammad Yousuf Bhat, Rahim Rather, Shahid Tantary, Chowdhary Qamar Ali, Javaid Beigh, Mohammad Abbas Wani, are leaving the party. (KNS)
---
The Kashmir Walla needs you, urgently. Only you can do it.
We have always come to you for help: The Kashmir Walla is battling at multiple fronts — and if you don't act now, it would be too late. 2020 was a year like no other and we walked into it already battered. The freedom of the press in Kashmir was touching new lows as the entire population was gradually coming out of one of the longest communication blackouts in the world.
We are not a big organization. A few thousand rupees from each one of you would make a huge difference.
The Kashmir Walla plans to extensively and honestly cover — break, report, and analyze — everything that matters to you. You can help us.
Choose a plan as per your location