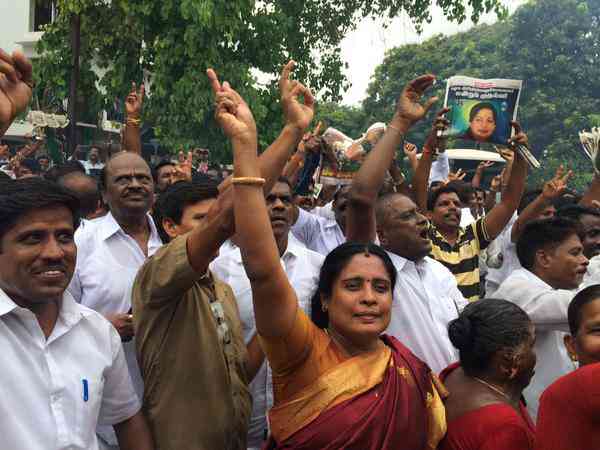 In a huge relief to Tamil Nadu's ruling party, AIADMK, the Karnataka High Court today acquitted former chief minister and party supremo Jayalalithaa Jayaram in the disproportionate assets case that ran for nearly two decades.
In September last year, she was forced to stand down as chief minister of the state after being found guilty of amassing unaccounted wealth of Rs. 54 crore outside her known sources of income during her first term in office. The special court in Bengaluru had sentenced her and three others to four years in jail and imposed a heavy fine of Rs. 100 crore on Jayalalithaa and Rs. 10 crore each on three others.
Today, the court was hearing an appeal filed by the four accused who were convicted by special court. According to reports, Judge Kumaraswamy has not given any reason for the acquittal and declared her not guilty in a matter of seconds.
The news of Jayalalitha's acquittal has sent her supporters into celebrations who were seen bursting crackers and distributing sweets. Others expressed their dismay on the verdict on Twitter.
Fuuuuullllllllll Maaaarrrrkkkkksssss Tooooo Oooouuuuurrr Judddddiiicccaiillll Ssssyyyttttemmss..Meraaa Bharat Mahaann. Jaaay..Hiiiiind…

— Kiran Bedi (@thekiranbedi) May 11, 2015
No place to stand. Aiadmk workers dancing on the streets outside Jaya Residence. @ibnlive #JayaVerdict pic.twitter.com/dxQ8c3O2L2

— anna isaac (@anna_isaac) May 11, 2015
Scenes outside Jaya residence.TN state machinery may come to a stand still if Jaya's conviction upheld.#JayaVerdict pic.twitter.com/e6ketV601X

— AnshuChhibber (@AnshuChhibber) May 11, 2015
It's amma all over! #JayaVerdict @ibnlive @ibnkhabar pic.twitter.com/VaEKgKq5CT

— pallavi ghosh (@pallavighcnnibn) May 11, 2015
Insane supporters. Amma wouldn't be very happy with it. "@ANI_news: … https://t.co/jxJcgVdNIx "

— Rohit Vats (@nawabjha) February 23, 2015
#JayaVerdict Jayalalithaa will return as CM. So, O. Panneerselvam is free to stand in for Salman Khan in his movies.

— Ramesh Srivats (@rameshsrivats) May 11, 2015
God – happens only in amma land : #jayaacquitted @ibnlive pic.twitter.com/Ee1hvEzjuS

— pallavi ghosh (@pallavighcnnibn) May 11, 2015
---
The Kashmir Walla needs you, urgently. Only you can do it.
We have always come to you for help: The Kashmir Walla is battling at multiple fronts — and if you don't act now, it would be too late. 2020 was a year like no other and we walked into it already battered. The freedom of the press in Kashmir was touching new lows as the entire population was gradually coming out of one of the longest communication blackouts in the world.
We are not a big organization. A few thousand rupees from each one of you would make a huge difference.
The Kashmir Walla plans to extensively and honestly cover — break, report, and analyze — everything that matters to you. You can help us.
Choose a plan as per your location