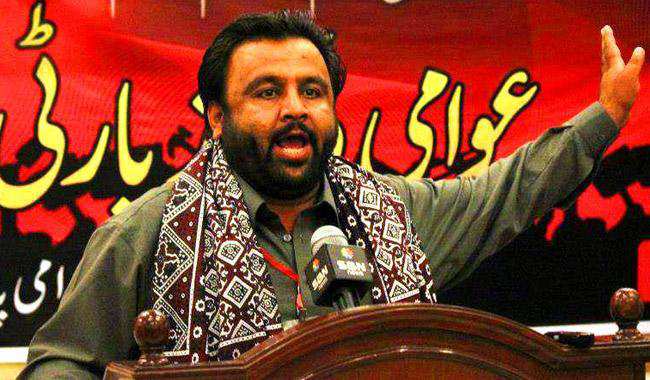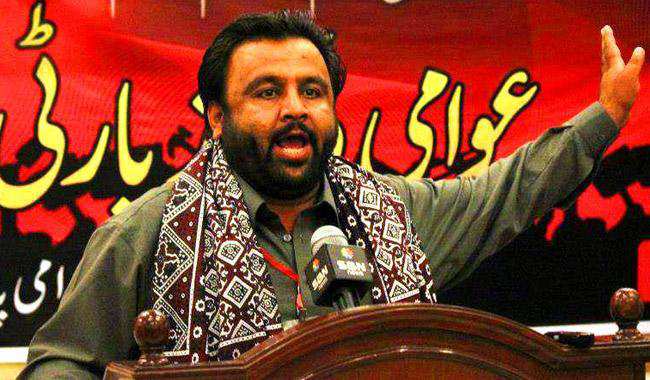 Baba Jan appeared in the cover of the moon past midnight and immediately we hugged. He had been in jail, tortured and after a lengthy campaign he was finally out on bail. It was the summer of 2014, I had arrived in Gilgit-Baltistan earlier in the day and had called him numerous times. Each time another comrade picked up his phone and told me in a whispered voice, 'Comrade Baba Jan is in a meeting comrade…is everything ok….he will see you tonight…we will call you back comrade.'
That day Baba Jan had taken part in over six meetings and functions. All were related to the recently victorious Wheat Movement. The movement began in the winter of that year, when the Government of Pakistan announced that it was cutting Gilgit-Baltistan's wheat subsidy. The people organised themselves into an alliance and heroically blocked the Karakoram Highway for over two weeks. From Gilgit to Skardu people camped on the road stopping most traffic. Baba Jan told me that tens of thousands had camped in Gilgit with meagre food and braving the harsh conditions of winter in the high lands to support the movement. The movement was spearheaded by Advocate Eshan Ali – Baba Jan's advocate in his trails.
I met Ehsan Ali later on the same trip and we talked about Gilgit-Baltistan politics in detail. He appeared exhausted, he had taken off his tie and the top button of his shirt. He had spent the day defending 13 nationalist intellectuals and activists who had been charged under the Anti-Terrorism Act for merely taking a letter to the UN observers office in Gilgit City. I asked him about the constitutional status of Gilgit-Baltistan. He explained that it was a 'disputed territory' and awaits a referendum but the bureaucracy of the Pakistani state and its military have effective sovereignty. Even over life and death.
In August 2010, around 200 people took out a protest demanding compensation from the government that was promised them but not received – they had lost their homes to a landslide and to the artificial lake that the landslide had created. The police open fired and killed a father and son – Afzal Baig and Sher Baig. Their deaths sparked riots in Aliabad – government buildings were burnt down, police and other officials beaten up and chased out of the town. For four days, the people effectively ruled themselves.[1] Then the backlash came. 92 people were arrested. Baba Jan and Iftikhar Hussain, still remain in prison. The police that fired on the unarmed protesters remain free. This event, local activists, noted to me, showed where power and sovereignty lay.
In 2009 the Government of Pakistan had brought into effect the Gilgit-Baltistan Empowerment and Self-Governance Order 2009. This was the latest step in a series of 'smoke-screens' to hide effective power. The ordinance created a legislative assembly – with limited powers. It asked for elections to be held every five years and two have taken place. Overall, mainstream parties dominate. When the Pakistan Peoples Party (PPP) was in power in the lowlands of Pakistan, it also won the majority in the Gilgit Baltistan assembly. Now that the Pakistan Muslim League -Nawaz (PML-N) is in power in the lowlands, PML-N has the majority in G-B. However, some anomalies have occurred. Notably, the nationalist leader, Nawaz Khan Naji, of the Balawaristan National Front, has won twice from Ghizer district.
The other anomaly has to do with Baba Jan. who is today back in jail and sentenced on trumped up charges to life imprisonment. Yet, in 2015, from jail, he ran a campaign and came second in the Hunza district with more then 4000 votes – comfortably, beating mainstream parties such as Pakistan's Peoples Party PP and Pakistan Tareek-e-Insaf. He ran under the banner of Awami Workers Party – a recently, formed left unity party. To put this in context, this is probably the biggest electoral success of the Pakistani left since 1960s.
As I write this, he is still in jail and running again for the same seat in a by-election. He campaign's slogan is, 'from prison to parliament'. But Baba Jan wants more than to be merely in parliament.
Back to 2014, when Baba Jan arrived in the cover of the moon, after we hugged. He asked about all those journalists and common friends who had made an effort for his release or simply taken time to think of him.
He asked about Comrade Ahmad and how he was. I replied, 'Comrade, he is good, but not active these days, he is abroad and going through a divorce'. I continued, 'He is heartbroken…I don't know too much but I don't think he will be active in politics for a while, it is a tough time for him.'
Baba Jan: 'It happens comrades.'
Baba Jan: 'How is Imran? He wrote a very good report on our case.'
Me: 'He is good comrade, but also in the process of divorce.'
Baba Jan, looked solemn but without the loss of his joyous spirit, repeated, 'It happens comrade'.
Baba Jan: 'And you comrade, how are you? I heard you are engaged now.'
Me: 'I was comrade, it is a long story, but it's over, I am not good either comrade, heartbroken, also, comrade, it didn't work out, there is a lot of pain there…'
Baba Jan kept his solemn look as he said again, 'it happens comrade.'
Me: 'And you comrade, when are you getting married?'
Baba Jan, laughed and said, 'I have a prison waiting for me as an adorned bride', he replied. And so it turned out.
We both smiled and my pain eased in the joy of his laugh, the lucid philosophy of 'it happens' contrasted with my verbose unpacking of minute details of love and betrayal…but it was precisely his message of stoic acceptance that was going to help, did help and I realised something that I was to realise throughout my time with Baba Jan – that he was a healer. But for him healing was not just psychological. It was not just the spirit of heartbroken comrades that he restored – he did that – but he realised that the deformation – the cause of pain of people – had social and economic foundations and while he could heal the spirit, like no other, he was not a charlatan, the spirit was connected to materiality and without addressing social, political and economic causes some spirits could not be healed.
After a short, somewhat awkward meeting, Baba Jan left again for a local organising meeting. He asked if I wanted anything and I mentioned that I had to see the semi-final of the World Cup. He said he will take me to watch it.
He appeared a few minutes before kick-off and we made our way from the foot of the Karimabad valley to its top – where the game was being screened. The moon shone and the stars were out. It was a clear night. The town was asleep and only the glacier water flowing through the valley could be heard. Baba Jan stopped me below an imperious looking building. Pointing at it, he said,
'This is the Mir's Palace…he got it built by 'begaar' (unwaged labour). Nothing is his, it belongs to the people and we will take it back…we will make it a public library'.
We made it to the game. Argentina lost. Baba Jan slept through it – he had a public library to build.
[1] "Attabad Lake compensation: Man, son killed in clash between police, victims", Shabbir Mir, The Express Tribune, Islamabad, August 12, 2011 (Web reference: http://tribune.com.pk/story/229725/attabad-lake-compensation-man-son-killed-in-clash-between-police-victims/)
---
The Kashmir Walla needs you, urgently. Only you can do it.
We have always come to you for help: The Kashmir Walla is battling at multiple fronts — and if you don't act now, it would be too late. 2020 was a year like no other and we walked into it already battered. The freedom of the press in Kashmir was touching new lows as the entire population was gradually coming out of one of the longest communication blackouts in the world.
We are not a big organization. A few thousand rupees from each one of you would make a huge difference.
The Kashmir Walla plans to extensively and honestly cover — break, report, and analyze — everything that matters to you. You can help us.
Choose a plan as per your location