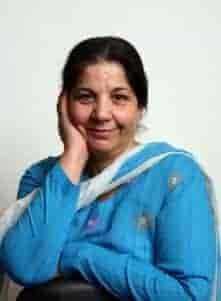 Nayeema Ahmad Mehjoor walked out as the Chairperson of Jammu and Kashmir State Commission for Women (SCW) soon after the break-up of the PDP-BJP alliance on Wednesday.
"I have to resign because we don't have a government left," said Nayeema Ahmad Mehjoor. "I am a non-political person and I can't fit in politics. The system is not well for an intellectual to work, people like me can't work in a rotten political system," she added.
Sending her resignation to the governor N.N Vohra and Chief Secretary she asserted that she was waiting for this time and God had provided her with the same.
Talking to Twitter, Mehjoor said that she is a 'free woman, freedom at last.'
I have resigned from the post of chairperson, jk state commission for women early morning. I am now free woman… freedom at last…..

— Nayeema Mehjoor (@nayeema1) June 20, 2018
Earlier, Mehjoor has served in BBC world service as a senior journalist and editor for 15 years before being appointed as a chairperson.
"I worked very hard in J&K and I have bought a revolution from the last 3 years regarding women issues and women awareness programs. It was me that did it efficiently otherwise the staff and infrastructure are below average. We have nothing here and every time you ask for this it takes ages for them to get everything in order," she said.
"Regarding the funds we got a huge expenditure from the National Commission for women, there was never a problem with funds and we used to apply them effectively," she said.
"We are not an independent organization, to give justice to the people associated we want to involve other departments. What is the point of having the institution when we have no power over it," she added.
Talking about the future steps in her career, Mehjoor said that she wants to complete her book which is due last December.
---
The Kashmir Walla needs you, urgently. Only you can do it.
We have always come to you for help: The Kashmir Walla is battling at multiple fronts — and if you don't act now, it would be too late. 2020 was a year like no other and we walked into it already battered. The freedom of the press in Kashmir was touching new lows as the entire population was gradually coming out of one of the longest communication blackouts in the world.
We are not a big organization. A few thousand rupees from each one of you would make a huge difference.
The Kashmir Walla plans to extensively and honestly cover — break, report, and analyze — everything that matters to you. You can help us.
Choose a plan as per your location