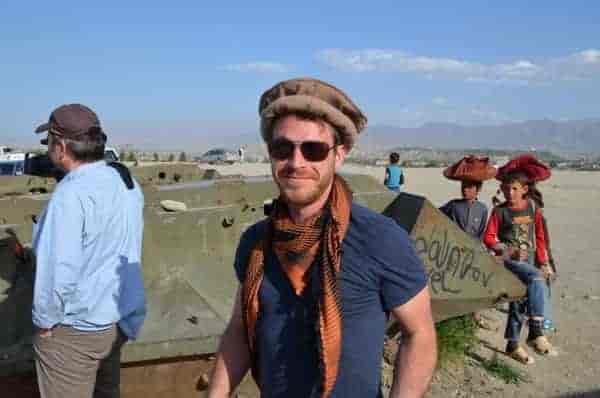 Some may say the world is huge, others claim the world is small but what is certain is that it is treasurable with all its diversity. With travel it is more accessible to people and far flung places are now more reachable for people. I travel extensively as learning from different cultures enriches me the most. One country and culture that has long held my curiosity due to its rich ancient history, wild and untamed landscapes, mountain ranges, different ethnic groups and its mixed history of eastern and western influence is Afghanistan.
The central Asian land locked country of Afghanistan on the foothills of the Hindu Kush mountain range has been deeply entrenched in history as it has attracted unsuccessful invaders since the sixth century BCE, largely due to its strategically located trade crossroads, the first being "the silk road." With the country divided into three regions by endless mountains, the visual diversity is unparallelled weather you are flying over or crossing the country by road.
Multiple ethnic groups like Tajiks, Uzbeks, Pashtuns, Panjshiri and Hazaras build the foundation for an unique mosaic of cultural diversity, sadly the image of the Islamic Republic has been clouded by wars, corruption, natural disasters and militant attacks of radical groups for the past three years. I was interested in the past which had fallen into oblivion – the Afghan population and what they have to say.
I do travel and write, that´s my passion and profession, as a traveller I travel, like I write as a writer and I was curious what is waiting for me in this country. Will I be welcomed? Can I travel freely at all? Are they really so radical in their religion, as they are portrayed? How is life for the people after so many years of war? And last but not least, what are the circumstances for the woman there?
The Northern part is considered mostly stable and safe. The information provided by the travel agencies sound paradox in comparison to the news. An Afghan travel agency describes the situation on its website as follows: "It is certainly not as safe as travelling to Australia, however driving a car or taking a plane isn't safe either."
My journey took me through Kabul via Herat located in the western part of Afghanistan to Mazar e Shariff in the North. Even in the North some routes can only be passed with latent danger. Taliban and bandits raid or kidnap, demanding ransoms.
I didn't meet a single western visitor on the way. One of the reasons is certainly the strict curfew and conditions for aid organisations and embassy staff. I might add the element of fear and danger. Without a doubt attacks do happen often without a reason or a precise target and during my visit an American doctor was shot by a policeman in a hospital in Kabul. This was one of the discussion topics on the streets, according to the locals he repeatedly insulted him and his mother. Many Afghans do not hesitate to retaliate when challenged, insulted or offended.
"No matter what you do, never insult the mother of an Afghan. Many generations of afghans have grown up in poverty and war for decades and all we have is our family. Honor plays an important role in our culture. It must not be demolished," the travel agency said.
The areas we visited were in regions not controlled by Taliban or Al Qaeda as I was in company of the German National TV. In my two weeks, I thoroughly enjoyed Herat in the west along side Iran. If you were not aware of the war in Afghanistan it would be here in Herat, no violence, or destruction, that I saw. In Herat former opium fields are now growing saffron, the most expensive spice in the world. It enables lucrative export and sustainable economic development in the region. Saffron instead of Taliban is more than an advertising campaign.
Mazer e Shariff was remarkable for the "Blue Mosque." I'm not a very religious person, nor a Muslim, but this mosque was one of the most amazing things I've ever seen on all my travels. I'm not only talking of the building, there was this amazing spirituality in the air which truly felt magical. Capital city of Kabul on the other hand was overwhelmed with tension, streets full of heavy armed soldiers, police cars with machine guns on the back and private security guys. You can still clearly feel the tension in Kabul and the military scene dominates the cityscape.
In my experience I have to say, that everywhere I went I met so many lovely people. All we hear from the media are bad news about disasters, terrorists, murders and destruction. We hear nothing about the everyday lives of the people, who have suffered for decades. Human suffering seems to be always a good headline, opposed to happy stories. As probably the only white western visitor without official purpose, you can believe me when I say: These people were so friendly and lovely to me, without speaking the same language, that I felt ashamed for our western culture. We live in a system that has welfare, where our governments provide us with services and skills. These people most of them in abject poverty, with little to eat, no health system, lack of access to education and services and still they give you everything they have without hesitation. My experience is it isn't a country of terrorists, anger or hatred towards the west, it is a country of wonderful people who unfortunately have a a minority population of radicals and violent people, a large portion of whom as not afghans."
Aside from their wish of respect for their heritage and culture all they crave for is lasting peace, and an end to poverty. Despite the increase in peace in certain areas poverty has infact increased, wages are low and the cost of living in Afghanistan is like other conflict zones is very high. The economy has not recovered and many sectors are not operated by Afghans, but rather foreigners. The high number of foreign workers in turn increase prices and locals suffer a great deal.
A policeman shared with me, that his monthly income is around 200.00 euro. The rent for a small apartment in the capital is around 200-300 euro per month. Many people are forced to find new ways to support their families. This creates breeding grounds for robberies, thefts and other criminal offences. A hotel employee, who previously worked as an military office in the Afghan Army said, "The wage level in Afghanistan is very low. Around 1.5 hours out of town you will find opium fields. Seeded, farmed, harvested and sold by the police. Not only the Taliban are a criminal instituation in Afghanistan."
The country is also suffering from immense corruption, another factor of war. Misappropriation of millions of international subsidies has caused much concern and demonstrations. After the foreign troops withdrawal in 2014 and a change in government puts the future of the people behind a veil of uncertainty.
Generally, the population is approving of the foreign forces being in Afghanistan for peace keeping efforts and as long as civilians are not harmed, they sympathize with the foreign troops as they have experienced the wrath of the Taliban and are elated to see them gone.
The role of women was worse than expected. I've never been in a place where it wouldn't be a lie to say: "In public, women are not more than ghosts." If you go to Afghanistan you shouldn't talk to  them, do not look at them, make no pictures of course and in your own interest do not touch them. Unfortunately, the best thing you can do is to ignore them as far as possible. Most of the women depending on what region you are in, wear an Afghan version of a scarf, which is a traditional cloth or they wear the Burka.
Considering a comparison between Afghanistan and other Muslim countries, they have taken on a more radical view of belief. Even if they choose to go back to their moderate beliefs they are the target of extremists, which has been one of the factors of decades of war, other Muslim countries like Pakistan saw the afghans as too mild a Muslim.
I remember last year, I was with a friend on the Island of Sumatra. She had travelled and worked in Afghanistan and her experiences further sparked my interest. I was so curious and was thinking about if I could go there as well. I can say I do not regret visiting this place and being in touch with amazing people and their hard life. Those days have enriched my mind and enlarged my soul.
Afghanistan gave me some unforgettable moments, the most profound was spending a few hours with a street kid in Mazar and his little trash-bag to collect garbage. I bought him food, water, coke, candy and played Hacky Sack with him. This little ball made him smile endlessly and happy beyond belief. Christmas would not provide the same pleasure for a German, English or American kid, this ball was a spark in his eyes. As my car drove away, I could read his mind and I realized that I showed him for a few hours a world he didn´t, doesn´t and sadly most likely will never know. I'm very thankful for everything I have and so should everyone who lives in peace.
Afghanistan is more than terrorism and war. My journey through this country took me exactly where I wanted to go – to its people. Their wish for freedom and peace has remained. A group of students on the megaphone were shouting to an entire country: Life is good… in peace. We want peace and we want the whole world to know.
*
Markus Obstmeier, 32, is a former representative in the National Middle Class Economy Senate of Germany. He quit his job to travel the world and write, enjoying the diversity of the planet. He is a music and book writer, writing for Tourism companies, PR Agencies and TV. He blogs at www.backpacker.unterkunft.de
---
The Kashmir Walla needs you, urgently. Only you can do it.
We have always come to you for help: The Kashmir Walla is battling at multiple fronts — and if you don't act now, it would be too late. 2020 was a year like no other and we walked into it already battered. The freedom of the press in Kashmir was touching new lows as the entire population was gradually coming out of one of the longest communication blackouts in the world.
We are not a big organization. A few thousand rupees from each one of you would make a huge difference.
The Kashmir Walla plans to extensively and honestly cover — break, report, and analyze — everything that matters to you. You can help us.
Choose a plan as per your location