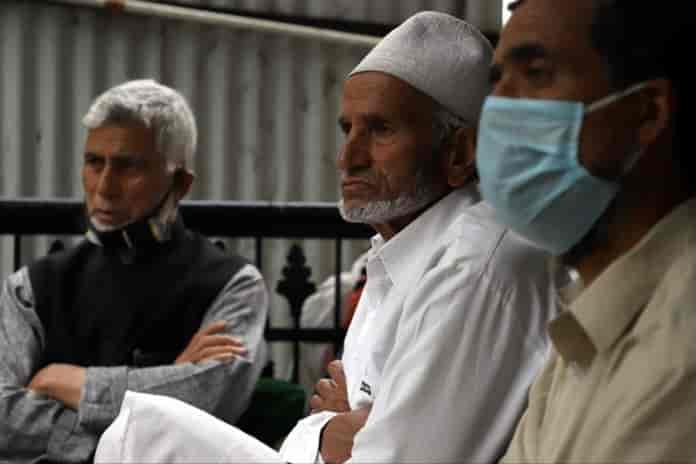 ---
On Wednesday morning a civilian was shot dead by the Central Reserve Police Force (CRPF) for allegedly "jumping checkpoints". The incident occurred in the Narbal village of central Kashmir's Budgam district, not far from the capital city Srinagar.
The CRPF has claimed that the 26-year-old Mehrajuddin Shah, was shot by soldiers fearing sabotage to an incoming convoy of the Army. They claimed that its personnel shot at Mr. Shah after he failed to stop his car "despite warning shots". 
Mr. Shah is survived by his father and five siblings. His killing has triggered clashes in parts of Budgam district, where internet services were snapped simultaneously. Kashmiri unionist political parties while condemning the killing have called for an immediate inquiry.
The Jammu and Kashmir Police has also claimed that Mr. Shah's vehicle "ignored to stop and fled away from two naka points in suspicious condition". Without divulging details of the paramilitary personnel's judgement, the statement justified the firing by the personnel to "thwart the attempt".
However, the killing of Mr. Shah for allegedly failing to stop at the checkpoint is eerily similar to a string of incidents in the past. Checkpoints and military bunkers have dotted Kashmir's cities and landscape ever since an armed anti-India uprising erupted in the late 1980s.
Past incidents
On 8 September 2013, four civilians were shot dead, among them a 17-year-old, by the CRPF for allegedly jumping a checkpoint in south Kashmir's Shopian district amid heightened deployments owing to a controversial musical concert by the Indian conductor Zubin Mehta that was organised with help from the German Embassy.
The then Omar Abdullah-led coalition government had locked down Srinagar city as the elite audience, including many senior officials of the regional administration, were being enthralled by the western classical concert on the banks of the Dal Lake. These four civilians were dubbed as militants by the CRPF, the police had called two among the killed persons as "anti-national elements".
The killings triggered clashes in Shopian as well as in parts of Srinagar city.
On 4 November 2014, the Army personnel opened fire at four friends travelling in a Maruti 800 car after their car stopped a few meters from its checkpoint in Chattergam village of Budgam district, central Kashmir. Two of the four, 14-year-old student Faisal Yusuf Bhat and 21-year-old Mehraj ud Din Dar, succumbed.
On 6 March 2018, five civilians were killed after the Army personnel manning a checkpoint in south Kashmir's Shopian district opened fire at two vehicles.
Last year, on 5 June, the army opened fire on a trio travelling in a four-wheeler after they allegedly surpassed a checkpoint in Drabgam village in Pulwama, south Kashmir. One civilian was critically injured, but survived.
Legitimization of actions against Kashmiris
The killings of civilians at the hands of the government forces has been justified on several pretexts; killed during crossfire, cases of mistaken identity, or jumping checkpoints. The specially-abled and homeless in Kashmir have also not been spared by government forces. At least 15 such civilians have been killed in the past two decades.
Kashmir-based human rights activist Khurram Parvez says that there is a sense of impunity among the government forces since "we've not seen any single prosecution happening in these cases" in the past three decades. "The case is buried with [the] CRPF's statement only," he said.
Mr. Parvez is the Program Coordinator at Jammu and Kashmir Coalition of Civil Society (JKCCS), a regional human rights advocacy group. "When they can fire at a person with such precision, they could fire at the tyres as well," he pointed out. "But they [government forces] won't do that. Whenever forces fire—either pellets or bullets—the intent is not to deter or stop [the driver on checkpoint] but to kill."
He also added that the government forces should ideally be suspended and arrested for the killing of civilians but "Kashmir is an abnormal place and this is acceptable". "Their [government forces] hate is so much, they hate every Kashmiri. For them, all Kashmiris are violent and potential terrorists. So any action against a Kashmiri is legitimized."
Yashraj Sharma is an Assistant Editor at The Kashmir Walla
---
Kashmir needs independent journalism…
…now, more than ever to give a voice to the voiceless. The press in Kashmir has operated under tremendous pressures of reporting from a conflict zone but since August 2019 we find ourselves in unchartered territory. The Kashmir Walla is among the oldest independent media outlets in Kashmir and has withstood successive lockdowns as well as attempts to suppress us, fighting back with authoritative ground reports based on facts.
We believe in making the powers that be accountable to their actions but to also hold the mirror to the society. We believe in covering all sides of the story and that empowerment in essence means the ability to make informed decisions. As such we have not allowed our journalism to be influenced by the pressures.
Despite the new and still unknown pressures, we are all the more committed to keep informing you of events and stories that matter. Our recent coverage of events has brought us an increased readership. However, the coronavirus pandemic and resultant economic crisis has affected our operational capabilities. We are facing an existential threat but only your support can help us withstand this and maintain our editorial independence.
We need your solidarity to keep our journalism going. Your contribution will empower us to keep you informed on stories that matter from Kashmir. Show your solidarity by joining our members community. Kashmir thanks you.
---