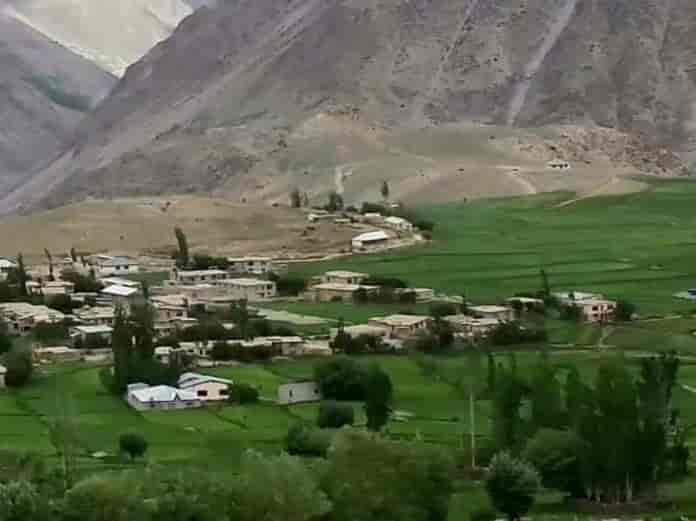 ---
The residents of Kaksar village of Kargil district in Ladakh Union Territory are facing acute shortages of essentials amidst the nationwide lockdown even as the region faces communication issues.
The village which houses around 150 families and is situated at the line of control has been facing problems in the wake of the COVID-19 outbreak.
Talking to The Kashmir Walla, the Sarpanch of the village Mohammad Hussain said that lack of communication in the village has been the biggest issue the village is facing, "There is no network available here and that's the biggest problem for the villagers right now," Hussain said.
Adding that winter stock was almost over and that the Sarpanch was ferrying essentials in his own vehicle. "There are no facilities here, we face problems during every calamity, be it war or a lockdown, the brunt has to be faced by our residents, " he claimed.
A resident of the village, Ali Rojo, told The Kashmir Walla that the populace was suffering. "We have no ambulances here, whether there is war like situation or a lockdown, we are left at God's grace," Mr. Rojo said. "We don't even have basic shelter houses."
Meanwhile, President of sarpanch association of Kargil has also written to the district administration:
"Worthy Divisional Commissioner,
UT Ladakh.
Esteemed S
I want address few points in your notice for information and necessary action from the tagged letter.
#That the people of Kaksar are facing lots of problems of essential commodities like pulses, sugar, salts, soaps etc. There is no any kiryana shop in the village.
#During the time of Digital India the people of Kaksar village are still facing the lack of telecommunications like BSNL, JIO, Airtel etc.
# For any communication purposes with the administration they need to travel many miles.
So in this connection I hope your good self will take necessary actions to resolve their issues at utmost priority.
Regards,
President
Sarpanch Association
Kargil Ladakh."
---
Kashmir needs independent journalism…
…now, more than ever to give a voice to the voiceless. The press in Kashmir has operated under tremendous pressures of reporting from a conflict zone but since August 2019 we find ourselves in unchartered territory. The Kashmir Walla is among the oldest independent media outlets in Kashmir and has withstood successive lockdowns as well as attempts to suppress us, fighting back with authoritative ground reports based on facts.
We believe in making the powers that be accountable to their actions but to also hold the mirror to the society. We believe in covering all sides of the story and that empowerment in essence means the ability to make informed decisions. As such we have not allowed our journalism to be influenced by the pressures.
Despite the new and still unknown pressures, we are all the more committed to keep informing you of events and stories that matter. Our recent coverage of events has brought us an increased readership. However, the coronavirus pandemic and resultant economic crisis has affected our operational capabilities. We are facing an existential threat but only your support can help us withstand this and maintain our editorial independence.
We need your solidarity to keep our journalism going. Your contribution will empower us to keep you informed on stories that matter from Kashmir. Show your solidarity by joining our members community. Kashmir thanks you.
---