---
An individual who has resided on Jammu and Kashmir for a period of fifteen years, or has studied for a period of seven years and appeared in tenth or twelfth standard examination in an educational institute in J-K, will now be eligible for the domicile of the union territory (UT).
On 5 August 2019, the Central government passed the J-K Reorganisation Bill and broke down the erstwhile state into two UTs. It also abrogated article 35A, which granted powers of defining a permanent resident of J-K to the state assembly. The right to own property and several other benefits of government jobs and schemes were exclusive to the "state subjects", or the permanent resident of J-K. An unprecedented clampdown was also imposed with communication blackout in place.
On Tuesday, according to the new rule issued by the Centre Tuesday, the definition of the domicile was introduced, stated in the latest gazette notification, Section 3A of the J-K Reorganisation (Adaptation of State Laws) Order 2020, under the J-K civil services (decentralisation and recruitment) Act.
It subtitutes "permanent resident of the state" with "Domicile of Union Territory of Jammu and Kashmir", the notification states that it is for purpose of appointment to any service in UT of J-K.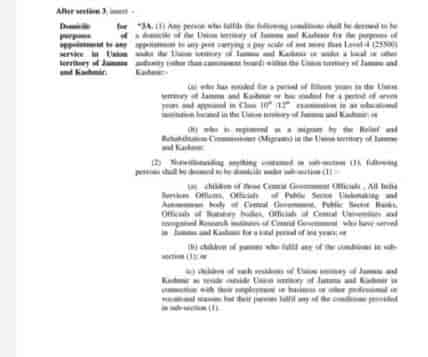 The domicile would also be given to people registered as a migrant by the Relief and Rehabilitation Commissioner (Migrants) in the UT of J-K. "Children of such residents of J&K as reside outside UT of J&K in connection with their employment or business or other professional or vocational reasons" but their parents fulfil any of the conditions provided earlier.
The gazette notification adds that "children of those central government officials, all India services officers, officials of PSUs and autonomous body of central government, public sector banks, officials of statutory bodies, officials of central universities and recognised research institutes of central government who have served in Jammu and Kashmir for a total period of ten years or children on parents who fulfil any of the conditions in sections."
On 31 October 2019, the state of J-K was officially broken down into two union territories. The first draft of the bill implemented 106 central laws in the UT of J-K and UT of Ladakh; amended seven state laws and repealed 153 existing state acts and eleven governor's acts. This notification further repealed 29 more state laws and amedned 109 others.
The provisions of the Act authorise the Tehsildar as competent authority for issuing the domicile certificate. Any agrieved person may file appeal before the concerned Deputy Commissioner who shall decide appeal, providing an opportunity of being heard to the parties, within a period of sixty days.
---
Kashmir needs independent journalism…
…now, more than ever to give a voice to the voiceless. The press in Kashmir has operated under tremendous pressures of reporting from a conflict zone but since August 2019 we find ourselves in unchartered territory. The Kashmir Walla is among the oldest independent media outlets in Kashmir and has withstood successive lockdowns as well as attempts to suppress us, fighting back with authoritative ground reports based on facts.
We believe in making the powers that be accountable to their actions but to also hold the mirror to the society. We believe in covering all sides of the story and that empowerment in essence means the ability to make informed decisions. As such we have not allowed our journalism to be influenced by the pressures.
Despite the new and still unknown pressures, we are all the more committed to keep informing you of events and stories that matter. Our recent coverage of events has brought us an increased readership. However, the coronavirus pandemic and resultant economic crisis has affected our operational capabilities. We are facing an existential threat but only your support can help us withstand this and maintain our editorial independence.
We need your solidarity to keep our journalism going. Your contribution will empower us to keep you informed on stories that matter from Kashmir. Show your solidarity by joining our members community. Kashmir thanks you.
---