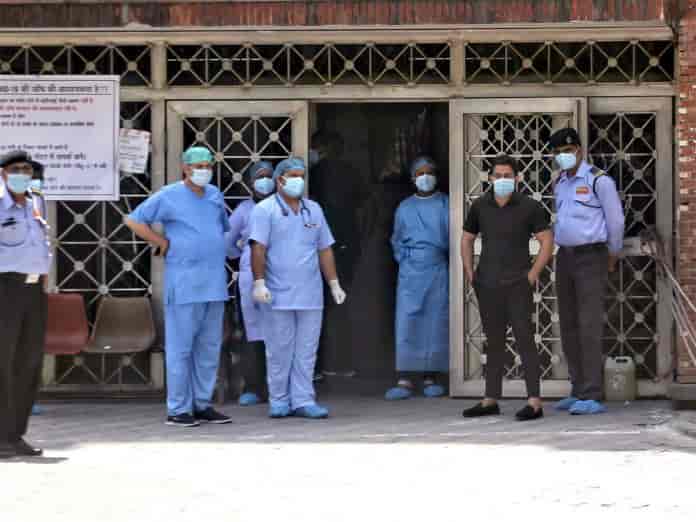 ---
Srinagar: A group of Kashmiri people who were part of the Tableegi Jamaat in Nizamuddin Aulia Centre, New Delhi, alleged that they have been huddled in a hospital from past sixteen days while no doctors are willing to attend them.
The group has posted a letter on WhatsApp on Saturday claiming that the ward of Lok Nayak Hospital at Jawahar Lal Nehru Marg road in New Delhi is in dilapidated condition while the unfortunate part is that they get one meal in twenty-four hours.
The sister of one of these people from Sopore said that his teenage brother was tested negative when tested for COVID-19, but the para-medical staff mixed up negative patients with positive ones as a result his brother is found positive now, reported KNT.
"The ward in the hospital is in shabby condition. There is common wash room, which is filthy. Meal is being served once in twenty-four hours. Their languages have been seized," she said. "They are unable to change their clothes. They have been left on the mercy of God and treated like criminals as they are the ones who have spread this virus."
The letter posted by the group reads that they were first taken to Tugluqabad Quarantine Block but due to non-availability of the space, they were shifted to Lok Nayak Hospital. "Four persons were tested negative but kept with the patients who had been declared positive. We are suffering and appeal to the government to take a pity on us and treat us in a better manner."
"They are not all infected but will certainly get infection if not isolated from one another," said the sister of the teenage boy, admitted in the Lok Nayak Hospital.
When contacted, Divisional Commissioner Kashmir said that he will take up the matter with concerned authorities. "Please send the WhatsApp clips to Officer on Special Duty. I will take care of it," he added. (KNT)
---
Kashmir needs independent journalism…
…now, more than ever to give a voice to the voiceless. The press in Kashmir has operated under tremendous pressures of reporting from a conflict zone but since August 2019 we find ourselves in unchartered territory. The Kashmir Walla is among the oldest independent media outlets in Kashmir and has withstood successive lockdowns as well as attempts to suppress us, fighting back with authoritative ground reports based on facts.
We believe in making the powers that be accountable to their actions but to also hold the mirror to the society. We believe in covering all sides of the story and that empowerment in essence means the ability to make informed decisions. As such we have not allowed our journalism to be influenced by the pressures.
Despite the new and still unknown pressures, we are all the more committed to keep informing you of events and stories that matter. Our recent coverage of events has brought us an increased readership. However, the coronavirus pandemic and resultant economic crisis has affected our operational capabilities. We are facing an existential threat but only your support can help us withstand this and maintain our editorial independence.
We need your solidarity to keep our journalism going. Your contribution will empower us to keep you informed on stories that matter from Kashmir. Show your solidarity by joining our members community. Kashmir thanks you.
---