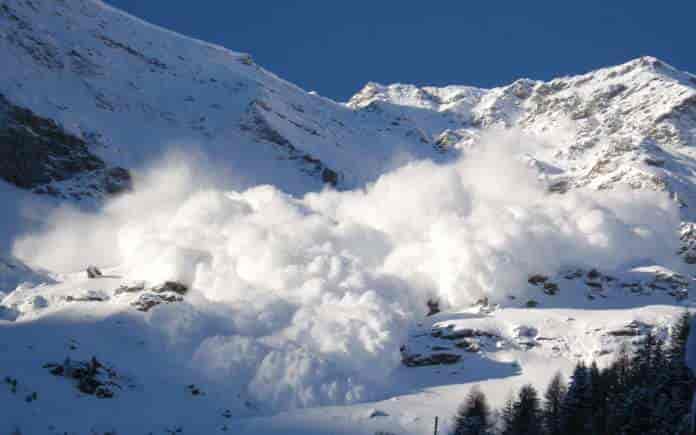 ---
Srinagar: A man was buried alive under snow after an avalanche hit Chak Nallah area of Gurez in north Kashmir's Bandipora district on Saturday afternoon.
A snow avalanche hit Chak Nallah area of Gurez at around 2:30 pm, burying a man alive, reported wire-service KNO.
An official said that three persons were traveling on foot towards Tulail from Dawar when the avalanche hit the area.
"A man got buried under the snow avalanche while one person managed to save himself as he had crossed the avalanche zone. Another person who was accompanying them was thrown on the other side of Kishen Ganga river by the intensity of the snow avalanche but he is alive," said SDM Gurez Mohammad Abdullah.
He said that a rescue operation has been jointly launched by the police, civil administration, army and locals to trace out the missing person.
Abdullah said that another person is alive but he has been thrown toward the other side of the river due to the intensity of the avalanche."His movement has been seen and he is alive. Another one who came out alive was a minor and he informed us about the avalanche that struck the area," he said. He said that their identity has not been established as yet but they are the residents of Dangithal area of Tulail. (KNO)
---
Kashmir needs independent journalism…
…now, more than ever to give a voice to the voiceless. The press in Kashmir has operated under tremendous pressures of reporting from a conflict zone but since August 2019 we find ourselves in unchartered territory. The Kashmir Walla is among the oldest independent media outlets in Kashmir and has withstood successive lockdowns as well as attempts to suppress us, fighting back with authoritative ground reports based on facts.
We believe in making the powers that be accountable to their actions but to also hold the mirror to the society. We believe in covering all sides of the story and that empowerment in essence means the ability to make informed decisions. As such we have not allowed our journalism to be influenced by the pressures.
Despite the new and still unknown pressures, we are all the more committed to keep informing you of events and stories that matter. Our recent coverage of events has brought us an increased readership. However, the coronavirus pandemic and resultant economic crisis has affected our operational capabilities. We are facing an existential threat but only your support can help us withstand this and maintain our editorial independence.
We need your solidarity to keep our journalism going. Your contribution will empower us to keep you informed on stories that matter from Kashmir. Show your solidarity by joining our members community. Kashmir thanks you.
---