Sitting on the banks of Jehlum River, a middle-aged man, pointed his finger, on the opposite of the road, at the office of District Development Commissioner in Habba Kadal area of Srinagar. Superficially, the official's office is the only infrastructure in the row whose waste pipeline directly opens into the river leading to pollution.
"If they are putting their waste into the river then what the locals will do?" he said. The output pipeline channels the waste from a canteen and a washroom inside the premises of the office.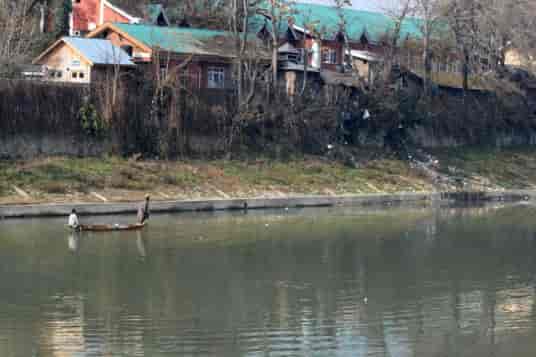 Small water bodies, or channels, in Srinagar that end up mingling with lakes and rivers contain hazardous pollutants. The flow of these channels through various neighborhoods in Srinagar not only affects the standard of life but can also lead to various viral diseases.
An annual report named Plastic Waste Management Rules by Central Pollution Control Board stated that in 2017-18, the erstwhile state of Jammu and Kashmir produced 2,78,70,000 kilograms of plastic waste – in which, Srinagar, at an average, was producing 28.14 tonnes per day.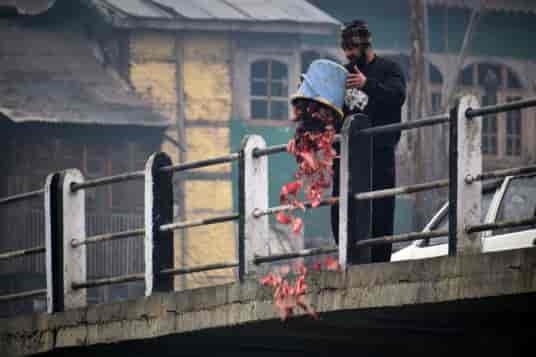 In the capital city, the water channels have become open dumping space; from households to shops and street-vendors, everything and anything finds its way to these water channels.
Ghulam Hassan Ashraf, 65, who resides on the bank of Gulshan Nala, or Gulshan Tributary, near Gulshan Bagh, used to work as a fisherman in the neighbourhood since childhood. "I used to sail in this tributary to collect lotus stems and to catch fishes to sell them in the market," he said. "Now, instead of fishes and stems there is only plastic waste."
Mr. Ashraf recalled the time when he used the water from this tributary for drinking purpose. "I can't look towards the river these days," he added.
Syed Nisar Ahmad Masoodi, a 57-year-old Chief Sanitation Officer at Srinagar Municipal Corporation (SMC), said that the responsibility lies with Lake and Waterways Development Authority (LAWDA). Though, after the directions from High Court, Srinagar, the SMC has employed fifteen people to look after Jehlum on daily bases.
In 2019, as Mr. Masoodi said, the SMC in special cleaning drives for water bodies claimed to have collected five quintal of plastic waste, including three from Jehlum river.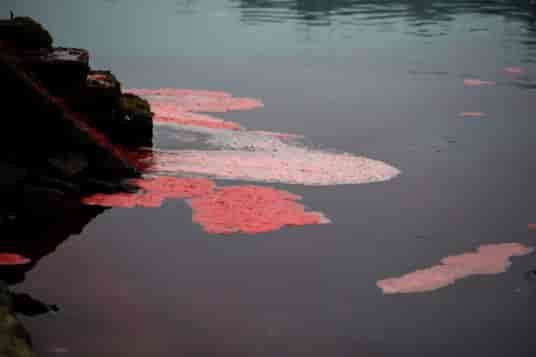 The photo-story appeared in our 06 – 12 January 2020 print edition.
Asif Hamid Sheikh is a Multimedia Reporter at The Kashmir Walla
---
Kashmir needs independent journalism…
…now, more than ever to give a voice to the voiceless. The press in Kashmir has operated under tremendous pressures of reporting from a conflict zone but since August 2019 we find ourselves in unchartered territory. The Kashmir Walla is among the oldest independent media outlets in Kashmir and has withstood successive lockdowns as well as attempts to suppress us, fighting back with authoritative ground reports based on facts.
We believe in making the powers that be accountable to their actions but to also hold the mirror to the society. We believe in covering all sides of the story and that empowerment in essence means the ability to make informed decisions. As such we have not allowed our journalism to be influenced by the pressures.
Despite the new and still unknown pressures, we are all the more committed to keep informing you of events and stories that matter. Our recent coverage of events has brought us an increased readership. However, the coronavirus pandemic and resultant economic crisis has affected our operational capabilities. We are facing an existential threat but only your support can help us withstand this and maintain our editorial independence.
We need your solidarity to keep our journalism going. Your contribution will empower us to keep you informed on stories that matter from Kashmir. Show your solidarity by joining our members community. Kashmir thanks you.
---