Arsalan Sideeq would come back from school and see his grandmother first — everything else was secondary for a 10-year-old child. "He has forgotten his dreams and the purpose of life," said his father, Mohammad Sideeq. "He is only left with trauma."
The Sideeqs had two adjoining houses — one ancestral, another newly constructed. On 27 September 2018 in Gazi Gund Dooru, Anantnag district, government forces found Lashkar-e-Taiba affiliated militants, including the infamous Pakistani militant, Naveed Jatt, hiding at the Sideeq's ancestral place. "Arsalan was with me in the new house," said Mr. Sideeq. "His grandmother and sister were in our ancestral house."
The Sideeqs have no idea where the militants came from, and when. From the first bullet fired in the face-off to the Anantnag waking up to utter silence with a pinch of whispers outside, Arsalan only uttered a few words, crying in his mother's lap, whole night: "Be anan daadi kadith." (Let me go to grandmother, I will rescue her)
Next morning, at 9:45 am, as Mr. Sideeq recalls, he left the home amid silence, and people saying, "They are martyred." Following the father, Arsalan ran out of his house, and shouted from the lawn, "Mumai! Mumai!" ([Grand] Mother)
Sideeq's ancestral place was reduced to flames and remnants. Three militants were killed, though, two, including Mr. Jatt, managed to flee. As Mr. Sideeq told, Arsalan's face was rushed with joy seeing his grandmother alive. "But, after he saw his uniform, books — all burnt — he screamed, calling his mother, 'All my books have burnt'," told Mr. Sideeq.
Witnessing the remnants of encounter, he collapsed. "We took him to hospital," told his elder brother, Adil Ahmad. After a few moments, he opened his eyes and continuously gazed at his father, without uttering a word. "Doctors told us that he is in a deep shock, and we need to make him cry," said Mr. Ahmad. Coming back from the hospital, he again started searching for his belongings in his room on the top floor of his destroyed ancestral house.
All he got were a few pages of his Urdu book, half burnt school belt, and grandmother's earthen pot, which was used to store cotton balls. Standing between the falling ceiling, and burnt floor — amid the rubble — he hand-picked mentioned things and took them to his cupboard in the new house.
Longing for his belongings, as Mr. Sideeq told, he would sit someday, and touch those things to feel. "We got a new uniform and books," said Mr. Sideeq. "But still, we can't understand why he craves for his old uniform and books."
The family tried to keep those things away from Arsalan, but he won't let it happen. "It feels like he doesn't want to come out of that trauma," said Arsalan's mother.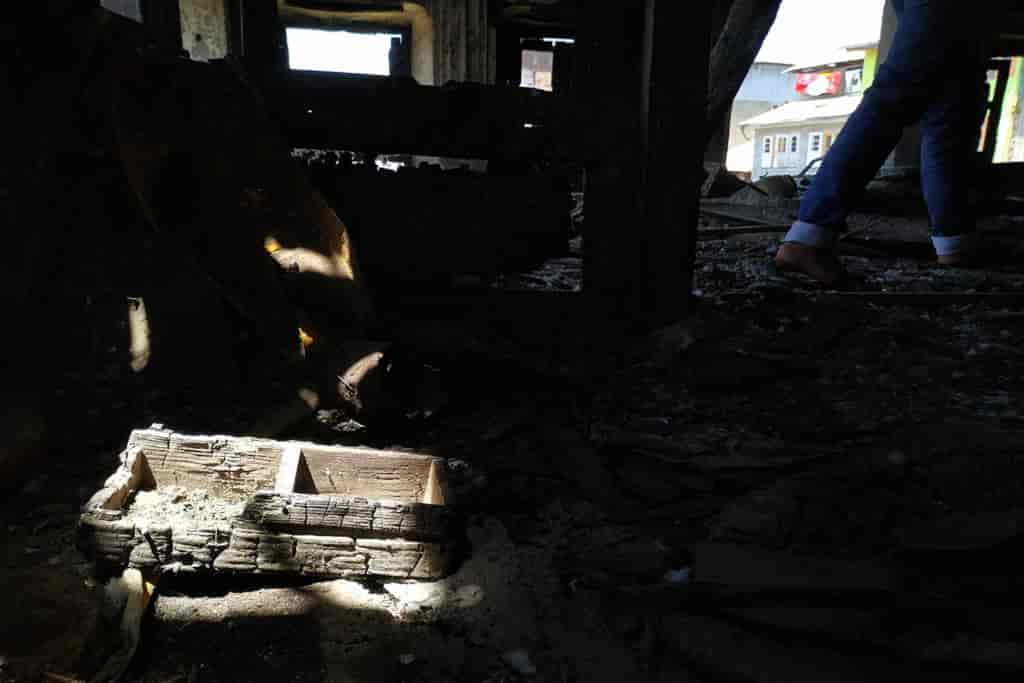 Soon after the encounter, Arsalan's grandmother succumbed to her prolonged illness. This tragic incident for the Sideeqs' only triggered Arsalan's trauma. "He doesn't talk like he used to do. He doesn't eat properly," said his mother. "Sometimes, he would wake up in the middle of the night and would start crying, calling his grandmother, 'Close the main gate! Don't let the army come in.'"
On 28 November last year, a gunfight that erupted between trapped militants and forces in Chattergam village of Budgam, the neighborhood of Towseef Ahmad, also razed 8-year-old's house to the ground. "The sound of the guns, showering bullets, is still echoing in my ears," said Towseef.
In that encounter, LeT commander, Mr. Jatt, alongside his associate was finally gunned down.
The Ahmads were petting a cow — Touseef's favorite. "He used to take care of her, wash her, and would take her to graze the grass," said his mother. "It (cow) got bullets in the encounter, and now her absence only rubs his wounds."
Talking to The Kashmir Walla, Towseef's grandmother told that he lost all his belongings and childhood memories in the encounter. She also recalls the post-encounter times when Touseef had fainted in the middle of a lecture, and one where he tried to run away from his school.
"These days, loud noises, even conversation disturbs him," said his mother. "He runs away; he cannot stand to noise, as the impact of that encounter. That day is still troubling him like anything."
Mohammad Mukarram Mushtaq, 10, remembers his favorite pair of shoes and a drawing from his infancy — both gone in an encounter between forces and militants in Nowshera village of Anantnag on 22 June 2018.
"It was like a battleground; bullets had the air covered, some of it hit our house," told Mukarram's elder brother. "He (Mukarram) took refuge in the washroom on the ground floor, and hid next to the washing machine." The middle and top floor was totally damaged in the encounter — Mukarram found his belongings trapped in rubble in-between.
Post-gunfight, Mukarram was too scared to come out from the washroom. "He had His hand on the chest," told Mukarram's mother, sitting on a stool near the gas stove, she continued, "After that, we took him to the nearest dispensary, and doctors advised us to send him away for a few days."
The haunting memories of the encounter still linger to Mukarram. "If he hears a gunshot from the surrounding, or television, he gets agitated," said his elder sister.
Recalling the day when Mukarram went to market with his father, his mother said, "His father went to a shop, leaving Mukarram in the car to wait, but he suddenly disappeared." After searching for him around for hours, his elder brother rang to his father and told that Mukarram was back in his — locked. "After we asked him, he told that he saw an army vehicle coming towards the car. Hence, he ran away."
---
Kashmir needs independent journalism…
…now, more than ever to give a voice to the voiceless. The press in Kashmir has operated under tremendous pressures of reporting from a conflict zone but since August 2019 we find ourselves in unchartered territory. The Kashmir Walla is among the oldest independent media outlets in Kashmir and has withstood successive lockdowns as well as attempts to suppress us, fighting back with authoritative ground reports based on facts.
We believe in making the powers that be accountable to their actions but to also hold the mirror to the society. We believe in covering all sides of the story and that empowerment in essence means the ability to make informed decisions. As such we have not allowed our journalism to be influenced by the pressures.
Despite the new and still unknown pressures, we are all the more committed to keep informing you of events and stories that matter. Our recent coverage of events has brought us an increased readership. However, the coronavirus pandemic and resultant economic crisis has affected our operational capabilities. We are facing an existential threat but only your support can help us withstand this and maintain our editorial independence.
We need your solidarity to keep our journalism going. Your contribution will empower us to keep you informed on stories that matter from Kashmir. Show your solidarity by joining our community. Kashmir thanks you.
---