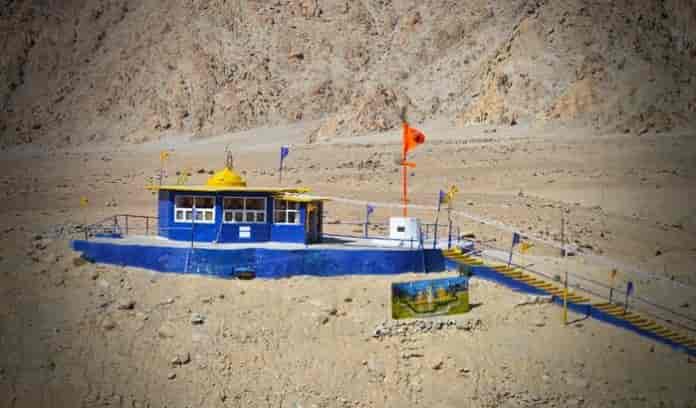 ---
Srinagar: A Sikh body has expressed deep anguish and concern over the defacement of a Gurdwara located in Leh area of Ladakh division of Jammu & Kashmir.
All Parties Sikh Coordination Committee (APSCC) has urged Governor Satya Pal Malik to intervene and get the matter resolved within shortest possible time.
In a statement, APSCC Chairman Jagmohan Singh Raina said that some elements who want to divide people in the name of religion have defaced the Gurdwara Pathar Sahib located at an altitude of 12,000 feet in Leh. Raina said that the outer structure of the Gurdwara has been defaced by these divisive elements.
"Symbols associated with Sikhism have been replaced by symbols denoting Hindu religion and Buddhism. This action tantamount to interference in religious matters of Sikhs and the members of the community would not keep quiet over this issue. The people at helm should take the matter seriously and solve it as well," said Raina.
The APSCC Chairman said that nobody has any right whatsoever to change the nomenclature of a religious place belonging to some other religion. He said that there is a strong resentment over this move and if the issue is not solved then the things may go out of control.
"The Gurdwara Pathar Sahib has historical importance as it is linked with the travelogues of Guru Nanak Ji. Guru Nanak Dev Ji via Kashmir went to Leh Ladakh to Tibet and Mansarovar and other adjacent areas. Despite this historical importance the divisive elements have started to change the status of the Gurdwara Pathar Sahib," said Raina.
Raina said that the old writings have been removed from the Gurdwara by the army unit located near the Gurdwara. He said the situation that has arisen may lead to another Ram Mandir-Babri Masjid like issue adding that Sikhs would not act as mute spectators to the whole issue.
"I appeal Governor Satya Pal Malik and Chief of Army Staff, General Bipin Rawat to intervene in the matter and order the army men to restore the original status of Gurdwara Pathar Sahib. This would send a strong signal to the people who are hell bent to destroy the secular fabric," he said.
---
Kashmir needs independent journalism…
…now, more than ever to give a voice to the voiceless. The press in Kashmir has operated under tremendous pressures of reporting from a conflict zone but since August 2019 we find ourselves in unchartered territory. The Kashmir Walla is among the oldest independent media outlets in Kashmir and has withstood successive lockdowns as well as attempts to suppress us, fighting back with authoritative ground reports based on facts.
We believe in making the powers that be accountable to their actions but to also hold the mirror to the society. We believe in covering all sides of the story and that empowerment in essence means the ability to make informed decisions. As such we have not allowed our journalism to be influenced by the pressures.
Despite the new and still unknown pressures, we are all the more committed to keep informing you of events and stories that matter. Our recent coverage of events has brought us an increased readership. However, the coronavirus pandemic and resultant economic crisis has affected our operational capabilities. We are facing an existential threat but only your support can help us withstand this and maintain our editorial independence.
We need your solidarity to keep our journalism going. Your contribution will empower us to keep you informed on stories that matter from Kashmir. Show your solidarity by joining our members community. Kashmir thanks you.
---