Nayeem Qadir Bhat of Handwara in North Kashmir. Cover by Vikar Syed for The Kashmir Walla
Cricket is everything—and a game. Moreover, as the saying goes, cricket is religion. In Kashmir—from streets to mountains till river banks—cricket has reached where the network still fluctuates, and 4G is yet to be discovered. In cricketing world, Indian Premier League (IPL) hold a high-ground. Every summer, players from around the world bombard Indian pitches in this silver-spoon game.
In the meantime, on streets of decades-old conflict-ridden Kashmir valley of Jammu and Kashmir, where a ball is thrown opens the getaway from hartal's (shutdown) boredom, IPL's silver-spoon flashes in young eyes. The Kashmir Walla brings the story of three—young, passionate, and talented—cricketers from different parts of Kashmir, connected by government forces' gunshots; and their journey from 22-yards of the cricket pitch to graveyards.
Faizan—who wanted to represent 'state'
In the middle of Government Degree College, Pulwama's deserted stadium, 17-year-old Jahangir Ahmad, stares at the pitch. With longing in eyes and folded hands, he said, "Whenever I see someone behind the stumps, I miss Faizan." On 29 June 2018, near an encounter site in Thamuna area of Pulwama, a bullet found 16-year-old Faizan Ahmad Khan. Amid pro-freedom slogans, Mr. Khan—and his dream to represent J-K—were buried.
Since Mr. Khan's killing, the local team, Wagam-eleven, for whom Mr. Ahmad, the best friend of late Mr. Khan, also played, razed. "I haven't held the cricket bat since his killing," said Mr. Ahmad. "I can't do that. Memories with him, and the cricket we played together shivers my body."
Mr. Ahmad met Mr. Khan in 2014 in a school tournament, Khelo India. Being fascinated by Mr. Khan's game, Mr. Ahmad tried to persuade a bond of friendship. "We started meeting regularly after that. I introduced him to our team, Wagam-eleven," said Mr. Ahmad. "I remember the time when Faizan's outstanding performance won us a match against the toughest team in the tournament, Padgampora."
As Mr. Ahmad remembers, Mr. Khan scored 36 runs on 8 balls, and when nobody in the crowd believed that they could win, "He dragged us to win."
Mr. Ahmad often counts alternative possibilities, and question what would have happened if forces had targeted legs. "I remember his wish to represent the state," said Mr. Ahmad. "See, what did state do to him."
Being a part of his game, and seen it closely, Mr. Ahmad firmly believes in his best friend's potential, "When I see Rasiq (Salaam) playing on TV, all I could think was, what if Faizan was alive. He also would have reached the same place.?"
Pointing at the audience stands, Mr. Ahmad recalls moments and memories. "Whenever I come here, I feel like Faizan is standing behind the stumps," said Mr. Ahmad. "I feel like he is playing, and I run to hug him. But, when I reach close, I realize it's just a mirage—he is not here. How can I be so naive?"
Shahid Afridi's Fall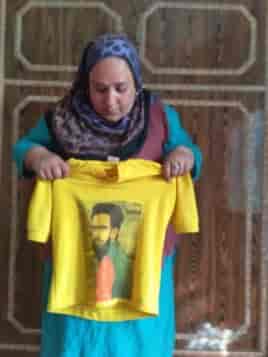 2017, Ninth wicket had fallen. Pulwama's SK-11 was on the verge of giving up; crowd's roar slowed down, everyone could see the loss on the edge—it was 23-year-old Shahid Dar, popularly known as Shahid Afridi, named on Pakistan's sensational cricketer with the same name, from Pulwama's Arihal village, who walked down the ground, and smashed 76 runs not out.
With the time ball reached the winning boundary, the team ran towards Mr. Afridi and carried him on their shoulders.
On 30 April 2018, near the encounter site of a popular Hizbul Mujahideen militant commander, Sameer Tiger, in Pulwama's Drabgam village, Mr. Afridi was shot dead by government forces, and by the evening, the local star cricketer—beloved 'Afridi'—returned home on the shoulders of his friends, and teammates.
Almost after a year since the killing of the team X-factor, SK-11 resumed their game on 30 March 2019. Mr, Afridi's teammates have also started a tournament in his memory—Shahid Khan Afridi Premier League, in which 16 teams are participating from various districts.
A small group of local supporters has assembled in the ground in Pulwama's Arihal to cheer their local stars. A spectator, 18-year-old Aamir Yusuf, who is a big fan of Mr. Afridi's game, remembers his favorite flick-shot. "I miss his game," he said with a smile.
SK-11 has distributed Mr. Afridi's cricket-kit among the players only. They kept it as tubruk (gift). "Today, after a year, we are missing him more," said the captain of Sk-11, Mubashir Ahmad. "It hurts playing without him."
A few miles from the ground, inside the shop of 23-year-old Arif Hussain, the childhood friend of Mr. Afridi, stands near the pictures of the duo, pasted on the front panel of his shop. Pictures convey the love and bond they shared.
As Mr. Hussain talks about their bond, a tear sneaks out from his eyes. He drifts his face away, saying, "There isn't a single day when I don't miss him," he said. "I won't find a person like him in the entire universe."
Being one of the closest person to Mr. Afridi, Mr. Hussain believes that he would have made it big in cricket. "He had a plan to make his career in cricket," said Mr. Hussain. "But the violence ruined his dream."
Nayeem Qadir Bhat—who wanted to play for the Indian team
The wall of café is decorated with the pictures of the cricket legends like Vivian Richard, Shane Warne, Chris Gayle, and in middle of them, flashes a picture of local cricket star, Nayeem Qadir Bhat, with the caption: "From cricket pitch to martyrs' graveyard—He has been a hero all along."
Mr. Bhat was an exceptional under-19 cricketer and the first from Kupwara to get into national-level coaching in 2016, merely days before he was killed in firing by government forces on 12th April 2016 in Handwara. He got trapped in protest over an alleged molestation attempt by an army man in the vicinity when he went out to handover camera to his brother.
Mudassir Ahmad, a 32-year-old senior cricketer from Handwara, and Mr. Bhat's mentor tells how Mr. Bhat would skip classes in school just to practice in the field. "He was immensely hard-working. He had big plans for his future."
As per Mr. Ahmad, Mr. Bhat was the youngest player in the team, "but his game was extraordinary. He was a pure batsman, a good fielder, a great keeper—a genuine all-rounder." he said in a breath.
Known for his love and adoration for Indian cricketer Virat Kohli, Mr. Bhat would often ask his mentor, "How can he go ahead in future?" to which, Mr. Ahmad would reply, "Work harder!"
Opening the photo-gallery of his phone, Mr. Ahmad flaunts a picture of Mr. Bhat with his bat. "He was more talented than those who are selected to play international cricket," said Mr. Ahmad. "He was eating, drinking and sleeping cricket. If he would have been alive, I believe he would have become a very successful cricketer."
Amir Khan, 21, Mr. Bhat's friend, who met him a couple of days before his killing. recalls their last conversation in the playground, when Mr. Bhat was planning to move to Dehradun for higher studies. "See, now we are grown up, we need to work very hard to prove our mettle," said Mr. Bhat to Mr. Khan. "We should make plans for our future now."
As per his mentor, Mr. Ahmad, Mr. Bhat would always do something out of the box. "I have 20 years of experience and I can say that cricket will never get a player like Nayeem," he said. "Cricket lost Nayeem. His killing is not only a tragedy for his friends and families, but for whole cricket."
Quratulain Rehbar is a Features Writer at The Kashmir Walla.
---
Kashmir needs independent journalism…
…now, more than ever to give a voice to the voiceless. The press in Kashmir has operated under tremendous pressures of reporting from a conflict zone but since August 2019 we find ourselves in unchartered territory. The Kashmir Walla is among the oldest independent media outlets in Kashmir and has withstood successive lockdowns as well as attempts to suppress us, fighting back with authoritative ground reports based on facts.
We believe in making the powers that be accountable to their actions but to also hold the mirror to the society. We believe in covering all sides of the story and that empowerment in essence means the ability to make informed decisions. As such we have not allowed our journalism to be influenced by the pressures.
Despite the new and still unknown pressures, we are all the more committed to keep informing you of events and stories that matter. Our recent coverage of events has brought us an increased readership. However, the coronavirus pandemic and resultant economic crisis has affected our operational capabilities. We are facing an existential threat but only your support can help us withstand this and maintain our editorial independence.
We need your solidarity to keep our journalism going. Your contribution will empower us to keep you informed on stories that matter from Kashmir. Show your solidarity by joining our members community. Kashmir thanks you.
---