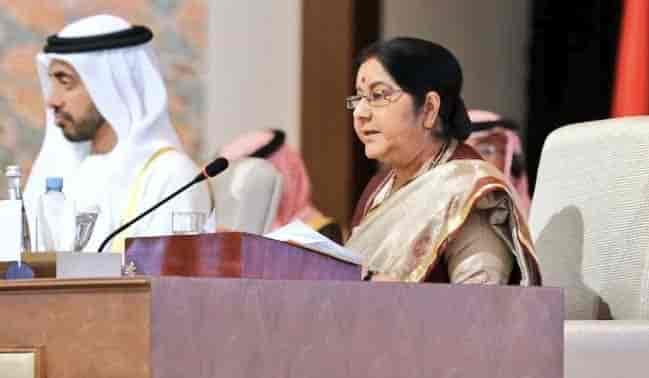 ---
Srinagar: After Organisation of Islamic (OIC) criticized India on Kashmir in a resolution adopted by the influential grouping of 57 countries, New Delhi has strictly said that Jammu and Kashmir is an integral part of India and is an internal matter of India. The resolution came just a day after Foreign Minister Sushma Swaraj, as the guest of honor, called out "states which shelter terrorists".
In its first reaction to the resolution, India's MEA said that their stand is consistent and well known. "We reaffirm that Jammu and Kashmir is an integral part of India and is a matter strictly internal to India."
The OIC on Saturday had sharply hit out at what it called "intensified Indian barbarities since July 2016" and "illegal detentions and disappearances" in Jammu and Kashmir.
On Friday, Ms. Swaraj in her speech had urged the OIC to "act together" to fight against global terrorism amid hot tensions between two nuclear neighboring countries  – India and Pakistan following the Pulwama terror attack last month in which more than 42 CRPF paramilitary troopers were killed.
Though she did not name Pakistan directly in her 17-minute address, she said, "If we want to save humanity, we must tell the states who provide shelter and funding to terrorists, to dismantle the infrastructure of the terrorist camps and stop providing funding shelter and funding to the terror organizations based in that country."
On Saturday, the OIC adopted a resolution on Kashmir, attacking India for "indiscriminate use of force against innocent Kashmiris" and also praised Pakistan Prime Minister Imran Khan for sending back Indian Air Force pilot Abhinandan Varthaman, who was captured after an aerial encounter on Wednesday.
---
Kashmir needs independent journalism…
…now, more than ever to give a voice to the voiceless. The press in Kashmir has operated under tremendous pressures of reporting from a conflict zone but since August 2019 we find ourselves in unchartered territory. The Kashmir Walla is among the oldest independent media outlets in Kashmir and has withstood successive lockdowns as well as attempts to suppress us, fighting back with authoritative ground reports based on facts.
We believe in making the powers that be accountable to their actions but to also hold the mirror to the society. We believe in covering all sides of the story and that empowerment in essence means the ability to make informed decisions. As such we have not allowed our journalism to be influenced by the pressures.
Despite the new and still unknown pressures, we are all the more committed to keep informing you of events and stories that matter. Our recent coverage of events has brought us an increased readership. However, the coronavirus pandemic and resultant economic crisis has affected our operational capabilities. We are facing an existential threat but only your support can help us withstand this and maintain our editorial independence.
We need your solidarity to keep our journalism going. Your contribution will empower us to keep you informed on stories that matter from Kashmir. Show your solidarity by joining our members community. Kashmir thanks you.
---