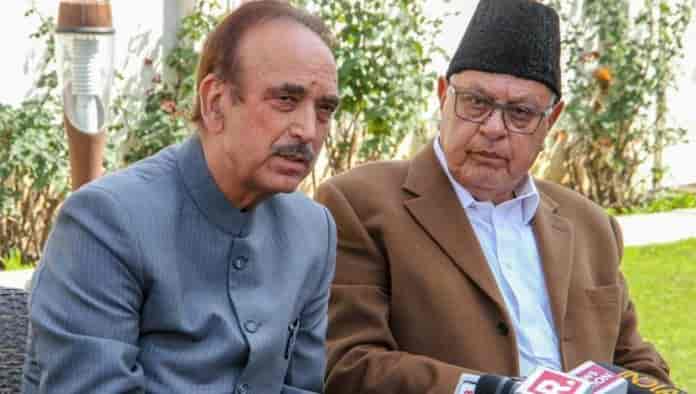 ---
Srinagar:The National Conference (NC) and Congress are once again trying their luck and have signed a seat-sharing pack on some selected seats in Jammu and Kashmir for the forthcoming polls.
Both the parties have decided to fight a friendly contest in Ladakh; while there will be a neck to neck contest in north and south Kashmir parliamentary seats.
The NC and Congress have in the past shared power several times, are again set to forge alliance to what they say keep "communal forces at bay". 
National Conference president, Dr Farooq Abdullah in an exclusive conversation  said they have to contest the upcoming parliamentary election in Jammu and Kashmir on a 'friendly' note for the national interest. 
"Congress will contest from the two seats of Jammu and Udhampur seats. I as an NC candidate will contest from Srinagar," Abdullah said.
He said from Anantnag and Baramulla, both NC and Congress will field its candidates, Abdullah said.
Meanwhile, talking to reporters in Jammu, senior Congress leader Ghulam Nabi Azad said  the alliance was done in the national interest, to strengthen secular forces in Jammu and Kashmir as the state faces threat from Pakistan," Azad said.
Earlier, Abdullah said this is the best decision taken in national interest. "If either the Congress or National Conference wins, it is a win-win situation for both," he said. (KNS) 
---
Kashmir needs independent journalism…
…now, more than ever to give a voice to the voiceless. The press in Kashmir has operated under tremendous pressures of reporting from a conflict zone but since August 2019 we find ourselves in unchartered territory. The Kashmir Walla is among the oldest independent media outlets in Kashmir and has withstood successive lockdowns as well as attempts to suppress us, fighting back with authoritative ground reports based on facts.
We believe in making the powers that be accountable to their actions but to also hold the mirror to the society. We believe in covering all sides of the story and that empowerment in essence means the ability to make informed decisions. As such we have not allowed our journalism to be influenced by the pressures.
Despite the new and still unknown pressures, we are all the more committed to keep informing you of events and stories that matter. Our recent coverage of events has brought us an increased readership. However, the coronavirus pandemic and resultant economic crisis has affected our operational capabilities. We are facing an existential threat but only your support can help us withstand this and maintain our editorial independence.
We need your solidarity to keep our journalism going. Your contribution will empower us to keep you informed on stories that matter from Kashmir. Show your solidarity by joining our members community. Kashmir thanks you.
---