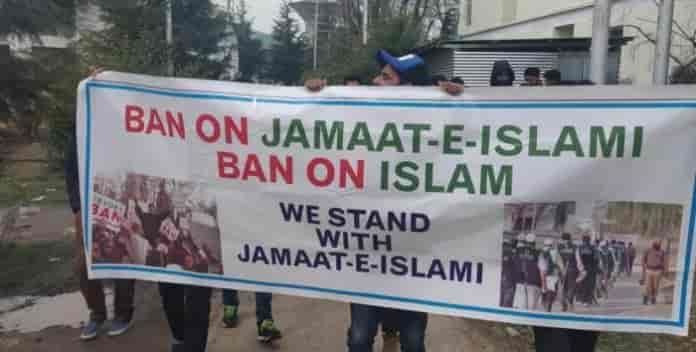 ---
Srinagar: Kashmir University students on Wednesday held a strong protest demonstration  against the ban on Jamaat-E-Islami in Jammu and Kashmir.
With Placards and banners in their hands, students marched inside the campus from History to Humanities block and also chanted slogans denouncing the ban on Jamaat.
While talking to the local media, a student of the university said that the protest later dispersed peacefully at the Humanities block.
Last month, Government of India imposed a ban on Jama'at for five years for "unlawful association" of having the potential to disrupt the unity and integrity of the country.
Hundreds of Jamaat leaders have been arrested by the state police during raids at their residences including its Ameer Dr Abdul Hameed Fayaz.
The students have sought immediate revocation of the ban on Jama'at.
---
Kashmir needs independent journalism…
…now, more than ever to give a voice to the voiceless. The press in Kashmir has operated under tremendous pressures of reporting from a conflict zone but since August 2019 we find ourselves in unchartered territory. The Kashmir Walla is among the oldest independent media outlets in Kashmir and has withstood successive lockdowns as well as attempts to suppress us, fighting back with authoritative ground reports based on facts.
We believe in making the powers that be accountable to their actions but to also hold the mirror to the society. We believe in covering all sides of the story and that empowerment in essence means the ability to make informed decisions. As such we have not allowed our journalism to be influenced by the pressures.
Despite the new and still unknown pressures, we are all the more committed to keep informing you of events and stories that matter. Our recent coverage of events has brought us an increased readership. However, the coronavirus pandemic and resultant economic crisis has affected our operational capabilities. We are facing an existential threat but only your support can help us withstand this and maintain our editorial independence.
We need your solidarity to keep our journalism going. Your contribution will empower us to keep you informed on stories that matter from Kashmir. Show your solidarity by joining our members community. Kashmir thanks you.
---