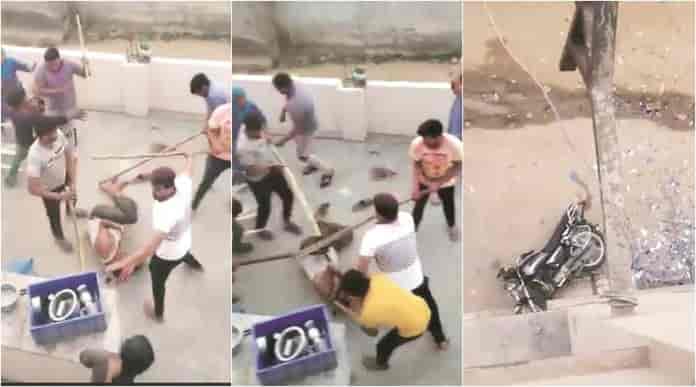 ---
Members of a Muslim family in Gurgaon's Dhamaspur village and their guests were beaten with sticks and rods,  by 20-25 men, who barged into their home and attacked them on Holi evening.
According to The Indian Express the incident took place after some of the accused allegedly approached the boys from the family, who were playing cricket outside, and demanded that they "go to Pakistan and play".
One person was arrested for the crime late Friday night.
According to the victim the trouble started when one of the victims was playing cricket with some others in a vacant plot near the house.
"Two unknown men came on a bike and said, 'What are you doing here? Go to Pakistan and play'. They began fighting and when my uncle Sajid intervened, the boy sitting at the back of the bike slapped him and said, 'You wait, we will show you'," he alleged in the police complaint, adding that 10 minutes later, they saw six boys on two bikes and several men on foot approaching their home, armed with "bhalas" (spears), "lathis" (sticks) and "talwars" (swords).
In the minutes that followed, captured on a family member's phone, the mob allegedly beat up the men, pushed the children and fled with the valuables.
Sameena said: "I was in the kitchen making food when I heard a racket outside. By the time I went out, the men had barged into our house and started beating people up. I begged them to leave us, but they paid no heed." "They broke the windows, our cars and took away valuables, including a pair of gold earrings, a gold chain and Rs 25,000 I had kept in the house," she was quoting as saying by The Indian Express.
---
Kashmir needs independent journalism…
…now, more than ever to give a voice to the voiceless. The press in Kashmir has operated under tremendous pressures of reporting from a conflict zone but since August 2019 we find ourselves in unchartered territory. The Kashmir Walla is among the oldest independent media outlets in Kashmir and has withstood successive lockdowns as well as attempts to suppress us, fighting back with authoritative ground reports based on facts.
We believe in making the powers that be accountable to their actions but to also hold the mirror to the society. We believe in covering all sides of the story and that empowerment in essence means the ability to make informed decisions. As such we have not allowed our journalism to be influenced by the pressures.
Despite the new and still unknown pressures, we are all the more committed to keep informing you of events and stories that matter. Our recent coverage of events has brought us an increased readership. However, the coronavirus pandemic and resultant economic crisis has affected our operational capabilities. We are facing an existential threat but only your support can help us withstand this and maintain our editorial independence.
We need your solidarity to keep our journalism going. Your contribution will empower us to keep you informed on stories that matter from Kashmir. Show your solidarity by joining our members community. Kashmir thanks you.
---