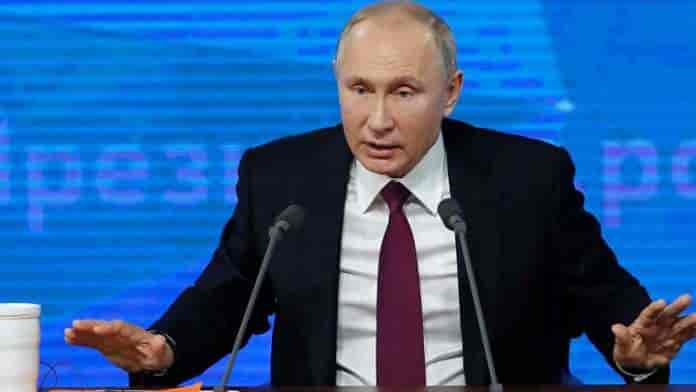 ---
Pentagon and the presidential retreat in Camp David, Maryland are among the targets listed by Russian state television  that Moscow would target in the event of a nuclear strike, and said that a hypersonic missile Russia is developing would be able to hit them in less than five minutes, Reuters report.
The report, by Russian state TV, was broadcast on Sunday evening, days after President Vladimir Putin said Moscow was militarily ready for a "Cuban Missile"-style crisis if the United States wanted one.
With tensions rising over Russian fears that the United States might deploy intermediate-range nuclear missiles in Europe as a Cold War-era arms-control treaty unravels, Putin has said Russia would be forced to respond by placing hypersonic nuclear missiles on submarines near U.S. waters.
The United States says it has no immediate plans to deploy such missiles in Europe and has dismissed Putin's warnings as disingenuous propaganda. It does not currently have ground-based intermediate-range nuclear missiles that it could place in Europe.
However, its decision to quit the 1987 Intermediate-range Nuclear Forces (INF) Treaty over an alleged Russian violation, something Moscow denies, has freed it to start developing and deploying such missiles.
Some analysts have seen his approach as a tactic to try to re-engage the United States in talks about the strategic balance between the two powers, something Moscow has long pushed for, with mixed results.
In the Sunday evening broadcast, Dmitry Kiselyov, presenter of Russia's main weekly TV news show 'Vesti Nedeli', showed a map of the United States and identified several targets he said Moscow would want to hit in the event of a nuclear war.
The targets, which Kiselyov described as U.S. presidential or military command centres, also included Fort Ritchie, a military training centre in Maryland closed in 1998, McClellan, a U.S. Air Force base in California closed in 2001, and Jim Creek, a naval communications base in Washington state.
Kiselyov, who is close to the Kremlin, said the "Tsirkon" ('Zircon') hypersonic missile that Russia is developing could hit the targets in less than five minutes if launched from Russian submarines.
Hypersonic flight is generally taken to mean travelling through the atmosphere at more than five times the speed of sound.
"For now, we're not threatening anyone, but if such a deployment takes place, our response will be instant," he said.
Kiselyov is one of the main conduits of state television's strongly anti-American tone, once saying Moscow could turn the United States into radioactive ash.
Asked to comment on Kiselyov's report, the Kremlin said on Monday it did not interfere in state TV's editorial policy.
---
Kashmir needs independent journalism…
…now, more than ever to give a voice to the voiceless. The press in Kashmir has operated under tremendous pressures of reporting from a conflict zone but since August 2019 we find ourselves in unchartered territory. The Kashmir Walla is among the oldest independent media outlets in Kashmir and has withstood successive lockdowns as well as attempts to suppress us, fighting back with authoritative ground reports based on facts.
We believe in making the powers that be accountable to their actions but to also hold the mirror to the society. We believe in covering all sides of the story and that empowerment in essence means the ability to make informed decisions. As such we have not allowed our journalism to be influenced by the pressures.
Despite the new and still unknown pressures, we are all the more committed to keep informing you of events and stories that matter. Our recent coverage of events has brought us an increased readership. However, the coronavirus pandemic and resultant economic crisis has affected our operational capabilities. We are facing an existential threat but only your support can help us withstand this and maintain our editorial independence.
We need your solidarity to keep our journalism going. Your contribution will empower us to keep you informed on stories that matter from Kashmir. Show your solidarity by joining our members community. Kashmir thanks you.
---