Inside the only Heritage Museum of Pakistan-administered-Kashmir (PaK), Nishtar College Folk Heritage Museum. Photograph by Koma Raja for The Kashmir Walla
July 2018 was coming to an end, and my return flight to Germany was at my door. The bubble of laziness, clinging me to stay home, was burst by the thought of visiting the only Heritage Museum of Pakistan-administered-Kashmir (PaK), Nishtar College Folk Heritage Museum; almost two hours drive from my home. My indecisiveness led me to ask my younger cousin, Ali if he can manage to get ready real-early in the morning?
That's how I shifted the decision on his behalf.
Next morning, his phone calls woke me, and I had to get ready in a few minutes. We set on our journey to Jandala (local village) near Rawalakot, Poonch — without taking breakfast.
On the way, we washed our faces with fresh cold water from a natural spring in Akhorban (local village in Poonch) and went ahead after drinking the same. Realizing that I was onto the journey, I felt happy and simultaneously thanked myself to leave a few things on the natural course of happenings. The route ahead was new for both of us; after crossing Rawalakot, the path was really scenic. The road seemed to be abandoned and it mirrored the exotic grey mandalas wavering amid green mountains.
We pulled over a few places to take photographs and to inhale the fresh air of full bloomed summer in Kashmir. While Ali drove, I surfed my time in contacting our host, Sir Najeeb Khan — the pioneer of the museum, runs the Nishtar College, Jandala and maintains the Nishtar College Folk Heritage Museum — on his solo efforts. We reached the destination by noon.
Soon after we reached, Mr. Khan introduced himself as the principal of the college and assigned Miss Maryam, one of his staffer, to show us around. She took us upstairs where a couple of rooms were reserved for the museum.
The rooms were built in old mud-style with wooden embroidery entrance doors. One of the rooms had the old style windows, ventilator and taaqchay (local slang for the inbuilt shelves in mud walls), and had an open hearth on the floor. There were hundreds of the pahari (indigenous people of Himalaya) items placed on the wooden shelves and taaqchas. All those things — clay utensils, old gharray (Water containers), clay kalohtay (Cereal containers), steel utensils, somavar, Kangrri, Charkha (spinning wheel), Chulha (gas stove), Huqa — were once used by Pahari people for their daily usage.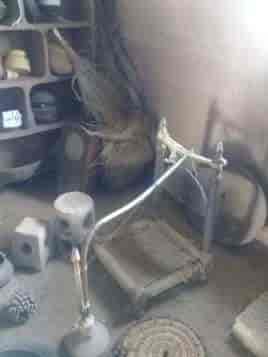 Other than kitchen stuff, the room also had a radio, tape recorder, torches, and telephone, once used by Paharis. The 150-year-old musical instruments like sitar, ik tara and others were also placed there. In one corner, there was the collection of hand-made antique Paharri stuff like pulaan (handmade shoe made up of rice plant), Khirray (mats made up of rice plant), and Pirrhiyan (handmade seats weaved with ropes). There was a huge collection of agricultural tools used by the Paharris, which included a wooden and iron Hal (used for ploughing), Daranti (used for cutting grass and crops), Genti and Rambi (used for digging) and other such tools used for local agriculture.
The room had the fragrance and colors of the Pahari culture and practices which are vanishing rapidly after the 2005 earthquake.
Feeling overwhelmed by room, we went to another one — reserved for another mesmerizing exhibition of hand-carved stones — once used by Pahari locals for different purposes. Watching the remains of past in a go as — 'collection of ruminants' — moved my heart.
Following this, we entered another room — spacious this time — which had a huge collection of weapons including, antique pistols, rifles, and swords both from pre and post-British-Raj. Poonch-based people have the history of being associated with wars and armies. Many of them worked as soldiers in the British Army, and this is assumed as the reasons behind their habits of radio listening and newspaper reading, allegedly adapted from Britishers.
I touched, held and posed like shooting and swording with different rifles and swords there. After the little theatre in memories of our historical Sardars and Rajas, I turned towards Mr. Khan and asked him, "how did this idea (of museum) hit your mind?"
He said that after the 2005 earthquake, he saw peoples' house under the detritus of destruction. "I felt very bad seeing these treasures getting wasted. People were not concerned about saving them, but instead, they focused on throwing away the clay and mud stuff, and replacing them with plastic and steel in new concrete houses built afterward," said Mr. Khan.
In order to lessen his pain for the antiques and old-stuff, he went door to door and collected it by himself. "People said that I am a mad person. I didn't care about them, and I started visiting the different nearby villages,"said Mr. Khan, "I only used to say to the people, 'just allow me to explore your store, abandoned rooms, and scrap,' so, technically I collected it all from the trash of peoples' homes."
He also tried seeking the financial help from the government officials, in order to develop the Museum, but what he received was not even enough to make another room like this. "I dream of transforming it to a separate building, constructed with all the requirements and aesthetic values suitable for a Museum," said Mr. Khan. He also mentioned that the people who visited his museum have opened desi-style restaurant. "It will help in preserving our overall heritage."
Following this conversation, we reached the college's main-office downstairs, which had antique wall-hangings. Seeming interesting to me, I enquired about them. Mr. Khan told me that a few of them are the coated collection of the coins which are used in the state of Jammu and Kashmir and — in Pakistan — while others are the official notifications issued by the then Maharaja Hari Singh during his reign in the state of Poonch. I took a closer look at them and found out that those were the original documents, coated in plastic covers. While taking pictures, and reading them at the same time, I felt pleased. Those notifications/orders were in old formal Urdu, which must have been issued on the instructions of our leader Maharaja Hari Singh. Wow!
These are the things, that from time to time make me imagine — the state of Jammu and Kashmir as one — under one ruler, where same principles and system would have been observed.
With tear stained eyes, I was lost and drowned in my thoughts when Mr. Khan passed me a notebook asking me to write something on it. I shuddered and asked, "what is it?" He explained that whosoever come to visit the museum, they are being asked to write their impressions as a comment with the date of their visit, which he aims to publish one day.
Falling for the idea I wrote a few lines, with a smile on my face, and signature, along with the date, on the paper.
I turned back towards the car with lots of thoughts, emotions, and memories clung to my eyes. On the way back home, I kept trying to sing one of my recently written Pahari song.
Komal Raja is a native of Hajira in Poonch, Pakistan-administered Kashmir. She is a PhD Scholar, studying Social and Cultural Anthropology in LMU, Ludwig Maximilian, University of Munich, Germany.
This is the fourth part story of the series Life Across LoC.You can read first story here, second story here and third story here.
---
Kashmir needs independent journalism…
…now, more than ever to give a voice to the voiceless. The press in Kashmir has operated under tremendous pressures of reporting from a conflict zone but since August 2019 we find ourselves in unchartered territory. The Kashmir Walla is among the oldest independent media outlets in Kashmir and has withstood successive lockdowns as well as attempts to suppress us, fighting back with authoritative ground reports based on facts.
We believe in making the powers that be accountable to their actions but to also hold the mirror to the society. We believe in covering all sides of the story and that empowerment in essence means the ability to make informed decisions. As such we have not allowed our journalism to be influenced by the pressures.
Despite the new and still unknown pressures, we are all the more committed to keep informing you of events and stories that matter. Our recent coverage of events has brought us an increased readership. However, the coronavirus pandemic and resultant economic crisis has affected our operational capabilities. We are facing an existential threat but only your support can help us withstand this and maintain our editorial independence.
We need your solidarity to keep our journalism going. Your contribution will empower us to keep you informed on stories that matter from Kashmir. Show your solidarity by joining our members community. Kashmir thanks you.
---