In the fallout of Pulwama suicide attack on Jammu-Srinagar Highway, a vicious cycle of violence against the Kashmiris started across the country. From a street vendor in Bihar to college students in Udaipur — it became a slippery turf for the Kashmiris.
In another similar incident, a Haryana man flaunted how he made Kashmiris to chant slogans as well as forces them to leave from Sadhaura. A video was uploaded by a resident of Sadhaura, Bilaspur district (block-headquarters Yamunanagar) in Haryana, Vikul Bakshi, which claimed "Aj ap sabki wajh se 5 kashmiriyo ko pakda and unse bharat mata ki jai bulwaya." (Today, we caught five Kashmiris and made them say Long Live Motherland!)  
Soon after the Pulwama attack, the incidents of ethnicity-based violence against Kashmiris living outside the state were reported from some — Haryana added to it.
Mr. Bakshi, as per his Facebook profile a fitness consultant at Sadhaura based, Golden ABS Health Club, posted a video, claiming to have, "unhe sadhaura se bahar nikala" (We have taken [Kashmiris] out of Sadhuara). In one of his tweets, he asked people to gather: "Sabhi bhaiyo se nivedan hai ki jo bhai hamare sath ana chahta hai 7 baje golden abs health club mai pahunche" (Everyone is requested, whosoever wants to join us, to reach Golden Abs Health Club at 7).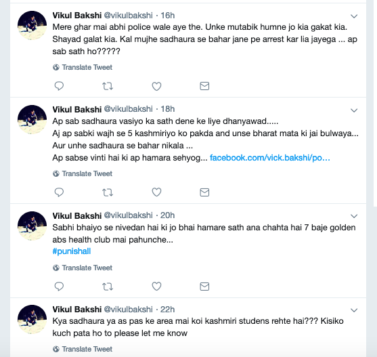 In the video, a group of youth is seen taken possibly the Kashmiri resident, Raftaar Ahmad to an aged local and is being asked, "What ultimatum has been given to you?" To which Mr. Ahmad replies, "We have got no such ultimatum, and that thekedar (contractor) has not mentioned anything like that, and told us that he will talk to the police officials." The conversation is intervened by a local guy, from the group, asking, "Police has given you ultimatum, what else do you want?"
The aged local says, "sale, yaha se jaldi khisak jao, bhag jao." (get out of here, run)
In another video by the same Facebook handle, in the same locality, inside a mud-shed, a group is seen forcing a laborer from Poonch to say, "Bharat ki jai" (Long live India).
While the laborer, embarrassingly plea to the local, "bhaiya, hum to majdoor log hai," (Brother, I'm just a laborer), but end up being forced to say, "bharat mata ki jai". By today morning, he deleted the video from his timeline.
A local interrupting the chants of Long Live India, says, "When we grab your neck, you say this; why don't you otherwise?" Th appearing leader of the goons asks around, "anyone wants them to speak anything else?"
"Hindustan Zindabad!" and the guy followed.
In the post, Mr. Bakshi also appealed everyone to support him, and announced that he will visit Ganpati Institute, Bilaspur (Yamunanagar). Reportedly, a few students from Kashmir studying in the same institute had appealed on the Twitter to airlift them, as they were given 24 hours ultimatum to vacate the college premises.
After the video went viral reportedly police officials arrived at Mr. Bakshi's place; responding to which he penned down another Facebook post saying, "Police officials just arrived at my home. According to them, I did wrong. Maybe I did. If I go out of Sadhaura, they will arrest me. Are you guys with me?" (This has been translated from his post written in Hindi). But he has now taken down the post, however tweets were still there.
Yashraj Sharma is a Features Writers at The Kashmir Walla.
---
Kashmir needs independent journalism…
…now, more than ever to give a voice to the voiceless. The press in Kashmir has operated under tremendous pressures of reporting from a conflict zone but since August 2019 we find ourselves in unchartered territory. The Kashmir Walla is among the oldest independent media outlets in Kashmir and has withstood successive lockdowns as well as attempts to suppress us, fighting back with authoritative ground reports based on facts.
We believe in making the powers that be accountable to their actions but to also hold the mirror to the society. We believe in covering all sides of the story and that empowerment in essence means the ability to make informed decisions. As such we have not allowed our journalism to be influenced by the pressures.
Despite the new and still unknown pressures, we are all the more committed to keep informing you of events and stories that matter. Our recent coverage of events has brought us an increased readership. However, the coronavirus pandemic and resultant economic crisis has affected our operational capabilities. We are facing an existential threat but only your support can help us withstand this and maintain our editorial independence.
We need your solidarity to keep our journalism going. Your contribution will empower us to keep you informed on stories that matter from Kashmir. Show your solidarity by joining our members community. Kashmir thanks you.
---