For last three decades the Kashmir Valley, surrounded by the Himalayan mountains, has witnessed bloodshed, as the armed militancy against the government continues. Every year while hundreds or sometimes thousands die in the violence – by the gun of either sides of the political ideologies, children are worst affected. They lose their parents, shelter, or mental peace. As per the reports, over 31 children have been killed in 2018, while many human rights organizations have put the number of orphans in Kashmir as more than 30,000 in last three decades. The year 2018 has been the deadliest in last one decade, with highest number of killings and increased number of incidents of violence. In absence of the political initiatives on the disputed nature of the region, it has only been the violence that has grown over the years, and it has left countless orphans dotting the bloodied political canvas of Kashmir's tragic history.
The Kashmir Walla's Multimedia Editor, Vikar Syed, goes back into recent years to tell the story of some of the orphaned children of Kashmir's bloodshed.
Beauty Jan left behind her 2-year-old baby girl, when she was shot dead by the government forces during clashes near a gunfight site in Pulwama in December 2017. Jan had her daughter in her lap, inside their room, when she was standing near a window and a bullet pierced through the window to hit her abdomen. She received injuries and later died on way to nearby hospital.
Photgraph by Vikar Syed for The Kashmir Walla
In February 2017, a civilian Mohammad Ashraf Reshi was killed by the government forces while being tortured in custody during the gunfight. While his house was completely damaged, where two militants were also killed, he left behind his 2-year-old daughter and wife.
Photograph by Vikar Syed for The Kashmir Walla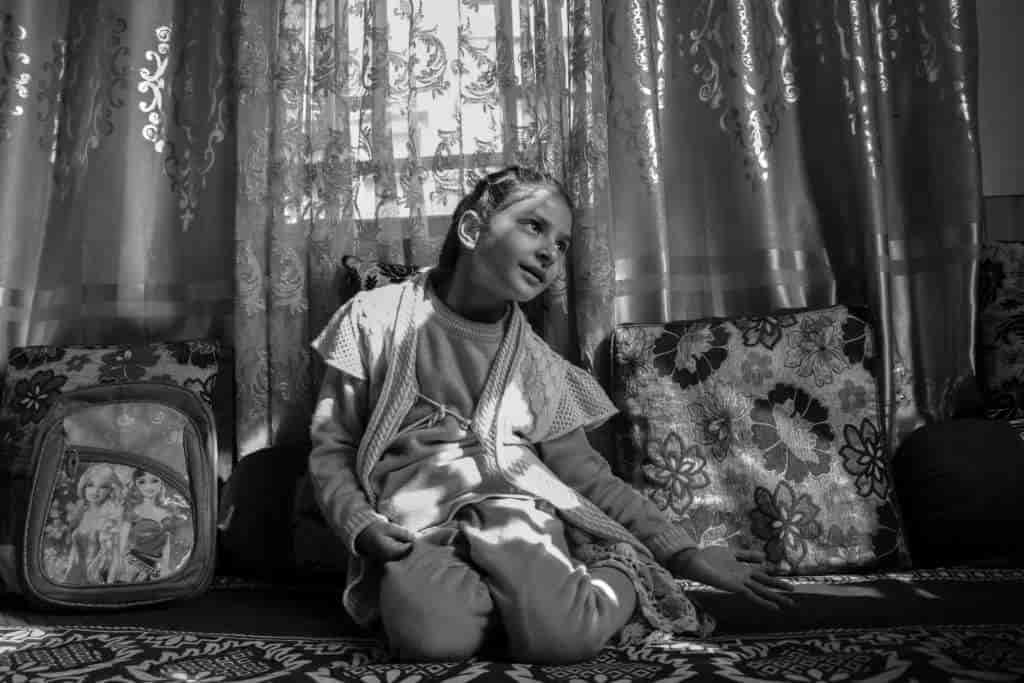 In August 2017, 9-year old Zohra's father, Abdul Rashid Shah, 55, a Jammu and Kashmir police official was shot dead by militants near Mehandi Kadal area of Anantnag district of South Kashmir. He was killed while returning from his duty to the local police station.
Photograph by Vikar Syed for The Kashmir Walla
Three month old Adifa lost her father Abid Hussain Lone, 35, when he was shot dead near a gunfight site in South Kashmir's Pulwama district on 15 December 2018. Lone was married to an Indonesian girl, Wiwiek Widiasati, after completing his Masters in Business Administration (MBA) in 2016. Here Widiasati is trying to console her daughter a few days after Lone was killed.
Photograph by Vikar Syed for The Kashmir Walla
Suzain, who is now 11-year-old, is son of Neelofar Jan and Shakeel Ahmad Ahanger. On 29 May 2009, Neelofar Jan (22) and her sister-in-law, Asiya (17) were found dead near a shallow stream in Shopian district of South Kashmir. The family and the residents accused the duo were raped and murdered leading to a series of investigations and cover-ups, without ever anyone being prosecuted for the crime. Ahanger continues to fight for justice.
Photograph by Vikar Syed for The Kashmir Walla
Two-year-old Falak Jan, watching her father, Firdous Ahmad Bhat's funeral procession at their native village Beegambagh Kakapora in Pulwama district of South Kashmir in August 2017. Bhat was protesting near the gunfight site to save the trapped militants when he was shot dead by the government forces. Two militants were also killed in the gunfight.
Photograph by Vikar Syed for The Kashmir Walla
Five-year-old Aalima Jan with her grandmother after her mother Firdosa Jan was shot dead by the government forces. Jan was washing cups in the courtyard of her house in Qasbayar village of South Kashmir's Pulwama district on 20 October 2018. It was during a retaliation gunfire by the government forces, after an attack, towards residential area, in which a bullet hit Jan, killing her on spot.
Photograph by Vikar Syed for The Kashmir Walla
Ziyan Rather, four-years-old only son of Naseer Ahamd, a Central Reserve Police Force (CRPF) personnel, wearing his father's uniform cap. Naseer was shot dead by unknown gunmen outside his home at Naira Pulwama on 30 July 2018.
Photograph by Vikar Syed for The Kashmir Walla

Mohammad Iqbal Bhat, 27, was killed by the government forces on 1 April 2018 in South Kashmir's Kulgam district after a gunfight. Bhat was on his way to his in-law's house, as per his family, where he was supposed to meet his 11-months-old daughter, who is here playing with her cousins at their residence in Khasipora Shopian district.
Photography by Vikar Syed for The Kashmir Walla
---
Kashmir needs independent journalism…
…now, more than ever to give a voice to the voiceless. The press in Kashmir has operated under tremendous pressures of reporting from a conflict zone but since August 2019 we find ourselves in unchartered territory. The Kashmir Walla is among the oldest independent media outlets in Kashmir and has withstood successive lockdowns as well as attempts to suppress us, fighting back with authoritative ground reports based on facts.
We believe in making the powers that be accountable to their actions but to also hold the mirror to the society. We believe in covering all sides of the story and that empowerment in essence means the ability to make informed decisions. As such we have not allowed our journalism to be influenced by the pressures.
Despite the new and still unknown pressures, we are all the more committed to keep informing you of events and stories that matter. Our recent coverage of events has brought us an increased readership. However, the coronavirus pandemic and resultant economic crisis has affected our operational capabilities. We are facing an existential threat but only your support can help us withstand this and maintain our editorial independence.
We need your solidarity to keep our journalism going. Your contribution will empower us to keep you informed on stories that matter from Kashmir. Show your solidarity by joining our members community. Kashmir thanks you.
---