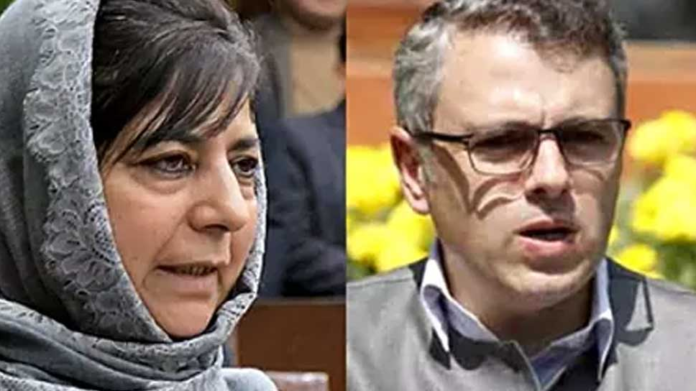 ---
Srinagar: Reacting to the comments of Army Chief General Bipin Rawat on talks with Taliban, the former chief ministers of Jammu and Kashmir Omar Abdullah and Mehbooba Mufti questioned the approach of the centre towards Kashmir.
Taking to their Twitter handles both Omar and Mehbooba questioned the double standards of the centre with regards to Kashmir.
While Mehbooba called for an initiation of dialogue with Hurriyat and other stake holders, Omar questioned the general's dual policy on Kashmir.
"We bat for talks with taliban, autonomy for Tibet & Tamil areas of Sri Lanka yet we are unwilling to look at engagement or political initiatives in J&K. Why is our policy all about "do as we say, don't do as we do"? Engagement for Taliban, Operation All-Out for Kashmir," the National conference leader tweeted.
Meanwhile  PDP president Mehbooba Mufti asked the general to accept peace offer from Pakistan . "If the Army Chief can advocate for talks with Taliban then why different standards when it comes to our own people? Accept peace offer from Pakistan, initiate dialogue with Hurriyat and other stakeholders put an end to the vicious cycle of violence in J&K." she wrote on her Twitter.
Earlier Rawat  had said that there should be unconditional talks with Taliban as part of Afghan peace process.
He said that Afghan peace is in the interest of region, Pakistan as well as India.
---
Kashmir needs independent journalism…
…now, more than ever to give a voice to the voiceless. The press in Kashmir has operated under tremendous pressures of reporting from a conflict zone but since August 2019 we find ourselves in unchartered territory. The Kashmir Walla is among the oldest independent media outlets in Kashmir and has withstood successive lockdowns as well as attempts to suppress us, fighting back with authoritative ground reports based on facts.
We believe in making the powers that be accountable to their actions but to also hold the mirror to the society. We believe in covering all sides of the story and that empowerment in essence means the ability to make informed decisions. As such we have not allowed our journalism to be influenced by the pressures.
Despite the new and still unknown pressures, we are all the more committed to keep informing you of events and stories that matter. Our recent coverage of events has brought us an increased readership. However, the coronavirus pandemic and resultant economic crisis has affected our operational capabilities. We are facing an existential threat but only your support can help us withstand this and maintain our editorial independence.
We need your solidarity to keep our journalism going. Your contribution will empower us to keep you informed on stories that matter from Kashmir. Show your solidarity by joining our members community. Kashmir thanks you.
---