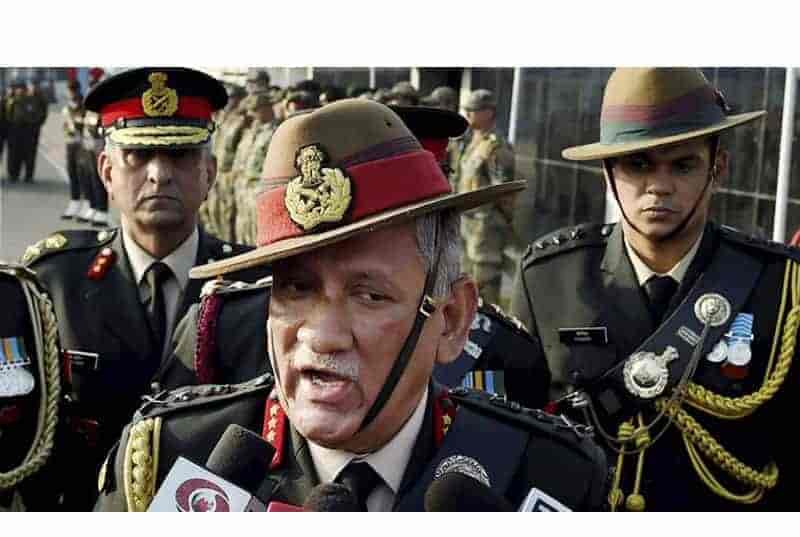 ---
Srinagar: Indian Army chief Bipin Rawat has said that educated youth in Jammu and Kashmir are drawing towards militancy because 'falsehoods on religion are being fed to them'
Rawat said a different kind of "radicalisation was being witnessed in India and in Jammu and Kashmir, the youth were getting radicalised due to a lot of misinformation, disinformation, and a lot of falsehoods on religion being fed to them."
"That is why you find more and more educated youth being drawn into militancy," he said
Claiming that "terrorism is becoming a new form of warfare",  Rawat said the menace is spreading its head like a "multi-headed monster" and is "here to stay" as long as states continue to use it as a state policy.
Rawat, speaking at a panel discussion at the Raisina Dialogue here, also said that there was a need to control social media as it was becoming a source of spreading radicalisation.
."Terrorism is here to stay as long as there are nations that continue to sponsor it as a state policy," Rawat said.
"Terrorism is becoming a new form of warfare. A weaker nation is using terrorists as proxy to put pressure on another nation to come to terms with it," he said.
On the Afghan peace process, he said there should be negotiations with the Taliban, but without conditions.
He also said that Pakistan has always kept the Taliban in its backyard and should be concerned about it. (with inputs from PTI)
---
Kashmir needs independent journalism…
…now, more than ever to give a voice to the voiceless. The press in Kashmir has operated under tremendous pressures of reporting from a conflict zone but since August 2019 we find ourselves in unchartered territory. The Kashmir Walla is among the oldest independent media outlets in Kashmir and has withstood successive lockdowns as well as attempts to suppress us, fighting back with authoritative ground reports based on facts.
We believe in making the powers that be accountable to their actions but to also hold the mirror to the society. We believe in covering all sides of the story and that empowerment in essence means the ability to make informed decisions. As such we have not allowed our journalism to be influenced by the pressures.
Despite the new and still unknown pressures, we are all the more committed to keep informing you of events and stories that matter. Our recent coverage of events has brought us an increased readership. However, the coronavirus pandemic and resultant economic crisis has affected our operational capabilities. We are facing an existential threat but only your support can help us withstand this and maintain our editorial independence.
We need your solidarity to keep our journalism going. Your contribution will empower us to keep you informed on stories that matter from Kashmir. Show your solidarity by joining our members community. Kashmir thanks you.
---