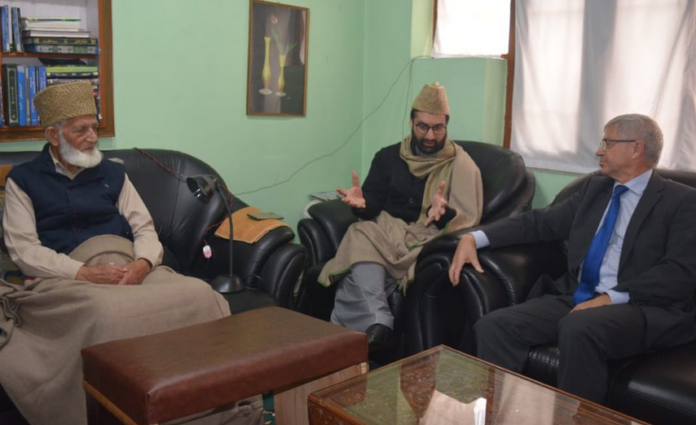 ---
Srinagar: Joint Resistance Leadership (JRL) comprising Syed Ali Geelani, Mirwaiz Umar Farooq, and Muhammad Yasin Malik held a meeting at Geelani's Hyderpora residence. At the meeting leadership expressed satisfaction over the verdict announced by the seven judge-bench of Pakistan Supreme Court that upheld the disputed status of Jammu and Kashmir and directed the Pakistan government to provide more citizenship, legal and social rights to the people of Gilgit and Baltistan besides stating that the lingering dispute of J&K be resolved by means of plebiscite.
According to a statement issued to KNS, Leadership said that Pakistan Supreme Court in its fresh verdict has laid stress on the fact that till the issue of Kashmir stands unresolved, Pakistan and India must ensure that the people of this region enjoy maximum rights for areas within each country's control.
In the meeting, Leadership urged the UNHRC to implement its report on the human rights situation in Kashmir that UN Secretary-General keeps referring to. Leadership said it is incumbent upon the Secretary-General not only to urgently take steps to mitigate the grave human right abuse perpetuated by the Indian state in J&K which the UN report elaborates, but ensure that the commitment made by the August body to the people of entire J&K of resolving the Kashmir dispute is upheld by implementing the UN resolutions on it. The dispute continues to remain hanging since past over 70 years and it is long overdue that UN play its role in resolving one of world's oldest disputes.
At the meeting Leadership expressed serious concern over the perpetual incarceration of many political prisoners languishing in Indian jails and the ill plight and inhuman treatment meted out to Kashmiri political prisoners lodged in various jails including Tihar Jail, Kathua, Udhampur, Kotbalwal, Samba, Haryana, Rajasthan, Jodhpur and other prisons stating that world organizations should take strong note of the condition of Kashmiri prisoners lodged in these prisons and how legal processes and procedures are misused to detain them and prolong their detentions.
Leadership said most Kashmiri inmates lodged in these prisons are serving detention for no offence other than their political ideology and their commitment towards the Kashmir dispute. Leadership said that false cases and charges are put up and under are draconian laws like public safety act youth and activists and even students are arrested arbitrarily just to break their resolve and punish them for their association with the people's movement. The leadership said that prolonging the detention of Kashmiri prisoners even after they have served sentences and delaying bringing of charges and proper trial to prolong detention is a well planned conspiracy to harass Kashmiri's and sheer vendetta.
The leadership said that though Kashmiri leadership have time and again knocked the doors of world community and apprised them about the plight of Kashmiri detainees, but to date, no concrete steps have been taken to ensure the release of these prisoners or improvement in their prison conditions. Leadership said that in total violation of Geneva conventions majority of the Kashmiri prisoners have been put in jails thousands of miles far from their homes.
The leadership strongly condemning the arrest and shifting of three South Kashmir youth Amir Shafi Bhat, Mohammad Shafi Mir and Suhail Ahmad Wagay to Kotbalwal Jail Jammu under PSA demanded unconditional release of all the Kashmiri political prisoners. (KNS)
---
Kashmir needs independent journalism…
…now, more than ever to give a voice to the voiceless. The press in Kashmir has operated under tremendous pressures of reporting from a conflict zone but since August 2019 we find ourselves in unchartered territory. The Kashmir Walla is among the oldest independent media outlets in Kashmir and has withstood successive lockdowns as well as attempts to suppress us, fighting back with authoritative ground reports based on facts.
We believe in making the powers that be accountable to their actions but to also hold the mirror to the society. We believe in covering all sides of the story and that empowerment in essence means the ability to make informed decisions. As such we have not allowed our journalism to be influenced by the pressures.
Despite the new and still unknown pressures, we are all the more committed to keep informing you of events and stories that matter. Our recent coverage of events has brought us an increased readership. However, the coronavirus pandemic and resultant economic crisis has affected our operational capabilities. We are facing an existential threat but only your support can help us withstand this and maintain our editorial independence.
We need your solidarity to keep our journalism going. Your contribution will empower us to keep you informed on stories that matter from Kashmir. Show your solidarity by joining our members community. Kashmir thanks you.
---