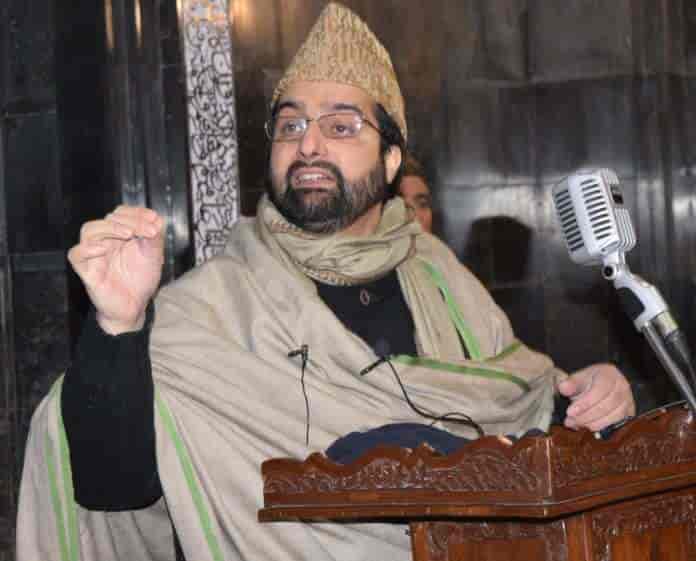 ---
Srinagar: Hurriyat(M) chairman Umar Farooq on Friday termed the statement of army commander that 2018 was a remarkable year for them in Kashmir as they killed over 250 militants as extremely unfortunate and inhuman.
Addressing devotees in Srinagar's grand mosque Mirwaiz said it is strange that a well trained armed force meant to fight another well trained armed force is celebrating and patting its back on killing young men and boys , some as young as 14 ,while some budding intellectuals and academics ,and calling it remarkable!
He said that those the army is boasting of killing are not some hard core armed gurellias and terror mongers, but sentiment driven youth forced to take to arms as a consequence of severe repression due to forcible control and what they ( youth)feel ,failure of political means to express what is essentially a political demand for self determination.
"It is simply the intensity of their passion that drives these young boys, who are poorly trained and starved of ammunition to be able to give a real fight , in this greatly unequal battle to an armed force of a country." He said.
Adding that the pain and loss that all of Kashmir feels at their 'martyrdom' only adds to people's resolve and pushes more young to join in.
"Instead of admitting this, the armed force of a country that prides itself in the history of its freedom struggle by honouring the likes of Subhas Chander Bose who raised Indian National Army to fight the British colonial rule , sells the killing of these armed youth as a great achievement to people of India." Mirwaiz lamented.
Mirwaiz further said that many in Indian army have in their write ups and lectures admitted that J&K is a political problem that has to be resolved as such .
Mirwaiz said the whole world reiterates that their can be no military solution to the dispute. Mirwaiz said those who are using militirasation to prolong the status quo should understand that it comes with a cost and keeps increasing complexities.
---
Kashmir needs independent journalism…
…now, more than ever to give a voice to the voiceless. The press in Kashmir has operated under tremendous pressures of reporting from a conflict zone but since August 2019 we find ourselves in unchartered territory. The Kashmir Walla is among the oldest independent media outlets in Kashmir and has withstood successive lockdowns as well as attempts to suppress us, fighting back with authoritative ground reports based on facts.
We believe in making the powers that be accountable to their actions but to also hold the mirror to the society. We believe in covering all sides of the story and that empowerment in essence means the ability to make informed decisions. As such we have not allowed our journalism to be influenced by the pressures.
Despite the new and still unknown pressures, we are all the more committed to keep informing you of events and stories that matter. Our recent coverage of events has brought us an increased readership. However, the coronavirus pandemic and resultant economic crisis has affected our operational capabilities. We are facing an existential threat but only your support can help us withstand this and maintain our editorial independence.
We need your solidarity to keep our journalism going. Your contribution will empower us to keep you informed on stories that matter from Kashmir. Show your solidarity by joining our members community. Kashmir thanks you.
---