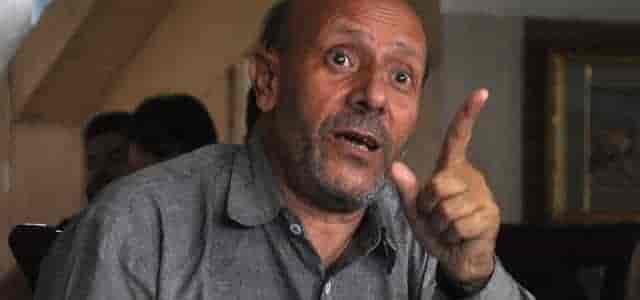 ---
Former legislator Er. Rasheed was detained by police on Saturday after he along with his supporters tried to march towards the UN office at Sonawar as a mark of protest against the civilian killings in Kashmir.
As per the party spokesman, the protesters holding banners, placards and black flags started marching from Rajbagh to UN office for protest.
The protesters who were chanting slogans against the forces sought the implementation of UN resolutions to end bloodshed in Kashmir.
However, the government forces stopped them near zero bridge Srinagar arrested Er Rasheed and his associates.
Rasheed told media persons that world community should take notice of continuous killings in Kashmir.
Adding that New Delhi has no resolution to Kashmir issue except firing bullets, pellets and use harsh draconian laws as state terrorism.
He also demanded Governor Satya Pal Malik's moral stand on the killings in Kashmir and said he must come-up with solution rather than making fake enquires and condemnations.
He alleged that New Delhi doesn't want a political resolution nor does it give space to peaceful protests and resistance.
Rasheed also condemned Army Chief Bipin Rawat's statement "trying to justify the killings".
"Army has direct involvement in Friday civilian killings in the Pulwama town, party will hold a peaceful day long sit-in outside Army Headquarters Badami Bagh tomorrow against the complete lawlessness and misuse of dirty AFSPA," said Rasheed.
---
Kashmir needs independent journalism…
…now, more than ever to give a voice to the voiceless. The press in Kashmir has operated under tremendous pressures of reporting from a conflict zone but since August 2019 we find ourselves in unchartered territory. The Kashmir Walla is among the oldest independent media outlets in Kashmir and has withstood successive lockdowns as well as attempts to suppress us, fighting back with authoritative ground reports based on facts.
We believe in making the powers that be accountable to their actions but to also hold the mirror to the society. We believe in covering all sides of the story and that empowerment in essence means the ability to make informed decisions. As such we have not allowed our journalism to be influenced by the pressures.
Despite the new and still unknown pressures, we are all the more committed to keep informing you of events and stories that matter. Our recent coverage of events has brought us an increased readership. However, the coronavirus pandemic and resultant economic crisis has affected our operational capabilities. We are facing an existential threat but only your support can help us withstand this and maintain our editorial independence.
We need your solidarity to keep our journalism going. Your contribution will empower us to keep you informed on stories that matter from Kashmir. Show your solidarity by joining our members community. Kashmir thanks you.
---