Srinagar: A photograph shows an attendant waiting in traffic jam along with a patient lying on stretcher outside a hospital in Srinagar.
As per the photographer Syed Shahriyar, who clicked the picture today and sent to The Kashmir Walla, said that he saw a patient on the stretcher and was surprised to see it on road.
"I asked the attendant didn't the hospital provide an ambulance to transport the patient. He said no," said Shahriyar. "They had to go from SMHS hospital to another specialty building in Shireen Bagh."
The specialty building is across the road over a few hundred meters from the door of main hospital building. Several patients are often referred to this building for examination or additional services.
In Srinagar, the entrance of hospitals have been mostly jammed by the cars and vendors anyway, leaving less space for free movement during emergencies.
Unfortunately, adding to the misery of this patient today being transported on a stretcher through main road, they were stuck in traffic jam. The patient remained lying on the stretcher waiting for the traffic to move.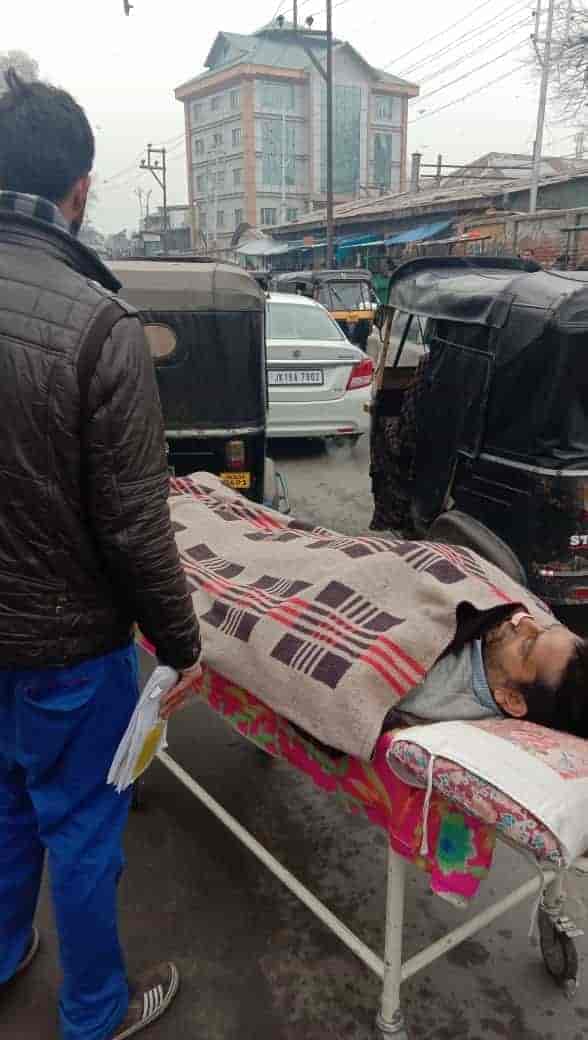 ---
Kashmir needs independent journalism…
…now, more than ever to give a voice to the voiceless. The press in Kashmir has operated under tremendous pressures of reporting from a conflict zone but since August 2019 we find ourselves in unchartered territory. The Kashmir Walla is among the oldest independent media outlets in Kashmir and has withstood successive lockdowns as well as attempts to suppress us, fighting back with authoritative ground reports based on facts.
We believe in making the powers that be accountable to their actions but to also hold the mirror to the society. We believe in covering all sides of the story and that empowerment in essence means the ability to make informed decisions. As such we have not allowed our journalism to be influenced by the pressures.
Despite the new and still unknown pressures, we are all the more committed to keep informing you of events and stories that matter. Our recent coverage of events has brought us an increased readership. However, the coronavirus pandemic and resultant economic crisis has affected our operational capabilities. We are facing an existential threat but only your support can help us withstand this and maintain our editorial independence.
We need your solidarity to keep our journalism going. Your contribution will empower us to keep you informed on stories that matter from Kashmir. Show your solidarity by joining our members community. Kashmir thanks you.
---