Fiza Nazir (left), a downtown girl, during a martial arts match, which she had won.

---
Ten years ago, a former footballer told his daughter, "If I had a son, he would have continued my dream."
Walking past the cheering crowd in a playground in the downtown area of Srinagar, eight-year-old Fiza Nazir, carefully listened to her 45-year-old father, Nazir Ahmad Kak. The words — if I had a son — kept resonating in Miss Nazir's ears. Starting from the age of 8, she prepared herself for coming years and beat all the odds to pave her path in martial arts. Avoiding the taunts in the narrow alleys of downtown, she struggled and created her own space in the field.
"My father is a businessman and had difficulties in paying for my expenses, and that hurts me," said Miss Nazir.
She was in the third standard at school when she got associated with martial arts and went to play at the national level. A year later, her first out-of-state national game happened in Rajasthan. Apart from her father, her mother had a fear of how can her daughter manage things. It was the neighbors, back in Kashmir, who raised the objections.
A rising champion from downtown
Over the years, 19-year-old has won 11 Gold, 9 Silver and 7 Bronze medals, and 5 state trophies, and green, blue and yellow belt. Once, when she was selected for the national competition in Chennai, Fiza dropped her academic year for the game.
"I chose the game over examination," she says.
She broke many barriers, including social stigma around her gender, to reach heights in her field. In 2018, she becomes international Gold Medalist at Thang-Ta International Championship. She defeated competitors from various countries including Korea, China, and the Philippines.
"I'm not playing for Jammu and Kashmir, neither have I represented India, nor I aimed for the awards," Miss Nazir told The Kashmir Walla while sitting cross-legged on the floor, next to a table displaying her trophies and medals in order.
"I played for myself. Playing martial arts gives me satisfaction and energy."
Though, she still continues to face hate, not from relatives or family, but now mostly on social media. "I was asked 'kyun khel rahi ho' (why are you playing?)," shares Miss Nazir. "On Instagram, people abused me in comments. How people looked at me changed as I slowly did well in my field and it would come on social media or media."
Miss Nazir gives most of the credit for the achievements to her coach, Aijaz Ahmad Bhat, who is associated with sports for the last twenty years. She admits that it wouldn't have been possible for her to win these awards without his guidance. "Winning or losing is the part of the sports, but giving moral support to a player pushes him/her for success," she says.
Being a female martial arts player in Kashmir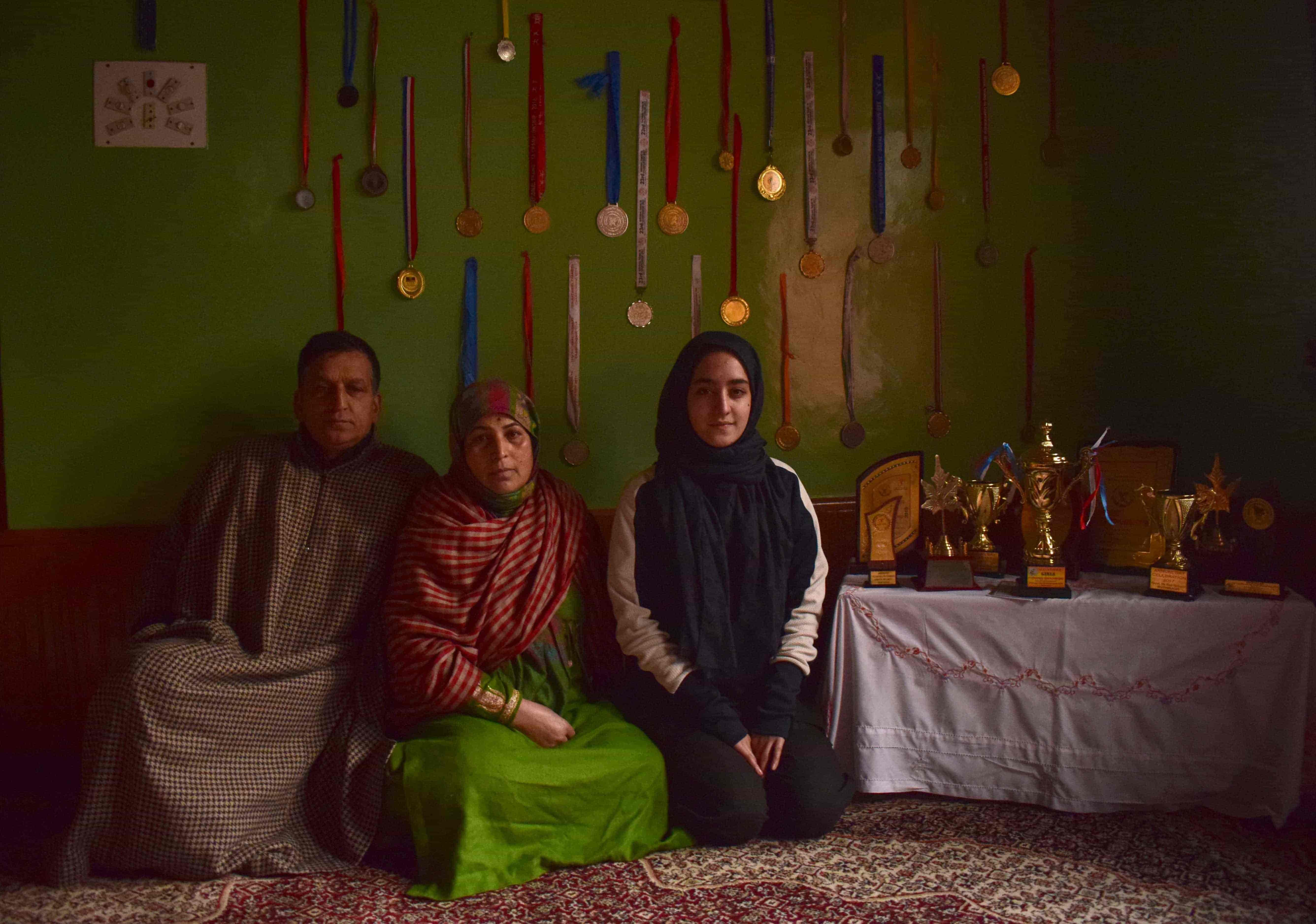 Miss Nazir observes the ongoing decade-long volatile situations in Kashmir through a different prism. She believes that even if an individual is a hardcore pro-freedom supporter, once he/she enters into a game, they become a sports player. "One thing I love in sports is discipline. Your brain dumps everything, once you are in the game," she added.
Miss Nazir's father, Mr. Kak, an ex-athlete, believes that his daughter has achieved heights in the game, "I don't have any son. She broke the stereotype for dreaming of having a son."
Despite multiple injuries, her passion and spirit do not deteriorate her. The girl kept walking in-between the stones flying in the air and smoke choking her breath.
Continuing her practice, she said, "Sometimes due to protests in the locality, it becomes difficult for me to go outside. But, I always make it possible to do not miss my practice classes."
Struggles, fights for facilities and SRO-349
Despite performing well in her field, Miss Nazir argues that there is no monetary support from the state sports council for the players. "Everytime ministers and other government officials came to watch sports programs, they announced a long list of facilities and benefits for the players," she paused and continued with a low tone, "They showed us dreams that never come true."
The sports sector in Kashmir lacks many facilities. She demanded that it the time for authorities to address players' demands and boost the field of sports in Kashmir. "I haven't received a single penny from the federation or any other authority so far," she expressed with disappointment.
The coaches and other federation members have filed their proposal to grant SRO 349 many times for the sportspersons in the Jammu and Kashmir. But, their efforts went in vain. "It is not just applauding players by words before a crowd. There should be some grants from the government for a sports player who aimed for it," said Miss Nazir.
---
Kashmir needs independent journalism…
…now, more than ever to give a voice to the voiceless. The press in Kashmir has operated under tremendous pressures of reporting from a conflict zone but since August 2019 we find ourselves in unchartered territory. The Kashmir Walla is among the oldest independent media outlets in Kashmir and has withstood successive lockdowns as well as attempts to suppress us, fighting back with authoritative ground reports based on facts.
We believe in making the powers that be accountable to their actions but to also hold the mirror to the society. We believe in covering all sides of the story and that empowerment in essence means the ability to make informed decisions. As such we have not allowed our journalism to be influenced by the pressures.
Despite the new and still unknown pressures, we are all the more committed to keep informing you of events and stories that matter. Our recent coverage of events has brought us an increased readership. However, the coronavirus pandemic and resultant economic crisis has affected our operational capabilities. We are facing an existential threat but only your support can help us withstand this and maintain our editorial independence.
We need your solidarity to keep our journalism going. Your contribution will empower us to keep you informed on stories that matter from Kashmir. Show your solidarity by joining our members community. Kashmir thanks you.
---