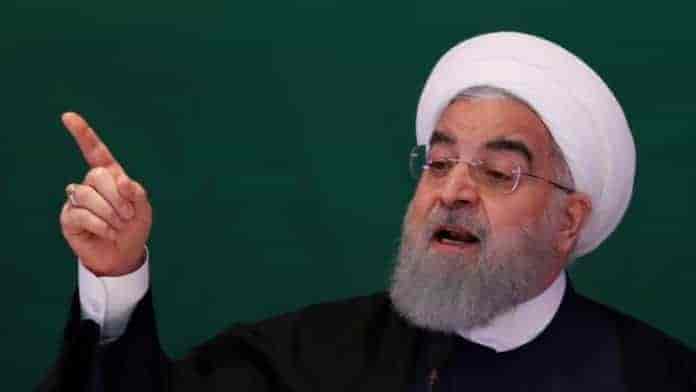 ---
Iranian President Hassan Rouhani has said that Iranian people consider Saudis as their "brothers" and  that the Islamic Republic was ready to defend the Saudi nation's interests against terrorism without expecting anything in return.
"We are ready to do our best to defend the interests of the Saudi people against terrorism, aggressors and superpowers like how we went to the help of the people of Iraq, Syria, Afghanistan and Yemen without expecting any benefits," Rouhani noted.
Addressing an annual international conference on Islamic unity in Tehran, Rouhani said Saturday Muslims have no way but to remain united in order to achieve victory over the US and fight its blatant oppression.
He noted that unity and brotherhood among Islamic countries must be assumed as a duty. The Iranian president, however, pointed out that unity could not be achieved through words, stressing that it rather required collective action.
The 32nd International Islamic Unity Conference began in the Iranian capital under the motto "Quds, axis of unity among Ummah," with over 350 foreign guests from 100 countries in attendance.
The event is held annually on the occasion of the birth anniversary of Prophet Muhammad (Peace be upon Him) in a bid to lay the ground for stronger solidarity among Muslims and provide appropriate solutions for their problems.
Rouhani also termed Israel as a cancerous tumour established by Western countries to advance their interests in the Middle East. (with inputs from Press Tv)
---
Kashmir needs independent journalism…
…now, more than ever to give a voice to the voiceless. The press in Kashmir has operated under tremendous pressures of reporting from a conflict zone but since August 2019 we find ourselves in unchartered territory. The Kashmir Walla is among the oldest independent media outlets in Kashmir and has withstood successive lockdowns as well as attempts to suppress us, fighting back with authoritative ground reports based on facts.
We believe in making the powers that be accountable to their actions but to also hold the mirror to the society. We believe in covering all sides of the story and that empowerment in essence means the ability to make informed decisions. As such we have not allowed our journalism to be influenced by the pressures.
Despite the new and still unknown pressures, we are all the more committed to keep informing you of events and stories that matter. Our recent coverage of events has brought us an increased readership. However, the coronavirus pandemic and resultant economic crisis has affected our operational capabilities. We are facing an existential threat but only your support can help us withstand this and maintain our editorial independence.
We need your solidarity to keep our journalism going. Your contribution will empower us to keep you informed on stories that matter from Kashmir. Show your solidarity by joining our members community. Kashmir thanks you.
---