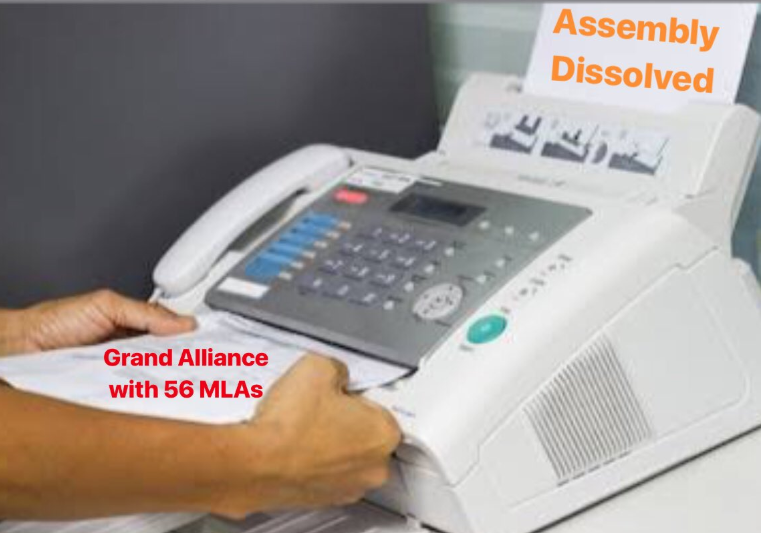 ---
Amid the overnight political turbulence in the state assembly of Jammu and Kashmir, the netizens are taking over the stage. After the hustle over claims to form the government, former CM of the state, Mehmooba Mufti replied to National Conference's (NC) leader, Omar Abdullah's tweet posting a human skeleton depicting "those awaiting a response from the governor"
Meanwhile those awaiting a response. pic.twitter.com/Q4OM7rFfvB

— Mehbooba Mufti (@MehboobaMufti) November 21, 2018
The subsequent political events of the day have sparked Twitter with humorous memes. Some of the best are:
Former JNUSU president, Mohit took a dig at the central government for its appointed governor's actions.
Fax Machine did not work,
Amit Shah's text worked.?‍♂️ #JammuKashmir

— Mohit (@Mohit_JNU) November 21, 2018
Twitter user, Harry Singh (@HSCSocial) wrote, "Man of the Match – Satyapal Malik Governor of Jammu & Kashmir." Another user said that these dramatic events were better than any season of House Of Cards, a political show on Netflix.
Today's political developments in J&K were definitely better than any season of "House of cards". ?. #JammuAndKashmir #JammuKashmir @OmarAbdullah @HaseebDrabu @BDUTT @listenshahid @SalmanSoz @GAMIR_INC @amitabhmattoo pic.twitter.com/XVlsmh9lSJ

— Ordinary Indian (@indian_ordinary) November 21, 2018
A Facebook user, Neeraj Nawaz posted a video. Have a look at it:
One user made a meme out of Hurriyat Leadership's reaction over this hustle.
Reaction of#JammuKashmir pic.twitter.com/Z3keB3H6cH

— Kashmir 24×7 (@Kashmir_25) November 21, 2018
Political activist, Jothimani wrote on her Twitter feed that even a fax machine can be an instrument to dissolve the assembly.
Forget about democracy! A Fax machine can be an instrumental to dissolve the assembly! Anything is possible in #NewIndia !#JammuKashmir

— Jothimani (@jothims) November 21, 2018
Another Twitter user wrote:
Political Parties: Sir, this is undemocratic.

Governor: I don't give a fax#JammuKashmir

— Mehreen ? (@MehreenAlam_) November 21, 2018
And the whole political scenario of the state right now, in a single frame.
Congress , NC and PDP to BJP after Governor dissolves #JammuKashmir assembly pic.twitter.com/O8iBORgKcv

— Gajender Singh (@gajender00) November 21, 2018
---
Kashmir needs independent journalism…
…now, more than ever to give a voice to the voiceless. The press in Kashmir has operated under tremendous pressures of reporting from a conflict zone but since August 2019 we find ourselves in unchartered territory. The Kashmir Walla is among the oldest independent media outlets in Kashmir and has withstood successive lockdowns as well as attempts to suppress us, fighting back with authoritative ground reports based on facts.
We believe in making the powers that be accountable to their actions but to also hold the mirror to the society. We believe in covering all sides of the story and that empowerment in essence means the ability to make informed decisions. As such we have not allowed our journalism to be influenced by the pressures.
Despite the new and still unknown pressures, we are all the more committed to keep informing you of events and stories that matter. Our recent coverage of events has brought us an increased readership. However, the coronavirus pandemic and resultant economic crisis has affected our operational capabilities. We are facing an existential threat but only your support can help us withstand this and maintain our editorial independence.
We need your solidarity to keep our journalism going. Your contribution will empower us to keep you informed on stories that matter from Kashmir. Show your solidarity by joining our members community. Kashmir thanks you.
---