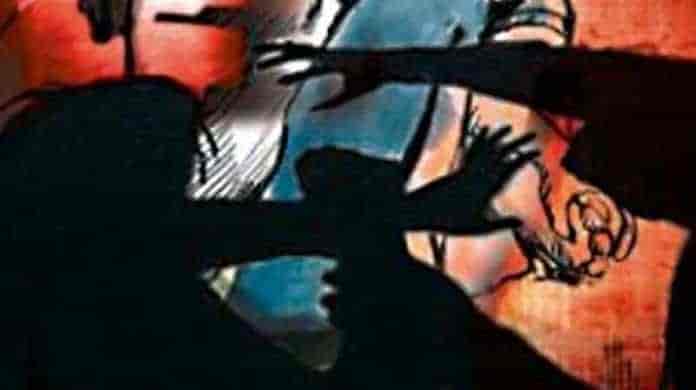 ---
A Kashmiri student was severely beaten up by a group of students at Sharda University in Greater Noida of Uttar Pradesh state who were demanding eviction of Afghani students.
A group of students said that there was some tiff between local students and some Afghani students over some issue from last several days.
"Today, the local students numbering over 200 took out protest demonstration demanding eviction of all the Afghan students from the varsity. As the protesters were marching ahead of a Kashmiri student who was sitting in a lawn adjacent to the road through which the protesters were going, suddenly caught hold of him and beat him to the pulp, "the students said.
The student identified as Ahtisham, a first-year student of bachelors in Medical Imaging Technology (BMIT) was beaten so severely that even blood oozed out from his nose and mouth, they said. While police were deployed there, no action was taken by them to save the student, they said.
"Some Afghani students later came and removed the Kashmiri student to the hospital for treatment," they said.
Ironically, the varsity authority termed the incident as a minor scuffle between the two groups and said that the student has suffered minor injuries and is stable.
"It was a minor scuffle between two groups of students. We have taken care of the injured student whose condition is stable," Ramakant, an official of the university.
Asked whether any action would be taken against the students who beat up the Kashmiri student, the official said that police was on the spot.
When contacted Commandant Greater Noida Ist, Amit Kishore Srivastava (DSP) said that no written complaint has been received from the university only after which any action can follow.
He said that police teams were deployed in the varsity in wake of the protests in the university.
Asked whether police cannot take action on its own, the officer reiterated that the case would be registered only after there is a written complaint by the university authorities. (GNS)
---
Kashmir needs independent journalism…
…now, more than ever to give a voice to the voiceless. The press in Kashmir has operated under tremendous pressures of reporting from a conflict zone but since August 2019 we find ourselves in unchartered territory. The Kashmir Walla is among the oldest independent media outlets in Kashmir and has withstood successive lockdowns as well as attempts to suppress us, fighting back with authoritative ground reports based on facts.
We believe in making the powers that be accountable to their actions but to also hold the mirror to the society. We believe in covering all sides of the story and that empowerment in essence means the ability to make informed decisions. As such we have not allowed our journalism to be influenced by the pressures.
Despite the new and still unknown pressures, we are all the more committed to keep informing you of events and stories that matter. Our recent coverage of events has brought us an increased readership. However, the coronavirus pandemic and resultant economic crisis has affected our operational capabilities. We are facing an existential threat but only your support can help us withstand this and maintain our editorial independence.
We need your solidarity to keep our journalism going. Your contribution will empower us to keep you informed on stories that matter from Kashmir. Show your solidarity by joining our members community. Kashmir thanks you.
---