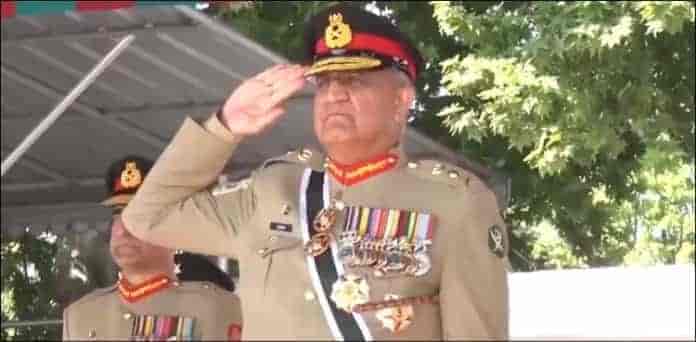 ---
Chief of Pakistan Army Staff (COAS) General  Qamar Bajwa  saluted the people of Jammu and Kashmir for standing firm before the Indian 'aggression' to demand their right to self determination
The Army chief was speaking at the defence day function of Pakistan on 8th September.
"I salute the people of India-Occupied Kashmir who have stood firm and are fighting bravely," he was quoted as saying by Defence.pk.
"In the fight for freedom we are with Kashmir. We salute the sacrifice of the brothers and sisters of Kashmir. We will avenge blood on the outskirts," he added.
Bajwa also paid homage to the "heroes" of 1965 war with India and the country's "martyrs" in its ongoing war on terror.
Addressing a ceremony held at General Headquarters on Defence and Martyrs Day, he said that the country's valiant soldiers taught India a befitting lesson in 1965 and crushed all their dreams.
Prime Minister of Pakistan Imran Khan was the chief guest on the occasion.
---
Kashmir needs independent journalism…
…now, more than ever to give a voice to the voiceless. The press in Kashmir has operated under tremendous pressures of reporting from a conflict zone but since August 2019 we find ourselves in unchartered territory. The Kashmir Walla is among the oldest independent media outlets in Kashmir and has withstood successive lockdowns as well as attempts to suppress us, fighting back with authoritative ground reports based on facts.
We believe in making the powers that be accountable to their actions but to also hold the mirror to the society. We believe in covering all sides of the story and that empowerment in essence means the ability to make informed decisions. As such we have not allowed our journalism to be influenced by the pressures.
Despite the new and still unknown pressures, we are all the more committed to keep informing you of events and stories that matter. Our recent coverage of events has brought us an increased readership. However, the coronavirus pandemic and resultant economic crisis has affected our operational capabilities. We are facing an existential threat but only your support can help us withstand this and maintain our editorial independence.
We need your solidarity to keep our journalism going. Your contribution will empower us to keep you informed on stories that matter from Kashmir. Show your solidarity by joining our members community. Kashmir thanks you.
---