Sitting uptight on an old rusted iron chair, hands fiddling with the loosely stitched button of his shirt, Tanveer hums his favorite Kishore Kumar song, Musafir hoon mei yaaron.
"Every day, without failing, I manage to take out some time to listen to radio," says Tanveer, who is a Constable with the Jammu and Kashmir police since 2003. "In early days of my career, my profession was a respected one. It was the time when I enjoyed working the most."
However, due to the on going unstable political situation in the Valley, where politics is often imposed through the barrel of a gun, even people like Tanveer are feeling caught into the quagmire.
Kashmir's majority population is hostile towards the police, as they are looked down upon by the people for how dissent is being responded in the region. People call them mukhbir (informer). Police's job is considered to be full of risks all around the globe, however, in Kashmir the risk and danger doubles up not only because of the conflicted nature of the land but also because of the prejudices they face. Many in South Kashmir have resigned after their colleagues were killed or threatened by militants. There are over 75,000 personnel working in the police department.
"There are two kinds of people in the world, honest and dishonest," says Tanveer while taking a sip of steamy nunchai. "Some dishonest people also exist in police and due to certain objectionable actions of those, police force has lost the respect that it once had. We live in times when the police too is afraid by the anger of people."
Tanveer's stern face has grown more cautious and placid over these last four and five years. "I remember the day when my daughter was born," recounts Tanveer, whose face softens up at the memory of his daughter. He takes out a cellphone from his chest pocket to show his daughter's picture.
"She is growing up so fast. It seems like yesterday only when I took her in my arms for the first time. It doesn't seem like this moment happened six years ago," he says. Tanveer was nervous when he went to a nearby school in Pantha Chowk to get his daughter admitted. He had heard about the bullying of children of police from his colleagues. But he did not want his daughter to undergo any such adversity.
"To get a day of casual leave we have to go through a long process that sometimes take up to 15-20 days," says Tanveer, while feeling a lack of police union in all departments is the major drawback. A union can help address grievances and keep in check the obnoxious activities of policemen that otherwise go unnoticed, he explains.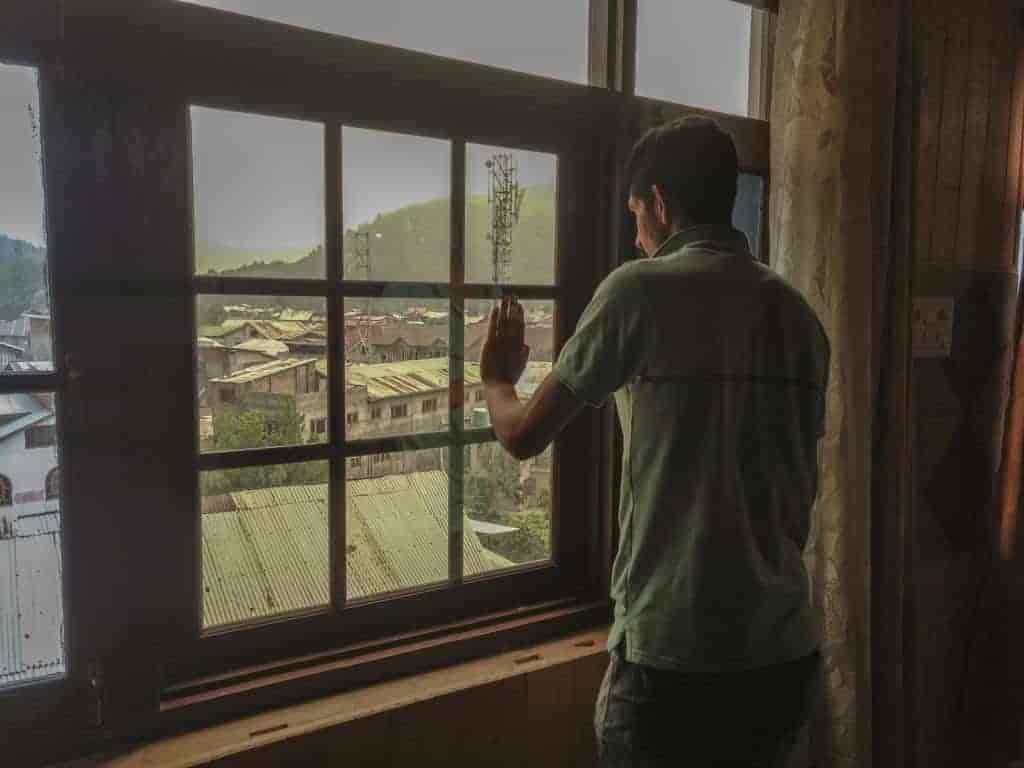 Contrary to Tanveer's strict bearded face, Altaf has a look of a happy go lucky person. His eyes sparkle whenever he speaks about his mother. "I have an elder brother who is married, a younger sister. But I think I am my mother's favorite," he tells me with a raised brow and a hearty laugh, as if defending his mother's love biases.
"When I joined counter insurgency wing of the police department in 2010, my mother thought that my father (may his soul rest in peace) would be very proud of me. We celebrated my success that day," says Altaf, who is a huge fan of Salman Khan and takes pride in the fact that even Dabang was released in the year when he joined the services.
Changing the tone of the conversation, he says, "Things have changed drastically after 2016 uprising." His family, who supported him a few years back, now wants him to quit his job. There is a sense of fear for his safety that has been instilled in his family due to the on going situation.
Altaf recalls the days when he used to roam around in a downtown market and do his duty freely. "Everything has changed since 2016. Some people do not hesitate to attack or abuse us in public. It is the way they vent out their frustration against us," he shares. Earlier they rarely had the need to wear bullet proof jackets in public, but now it has become a necessity.
"Casual attacks on police have increased and they go unreported many a time," he says, and is reminded of an incident that took place last year when a Jammu and Kashmir police van was attacked. "Our families too are ostracized whenever there is a foul news about police's actions," he adds.
Both of their families live in a shadow of fear. It is not only Tanveer and Altaf who are living a dilemma between facing hatred and hostility of people and their sense of duty but many others like them too.
"Not all of us are bad, it is due to some bad ones that even good cops are facing the adverse consequences," he adds but despite having drawbacks of their profession, none of them wants to quit. "If honest people like us will leave then who will restore the faith of people in police that they once had?"
---
Kashmir needs independent journalism…
…now, more than ever to give a voice to the voiceless. The press in Kashmir has operated under tremendous pressures of reporting from a conflict zone but since August 2019 we find ourselves in unchartered territory. The Kashmir Walla is among the oldest independent media outlets in Kashmir and has withstood successive lockdowns as well as attempts to suppress us, fighting back with authoritative ground reports based on facts.
We believe in making the powers that be accountable to their actions but to also hold the mirror to the society. We believe in covering all sides of the story and that empowerment in essence means the ability to make informed decisions. As such we have not allowed our journalism to be influenced by the pressures.
Despite the new and still unknown pressures, we are all the more committed to keep informing you of events and stories that matter. Our recent coverage of events has brought us an increased readership. However, the coronavirus pandemic and resultant economic crisis has affected our operational capabilities. We are facing an existential threat but only your support can help us withstand this and maintain our editorial independence.
We need your solidarity to keep our journalism going. Your contribution will empower us to keep you informed on stories that matter from Kashmir. Show your solidarity by joining our members community. Kashmir thanks you.
---