On the calm waters of Dal Lake, surrounded by the Zabarwan mountains on one side and Hazratbal Shrine on another, he ceaselessly rows his boat while asking every passing tourist to strike a pose for him.
Tariq Rather, a middle-aged photographer and a boatman, appears with his glossy spiraled photo album, which he uses to persuade his possible customers. It gives an idea about how passionate he is for his photography. Looking at him, one finds an ordinary man but his work is not so ordinary.
While making people smile for him infront of his camera, the man behind the ageing black lens has lost his own smile. Tariq's ever poker face reveals his not so easy journey of life. "I feel alone. I haven't settled yet but sometimes I feel the desire to capture my family that I will raise one day. But I think I need more money and stability for that," says Tariq, sitting on one end of his yellow painted wooden boat or Shikara.
On a regular day of work, Tariq makes around 500-700 rupees ($7-10) barring the days of shutdown. Despite his meager income, he manages to make the ends meet, supporting his parents. This comes out of his sheer passion of capturing photos of different people smiling for his camera. As he contemplates on his life and work, Tariq sometimes wants to go far from Kashmir and settle in Goa but his unconditional love for the Valley and its people holds him back.
At the backdrop of the lofty Zabarwan range, whose ends are roughly drawn, and the fluffy pillow-like clouds, Tariq captures photos of his customers, asking them to pose for him in different angles every time. From designer pots and plastic flowers to designer wooden oars to row his boat, he offers his customers a wide range of props that they can pose with.
"I have it all. From red velvet pherans to the pale black woolen ones. My customers never return disappointed because I offer them a varied range of dresses and artificial jewellery," says Tariq, while the sun shines warmly down upon his already weather-beaten face.
Tariq has been working as a photographer and a boatman since 2010. His passion towards photography demanded him to leave his studies and capture people, donning the Kashmir's ethnic dress and jewellery.
"Foreign madams look best in these dresses," chuckles Tariq. Lost in his thoughts, he regresses into past to reminisce the old days, when in 2013, he got a contract with large number of Indonesian tourists. "That was one of the best times of my life. They loved my Kashmir as much as I loved their company. They used to insist me to sing Kashmiri songs for them," recalls Tariq.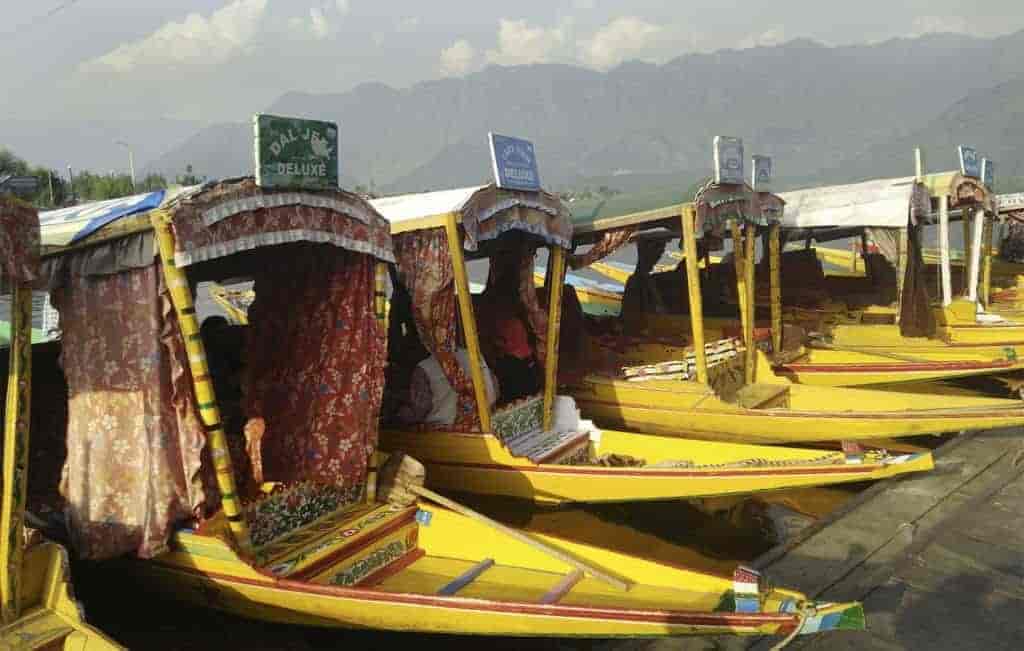 But, Tariq says, the situation became worse after the 2016 uprising following the killing of popular rebel commander Burhan Wani, bringing less work to him. Prominent lines on his forehead speaks largely about the downfall of his business. "This year I have incurred loss in my business. Photographers outnumber the tourists and so it depends upon our luck, who gets more. I hardly get customers nowadays but I get the joy of photography only on my Shikara," adds Tariq.
Shikaras are lined up on the banks of the Dal Lake but Tariq's Shikara catches the eyes of every onlooker, for he has decorated it with bright red curtains that give a feel of a newlywed bride. "I have an unconditional love for my boat. I clean it by myself and sometimes I also sleep here," says Tariq.
His love for his Shikara never let him choose any other career option over this. Tariq has travelled to almost every part of India but couldn't stay anywhere for long as he only likes to capture people when they sit on the shikara. "Though, I have undergone loss but I can't trade these mountains and my Shikara even for the world," says Tariq, proudly.
Like many other photographers and boatmen in the Valley, Tariq also hasn't been captured in a same manner as they have captured others for decades. Their story remains behind the camera and bestows the happiness upon the people in front of their lenses.
---
Kashmir needs independent journalism…
…now, more than ever to give a voice to the voiceless. The press in Kashmir has operated under tremendous pressures of reporting from a conflict zone but since August 2019 we find ourselves in unchartered territory. The Kashmir Walla is among the oldest independent media outlets in Kashmir and has withstood successive lockdowns as well as attempts to suppress us, fighting back with authoritative ground reports based on facts.
We believe in making the powers that be accountable to their actions but to also hold the mirror to the society. We believe in covering all sides of the story and that empowerment in essence means the ability to make informed decisions. As such we have not allowed our journalism to be influenced by the pressures.
Despite the new and still unknown pressures, we are all the more committed to keep informing you of events and stories that matter. Our recent coverage of events has brought us an increased readership. However, the coronavirus pandemic and resultant economic crisis has affected our operational capabilities. We are facing an existential threat but only your support can help us withstand this and maintain our editorial independence.
We need your solidarity to keep our journalism going. Your contribution will empower us to keep you informed on stories that matter from Kashmir. Show your solidarity by joining our members community. Kashmir thanks you.
---