Qaiser Ahmed Bhat, succumbed to the injuries on the intervening night of June 1. The 21-year-old was mowed down by forces' vehicle yesterday in Nowhatta area of downtown Srinagar.
The hapless Bhat had no one from the first blood to offer a shoulder. He died, leaving behind two younger sisters aged 16 and 18, with no parents. With the head wrapped in a gauze- bloodstained, the body was handed over to the family post-midnight. Soon after that the mourners started flowing in their Fateh Kadal residence.
The incident happened when the forces' vehicle rushed amid the bubble of protesters with an intention to 'disperse' them and mowed down three protesters. A black passing-by vehicle took the injured to the hospital where Bhat after a few hours succumbed to his injuries.
"He had just started working into Kashmiri art field and was looking after his two sisters," said a neighbor. "Now look at these barbarians, they don't even let us offer his funeral prayers. May Allah burn them in hell."
By morning, downtown had barricades laid down by forces on every possible road to reach Fateh Kadal. The protesters started burning tyres and barricading the local roads with rocks. The forces were standing on the opposite side of the bridge, keeping an eye. One could hear rhymes eulogizing martyrdom from the nearby mosques' loudspeakers around Qaiser's body. The dead was ready to be announced martyred.
Women were wailing, standing around his body and some also sitting a few meters away, inside a makeshift tent. Within a few minutes, forces and protestors clashed with each other and mourners were showered with tear gas shells and pellets. The forces fired tear gas shells towards the tent also. In no time, the clashes went wild. Soon, Bhat's body was moved to the other side of the road for funeral prayers, while the other side went all in rubble.
"They martyred our brother, now we will show them," a protester announced.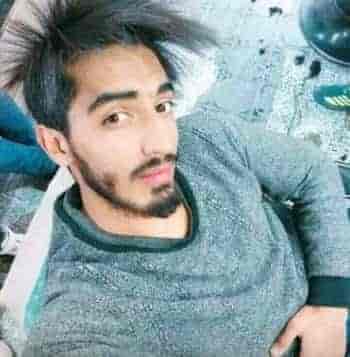 The body was placed on the road, wrapped in black flags with verses of Quran over them along with flags of militant outfits, accompanied by the crowd chanting 'Aazadi'. The shattered cousins, sitting on the sides of Bhat, stood for final prayers.
"At least, let him have his funeral prayers in peace," shouted an elder in the crowd. Soon, the mourners stood in silent rows and protesters left the front and flew to be in one of the rows. Youth with bleeding bodies and scared by injuries howled for their martyr.
The body was later taken to Eidgah grounds as soon as possible – without many mourners, who dispersed into pockets to continue throwing stones for their another loss.
With around hundred locals, Bhat's funeral prayers were offered one more time at Eidgah.
The women, standing next to the fences wailed, "Oh! Braveheart! Let me sing a lullaby for you." Bhat was a child of conflict; he lived his life surrounded by forces and everyone saw him, for the last time at Eidgah – surrounded by forces.
Meanwhile, the police has filed two FIRs in the incident for rash and negligent driving. While as a case of attempt to murder has been filed against the protestors.
---
Kashmir needs independent journalism…
…now, more than ever to give a voice to the voiceless. The press in Kashmir has operated under tremendous pressures of reporting from a conflict zone but since August 2019 we find ourselves in unchartered territory. The Kashmir Walla is among the oldest independent media outlets in Kashmir and has withstood successive lockdowns as well as attempts to suppress us, fighting back with authoritative ground reports based on facts.
We believe in making the powers that be accountable to their actions but to also hold the mirror to the society. We believe in covering all sides of the story and that empowerment in essence means the ability to make informed decisions. As such we have not allowed our journalism to be influenced by the pressures.
Despite the new and still unknown pressures, we are all the more committed to keep informing you of events and stories that matter. Our recent coverage of events has brought us an increased readership. However, the coronavirus pandemic and resultant economic crisis has affected our operational capabilities. We are facing an existential threat but only your support can help us withstand this and maintain our editorial independence.
We need your solidarity to keep our journalism going. Your contribution will empower us to keep you informed on stories that matter from Kashmir. Show your solidarity by joining our members community. Kashmir thanks you.
---