---
For the 13 years the Salman Khan hit-and-run case was in trial, it was one of 18.5 million criminal cases pending in India's district and lower courts, and the 50-year-old Bollywood star was one of 22.2 million people under trial.
Driven by a shortage of prosecutors, judges and courts and—among other reasons—slow procedures, there are more people under trial in India than there are people in the Netherlands or Kazakhstan.
In 2013, the cases of as many as 85% of people put on trial were pending, according to National Crime Records Bureau (NCRB) data: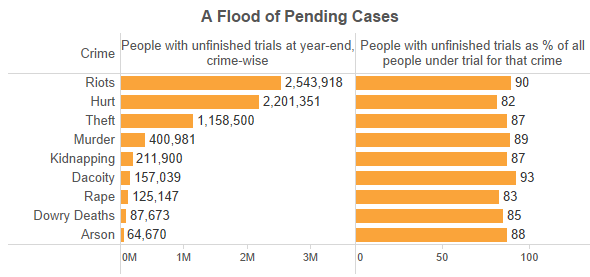 Let us look at the rates of pending cases in a variety of courts across India:
Criminal cases form 19% of the Supreme Court's pending cases and 25% of the settled cases.
In high courts, 23% of pending cases (a million of them) are criminal cases, while 6.9% of those settled are criminal cases. In district and subordinate courts, 67% of pending cases are criminal.
New cases flood in, and together with the backlog, they outnumber settled cases and increase the caseload. For instance, in the first quarter of 2014, the Supreme Court had 5,466 new criminal cases and 12,211 cases carried over from the previous year, but only 5,267 of those cases were settled.
What India needs: Judges—and more judges
India has 15 judges for every million people, one of the world's lowest ratios.
Lower-court vacancies are a leading cause of pending trials, IndiaSpend previously reported, as the table below indicates:
The lower courts were 22% (or 4,288) short of judges, as of April 2014, the high courts 29% (256) and the Supreme court, 19% (six).
Source: Supreme Court News
Source: Supreme Court News
Delays tend to be higher in lower courts and correspond with the number of judicial vacancies. High courts with the most pending cases are also those with the most vacancies, the data show.
Salve is a policy analyst with IndiaSpend.
Additional research by Aadya Sharma and Pratiksha Wadekar.
---
This article was originally published on IndiaSpend.com, a data-driven and public-interest journalism non-profit.
---
Kashmir needs independent journalism…
…now, more than ever to give a voice to the voiceless. The press in Kashmir has operated under tremendous pressures of reporting from a conflict zone but since August 2019 we find ourselves in unchartered territory. The Kashmir Walla is among the oldest independent media outlets in Kashmir and has withstood successive lockdowns as well as attempts to suppress us, fighting back with authoritative ground reports based on facts.
We believe in making the powers that be accountable to their actions but to also hold the mirror to the society. We believe in covering all sides of the story and that empowerment in essence means the ability to make informed decisions. As such we have not allowed our journalism to be influenced by the pressures.
Despite the new and still unknown pressures, we are all the more committed to keep informing you of events and stories that matter. Our recent coverage of events has brought us an increased readership. However, the coronavirus pandemic and resultant economic crisis has affected our operational capabilities. We are facing an existential threat but only your support can help us withstand this and maintain our editorial independence.
We need your solidarity to keep our journalism going. Your contribution will empower us to keep you informed on stories that matter from Kashmir. Show your solidarity by joining our community. Kashmir thanks you.
---