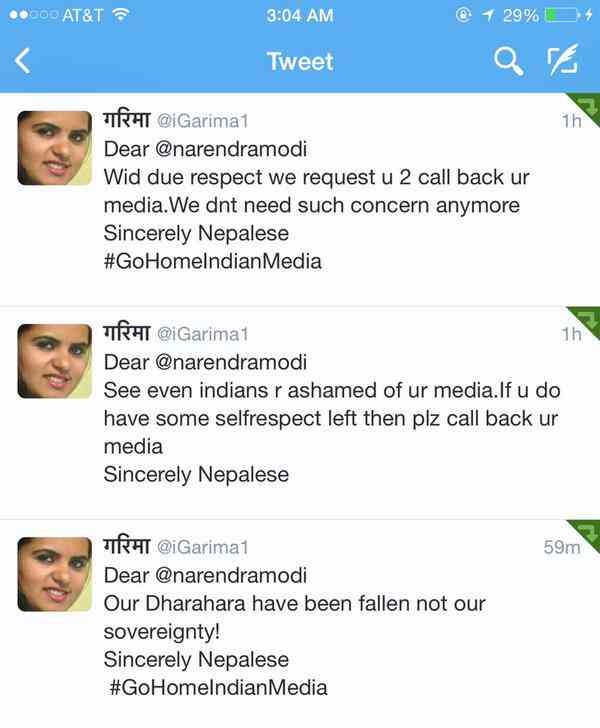 ---
After the continuous coverage and camping in Nepal to show earthquake disaster that hit the country on April, the people of Nepal are requesting Indian media to leave now. The Twitter has been flooded with tweets ridiculing Indian media under the trend #GoHomeIndianMedia, that has been trending at top.
"As a human, show your humanity. There are enough programs in this world of television where people can see dramatic shows, family serials, horror shows and nonsense reality shows. You do not have to add more at least in this time of crisis," read a letter from Nepal to Indian media.
Below are a few tweets picked from the trend:
#Media shows that India is the only country to help Nepal. But Couldn't find India even in Top 14! #GoHomeIndianMedia pic.twitter.com/f38b4t6RYW

— Angry Kejriwal (@Tweet_TAN_ic) May 3, 2015
We Nepali are independent since the country named Nepal. Try to learn the history about Gurkhas. Give and take respect.😡 #GoHomeIndianMedia — जंगी निशान (@thejangiinisaan) May 3, 2015
I dearly appreciate the support of Indian people, you guys have been blessing for us but your media is totally rubbish. #GoHomeIndianMedia

— Sudan Budhathoki (@sudangothey) May 3, 2015
This indian journalist are just similar to unwanted vultures creating a mess.#GoHomeIndianMedia — Help Nepal (@Human_byheart) May 3, 2015
#GoHomeIndianMedia Instead of talking about sending relief goods, Indian Media should show what their Army does! pic.twitter.com/g9jYUfddwU

— Farhan Khan Virk (@FarhanKVirk) May 3, 2015
I feel for Indians. We couldn't bear Indian media for 6 days and Indians have to deal with them everyday. #GoHomeIndianMedia — Kanchan Shrestha (@mekanchan) May 3, 2015
Nepalis are more terrorized by Indian Media than the devastating earthquake itself! #GoHomeIndianMedia pic.twitter.com/gnnQpKNFjG

— MahaAnanda Timalsina (@MahaAnanda) May 3, 2015
Irony. Today is world press day. And Indian media is getting its due credits. #GoHomeIndianMedia — Saleem (@Angry_Hassan) May 3, 2015
If you are fool and know how to be a nonsense, be fast join Indian media. You have bright future there #GoHomeIndianMedia

— सदिप घिमिरे (@sad_deep) May 3, 2015
Dear @narendramodi ! A message for you from an upright Napalese woman #GoHomeIndianMedia Shameless pic.twitter.com/PPZkecaVBe

— SadiaQawaii :P (@RJSadiaSattar) May 3, 2015
#GoHomeIndianMedia you all deserve gorkhalis kick and khukuri!! run before we make you run like street dogs! — UDeep (@ujjwaldt) May 3, 2015
---
Kashmir needs independent journalism…
…now, more than ever to give a voice to the voiceless. The press in Kashmir has operated under tremendous pressures of reporting from a conflict zone but since August 2019 we find ourselves in unchartered territory. The Kashmir Walla is among the oldest independent media outlets in Kashmir and has withstood successive lockdowns as well as attempts to suppress us, fighting back with authoritative ground reports based on facts.
We believe in making the powers that be accountable to their actions but to also hold the mirror to the society. We believe in covering all sides of the story and that empowerment in essence means the ability to make informed decisions. As such we have not allowed our journalism to be influenced by the pressures.
Despite the new and still unknown pressures, we are all the more committed to keep informing you of events and stories that matter. Our recent coverage of events has brought us an increased readership. However, the coronavirus pandemic and resultant economic crisis has affected our operational capabilities. We are facing an existential threat but only your support can help us withstand this and maintain our editorial independence.
We need your solidarity to keep our journalism going. Your contribution will empower us to keep you informed on stories that matter from Kashmir. Show your solidarity by joining our members community. Kashmir thanks you.
---