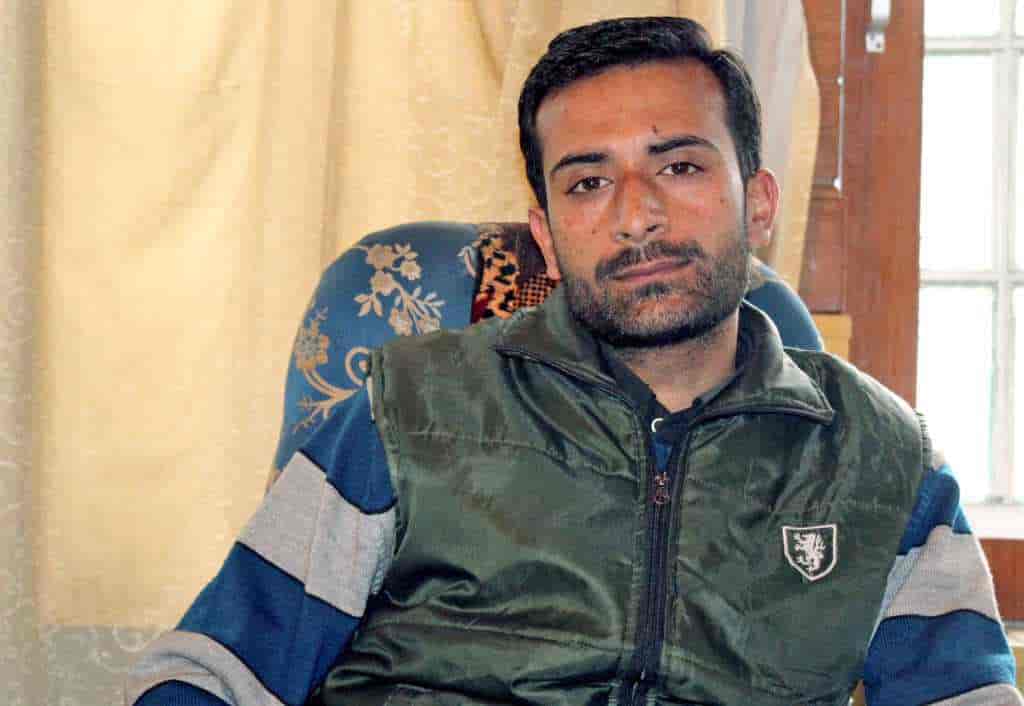 ---
Tahir Syeed
People's Democratic Party (PDP)
Can you tell us about your journey to joining politics?
When I was a student I was involved with political activities all-around and my mind set was clear that I have to be a politician when I grow up. Then, this year on 28 March [2014] I joined PDP [People's Democratic Party]. Before joining politics, I used to be a journalist working for a local Urdu newspaper as a Sub-Editor. Because of that I knew many mainstream politicians and then I decided to go in mainstream politics, moreover my family background also belong to the same field.
In the beginning, I was big fan of Omar Abdullah, and supported his point of view by reading his blogs regularly on the National Conference website when he was NC (National Conference) president, but finally when 2010 mass uprising started, I saw his helplessness and that very moment I decided to join PDP. He was not able to take administrative steps of his own he was directed by Home Secretary from New Delhi what to do and what not to. Moreover he was not able to deliver at the ground level. I realized he was not serious about representing youth, all he cares was about his Chair (Power) and I reached to this conclusion that Abdullah family is like a fish, the way fish cannot live without water, same way Abdullah family cannot live without power. They turn mad once they are not in the power.
Omar Abdullah's first priority in 2010 should have been to represent the aspirations of the Kashmiri youth, to tell New Delhi what went wrong, and to identify mistakes but what he did was he went to New Delhi and asked for more and more forces to normalize situation. I personally believe that leaders of National Conference never conveyed the reality to New Delhi? By this they want New Delhi to believe that if Kashmiris are with India it is because of them (Abdullah Family). This was the reason that I stayed away from National Conference despite my family background is with them. My maternal grandfather Moulana Mohmmad Syed Masoodi was the founder general secretary of National Conference and even my uncle Peer Abdul Rasheed is the District Secretary of National Conference. My uncle is the one who developed National Conference brick by brick in Kupwara district, the reason NC wins 5-5 assembly seats in Kupwara is because of him. When I came to PDP, I read its manifesto on which it was written that this party will act as a bridge between India and Pakistan, this thing inspired me and I joined.
How would you define "Kashmir dispute"?
I am a member of Peoples Democratic Party, what they believe Kashmir dispute is I completely agree with that. We have a clear cut policy over Kashmir issue. We believe self-rule is the best way of solution for this issue. Our party is the first to say India and Pakistan should engage themselves in talks. It was in our rule when Hurriyat Conference leaders went New Delhi and Pakistan for talks. We created an atmosphere between them that Kashmiris are suffering and there should be a solution. When I joined this party I accepted what our party believes about Kashmir dispute or about its solution for betterment of Kashmiri people.
There are two political sides of Kashmir – pro-freedom and mainstream. Why did you choose mainstream over pro-freedom?
I have spent time with separatist leaders too, I have talked to them also when I was a journalist but I believe we can change Kashmir by working in the system. By system I mean mainstream politics. When you will remain in mainstream everyone will listen to you, if you are not in it no one will listen to you.
There is one MLA Er Rasheed he works in system and talks about people's rights. While remaining in system you have a different status or else no one will listen to your thoughts. I want to say that I want to contribute for Kashmiri people in some way at small level and I think I can contribute to them by remaining in mainstream politics. To solve the Kashmir issue there are other big leaders from both sides.
What are your expectations from PDP?
At present our party is out of power but it has also done a great job while remaining in opposition. They boycotted Assembly whenever they saw human rights violations. Our party also came on streets when they found that ruling party failed to resolve small issues in the state. Borders were full of tension and we took out peace rallies that conveyed message of peace between India and Pakistan.
I believe that our party leadership is in sincere hands and I am expecting a lot from them. I have seen Mufti Sahibs [Mufti Mohammad Syed]  three year reign and I believe that was the best period of Jammu and Kashmir: STF [Special Task Force] was dissolved; development was done in every part of the state. There was a time when no one was willing to visit Kashmir, he improved the situation and tourism got improved. I am expecting a lot from him. If he comes to power we will be able to heal wounds of the people who have been affected by the turmoil as I trust Mufti Sahab because he a sincere man and he has shown those signs that he will develop Kashmir than any other leader.
The day I will feel that I didn't deliver up to my expectations or my party failed to deliver I will quit politics forever. Because I have monitored 2010 situation very closely, I have visited the homes of those people who were killed in the mass uprising. I have seen how they live that is why I said earlier I want to contribute for the betterment of the people at my level and mainstream is the only option that I can help with.
In your views, what is the future ahead for Kashmir- how do you see the solution of this dispute and fulfilling people's aspirations?
I told you earlier I belong to a political party and my ideology is same what my party's ideology is and we have a good solution to end this dispute that is self rule.
Self-rule has been drafted in such a way that party has taken care of people's emotions and their aspirations. We will have our own government, people will enjoy the same rights that an independent country does but within the constitution of India. Indian constitution has that flexibility that it can grant us our own President, Prime Minister to run the state. Our resources will be ours; we will utilize them so as to boost our economy and can make Kashmir independent economically. Moreover we can establish our own industries that will benefit Kashmiris, especially the youth.
Those who are saying we don't want to live under Indian constitution I want to tell them what else they want? Every right is mentioned in a self rule. I don't see what they call complete freedom will happen in present scenario. Yet if they get that so called complete freedom I Tahir Syeed (not as a member of PDP) will salute them.
Youth joining mainstream politics on one side is seen as a change in Kashmir but on the other side college going students are joining militant ranks and getting killed. How do you see this contrast?
Kashmir is a conflict zone, here people have different ideologies I don't see every college going student joining militancy ranks but a small group of people go because they believe this dispute will end by armed struggle only. On the other hand there is youth who believe gun is not a solution and we can achieve our goal by remaining in the system they come forward to and try to solve issue in a peaceful way.
No doubt gun has helped in highlighting the Kashmir issue, and it can't be ignored but I believe it is not required at the moment. It is time to move forward, gun has done its work. Now it is a right time to resolve this dispute by political dialogue because once you take arms you are labelled as a terrorist and nobody is ready to listen to you.
What is your PDP's plan for Kashmir, the dispute particularly the youth whom you represent in your party?
Once we will come in power we will tell New Delhi the reality about Kashmir and what people exactly want. I said it's happening all because of National Conference that India never understood the aspirations of Kashmiri people and that is the reason they ran away from New Delhi especially during 90s.
Self-rule is the solution for Kashmir dispute as it has taken care of people mostly youth when it was drafted. Like I said youth will be made politically strong, and economically that will benefit Kashmiris directly.
---
Kashmir needs independent journalism…
…now, more than ever to give a voice to the voiceless. The press in Kashmir has operated under tremendous pressures of reporting from a conflict zone but since August 2019 we find ourselves in unchartered territory. The Kashmir Walla is among the oldest independent media outlets in Kashmir and has withstood successive lockdowns as well as attempts to suppress us, fighting back with authoritative ground reports based on facts.
We believe in making the powers that be accountable to their actions but to also hold the mirror to the society. We believe in covering all sides of the story and that empowerment in essence means the ability to make informed decisions. As such we have not allowed our journalism to be influenced by the pressures.
Despite the new and still unknown pressures, we are all the more committed to keep informing you of events and stories that matter. Our recent coverage of events has brought us an increased readership. However, the coronavirus pandemic and resultant economic crisis has affected our operational capabilities. We are facing an existential threat but only your support can help us withstand this and maintain our editorial independence.
We need your solidarity to keep our journalism going. Your contribution will empower us to keep you informed on stories that matter from Kashmir. Show your solidarity by joining our members community. Kashmir thanks you.
---