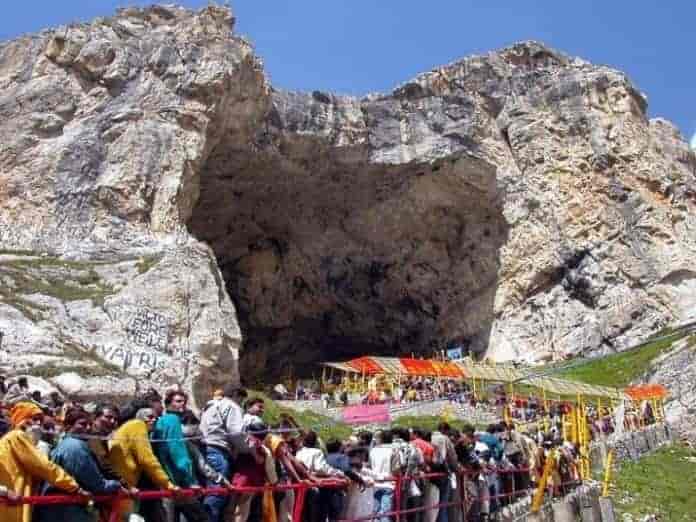 At least thirteen Amarnath Yatris were injured in a road accident at Udhampur in Jammu region
on Thursday
morning.
Reports Reaching GNS said that a vehicle (tempo traveller bearing registration number JK 14B 7259), hit a roadside parked truck near Birma Bridge along Srinagar – Jammu highway in Udhampur resulting in injuries to thirteen passengers.
All the injured were taken to hospital where condition of two among the injured are said to be critical, they said.
The mishap occurred when the tempo carrying the pilgrims was heading towards Kashmir.
The injured Yatris have been identified as Gourav Yadav, 20, son of Rajesh Yadav of Orcha Gate, Jhansi , UP, Narender Kumar Tiwari, 28, son of Babu Lal Tiwari of Unnao Gate , Jhansi  UP, Manju Sahu, 46,  wife of Khem Raj Sahu of Dabrah,  Gwalior, MP, Khem Raj Sahu, 47, son of Prabhu Dayal of Dabrah, Gwalior, MP,  Pooja Sahu, 23, daughter of Khem Raj Sahu of Dabrah, Gwalior, Basant Lal, 47,  son of Brij Lal of Khushipura, Jhansi UP, Pawan Sahu, 39, son of Ramesh Sahu of Jhansi, near pandit Vasudev Degree College PS Kotwali, Abhishek Sahu, 35, son of Munna Lal of Unnao Gate, Purani Rajai, Jhansi UP, Manoj Yadav, 30, son of Yashrath Yadav of Khodan, Jhansi UP, Rupe Khare, 40, son of Jagdiah Parsad of Bhatta Gaon, Jhasni, Aman Raja, 20, Pritam of Lal Kurti, Jhansi UP, Sanjay Kumar, 41, son of Kanta Parsad of Bhatta Gaon,  Masjid wali gali, ward no. 3  Jhansi UP and Murli Sahu, 39, son of Ram gopal Sahu of Mewatipura  inside  Unnao Gate  Jhansi UP.
A police officer also confirmed the incident , injuries and said that the driver of the tempo fled from the spot soon after the mishap.
"A case under relevant sections of law has been registered and further investigation taken up in this regard," the officer said. (GNS)
---
The Kashmir Walla needs you, urgently. Only you can do it.
We have always come to you for help: The Kashmir Walla is battling at multiple fronts — and if you don't act now, it would be too late. 2020 was a year like no other and we walked into it already battered. The freedom of the press in Kashmir was touching new lows as the entire population was gradually coming out of one of the longest communication blackouts in the world.
We are not a big organization. A few thousand rupees from each one of you would make a huge difference.
The Kashmir Walla plans to extensively and honestly cover — break, report, and analyze — everything that matters to you. You can help us.
Choose a plan as per your location