My father is a martyr, not a terrorist
Sopore, Indian-Controlled Kashmir: He steps in the room and looks around. This was his father's room. Calm and composed, thirteen-year-old Ghalib Guru, the only son of Mohammad Afzal Guru, says he is proud of his father for sacrificing his life for Kashmir like Bhagat Singh did for India.
Ghalib is in class 8th. He used to meet his father once a year for last twelve years since he was one year old. During the jail meetings his father would tell him to become 'aaelim' (scholar).
"My father used to tell me to become scholar but I would tell him that I want to study Science," said Ghalib.
Ghalib says that he doesn't know why his father was in jail. "I know that India had sentenced him to death. On Feb. 9, 2013, morning, I was at Khanpora (Varmul), my maternal home. I was given breakfast and then we left for home (Sopore). I was surprised to find that the curfew had been imposed," said Ghalib.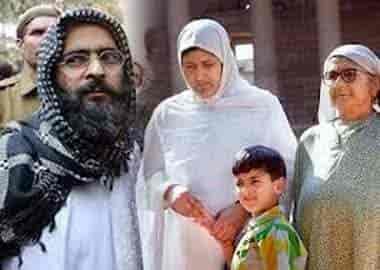 Ghalib adds that on reaching home I found everyone crying and I understood what had happened. "We had got to know about the hanging from television news channels. I was shocked and my brain stopped working," said Ghalib, sitting on his knees.
Ghalib says he is angry from Indian government. "They should have told us a week before. My father is a Shaheed (martyr) and not a Ugarwadi (terrorist)," said Ghalib.
Now after Guru has been hanged and buried in the Tihar jail, Delhi in the early hours of 9th February, Ghalib wants to follow his passion and study Science to become a Cardiologist.