Privatization of education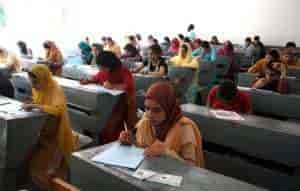 A buzzing classroom; around 120 students are inside. Once the teacher gets in, noises go off instantly. It seems all of them are desperate to escape. After a brief pause, teacher starts delivering his lecture.
From the last row of the students, it looks as he (teacher) is displaying gestures only, without a vocal voice. The teacher is almost 18 yards away from here, delivering the lecture. It is a hall turned into a class room.
A few students in back row look deceptive. They are trying hard
To read the full article, SUBSCRIBE NOW.

If you're already a subscriber please Sign In.